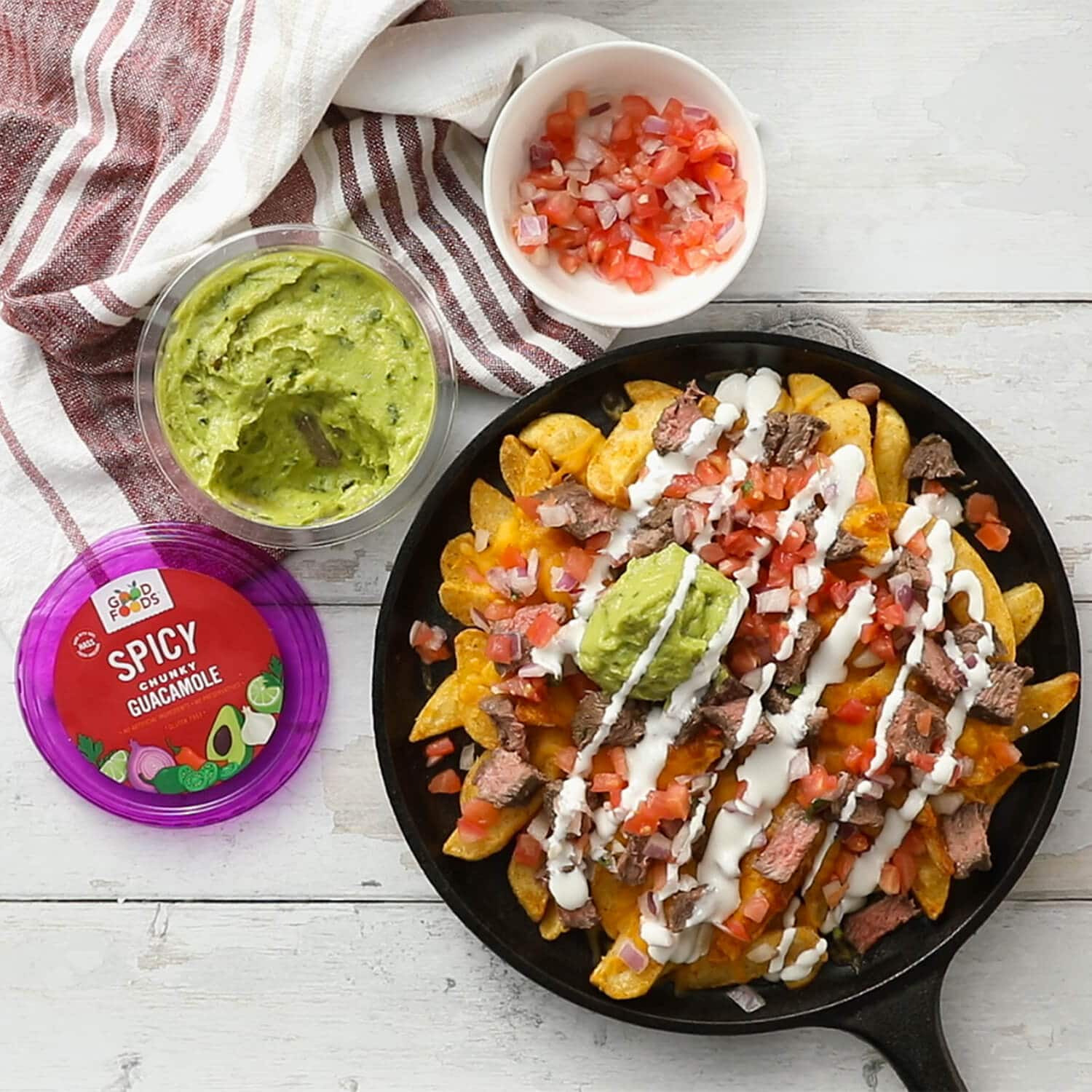 Carne Asada Fries
Servings: 4-6
Prep Time: 10 minutes
Marinade Time: 2 hours
Cook Time: 30 minutes
Steak Marinade Ingredients:
1 lime, juiced
4 cloves garlic, minced
1 orange, juiced
½ cup fresh cilantro
1/3 cup olive oil
2 jalapenos, seeded and diced, divided
2 Tbsp white vinegar
1 tsp ground cumin
½ tsp salt
¼ tsp black pepper
1 lb flank steak (or skirt steak)
For The Fries:
1 pkg frozen Steak Fries (or other fry of choice)
1 cup cheddar cheese, shredded
Pico de gallo
Sour cream or Mexican crema
Jalapeno slices
Fresh cilantro, chopped
Lime, wedged
Directions:
Combine lime juice, garlic, orange juice, cilantro, olive oil, 1 jalapeno, vinegar, cumin, salt and pepper. Set aside ½ cup cilantro mixture and refrigerate. Add remaining mixture to a gallon size resealable bag.
Place steak in bag and seal. Coat steak with marinade by rotating bag until all sides are covered. Refrigerate ideally for 2 hours or overnight. In a rush? Marinade for 30 minutes.
Heat grill.
Preheat oven to 425° Prepare a baking sheet with non-stick cooking spray.
Remove steak from bag and discard leftover marinade. Grill steak on high heat for 6-8 minutes per side or until medium rare. Remove from grill and let rest for 5 minutes then dice.
Line baking sheet with steak fries and bake according to package directions (approximately 30 minutes).