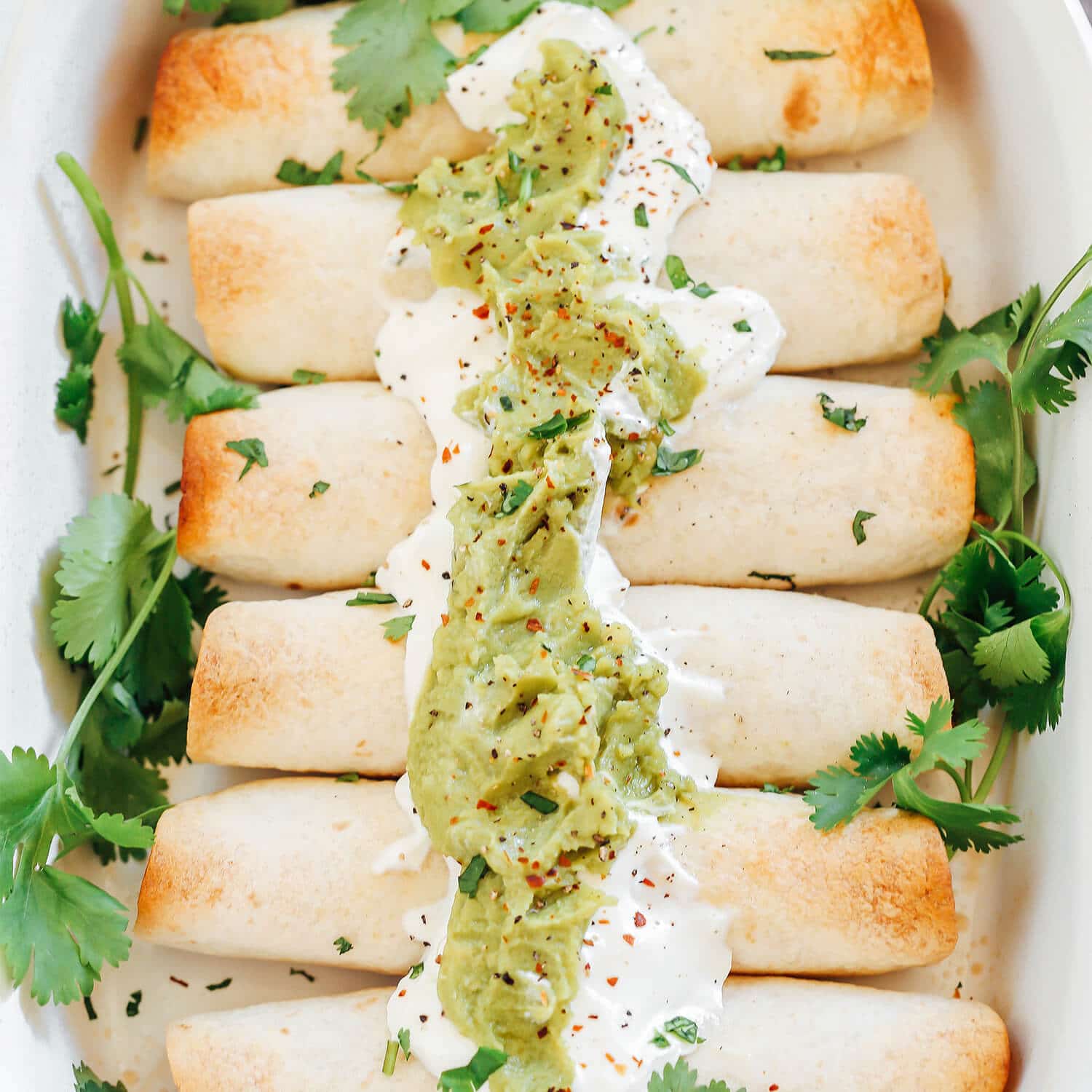 Cheesy Jackfruit Flautas
These delicious flautas made by @neuroticmommy are the perfect weeknight dinner.
INGREDIENTS:
6′ flour tortillas 
1 Tbsp avocado oil
1 medium onion, diced
3 cloves garlic, minced
1 – 20oz can of Jackfruit
1/2 cup vegan sour cream (plus extra to top)
1 – 1/2 vegan shredded cheddar cheese
Salt/Pepper to taste
Cilantro to garnish
DIRECTIONS:
Preheat oven to 375F and lightly spray a baking dish (no bigger than 9×13, depending on how many you make) with non stick cooking spray.
Drain the jackfruit and break it apart.
Add 1 Tbsp of oil, diced onion and minced garlic to a medium sized skillet and cook until onions are translucent.
Add in the jackfruit and cook for 5 or so minutes or until it's heated through then add your sour cream. Mix that thoroughly together, let that get heated through for another 5 minutes.
Add salt and pepper to your liking and mix well.
Remove from heat and add shredded cheddar cheese and mix it well so the cheese melts from the heat.
Lay a tortilla flat and fill it with a couple of tablespoons of the cheesy jackfruit mixture. Roll it up nice and tight and place it in the baking dish. Repeat with all tortillas.
Bake for 18-20 minutes or until golden and crispy on the edges.
When done, remove from oven and top with vegan sour cream and Southwest Guacamole. Don't forget to sprinkle on some cilantro and a little squeeze of lime – Enjoy!