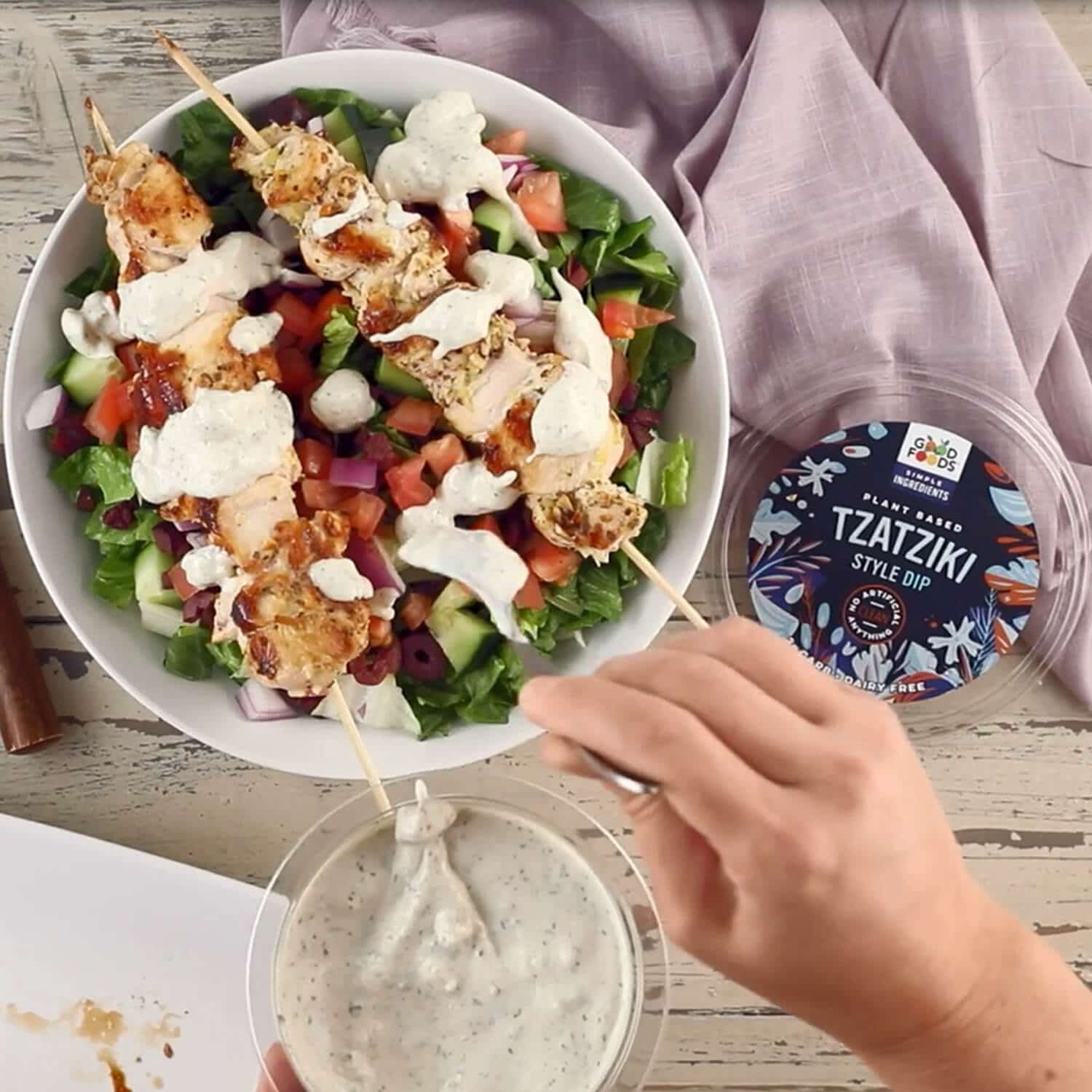 Chicken Souvlaki Salad with Tzatziki
Servings: 4
Marinade Time: 30 minutes or overnight
Prep Time: 20 minutes 
Cook Time: 30 minutes 
Ingredients:
Chicken

1 lb boneless, skinless chicken breast, cut into 1″ thick pieces
4 cloves garlic, minced
1 lemon, juice and zest
1 Tbsp olive oil
1 tsp oregano
1/4 tsp salt
1/4 tsp pepper

Salad

7 cups romaine lettuce, chopped
3 Roma tomatoes, diced
1 cucumber, diced
1/4 cup red onion, diced 
6 oz kalamata olives, pitted and chopped 
Good Foods Tzatziki Dip
Fresh dill to garnish
Salt and pepper to taste
Directions:
Combine chicken ingredients and let marinade in the fridge for 30 minutes to overnight.
Pre-heat the grill to medium-high heat. Thread chicken evenly onto skewers (if using wooden skewers, soak them in water for 15 minutes before using).
Evenly space skewers on grill and cook chicken approximately 8-10 minutes (turning once halfway through) until the chicken is golden brown and not pink inside.
Transfer kabobs to a clean plate and let cool for 5-10 minutes.
Assemble salad by evenly distributing romaine, tomatoes, cucumber, red onion and olives to four dishes. Top with chicken, drizzle with Tzatziki Dip and garnish with dill. Add salt and pepper to taste.