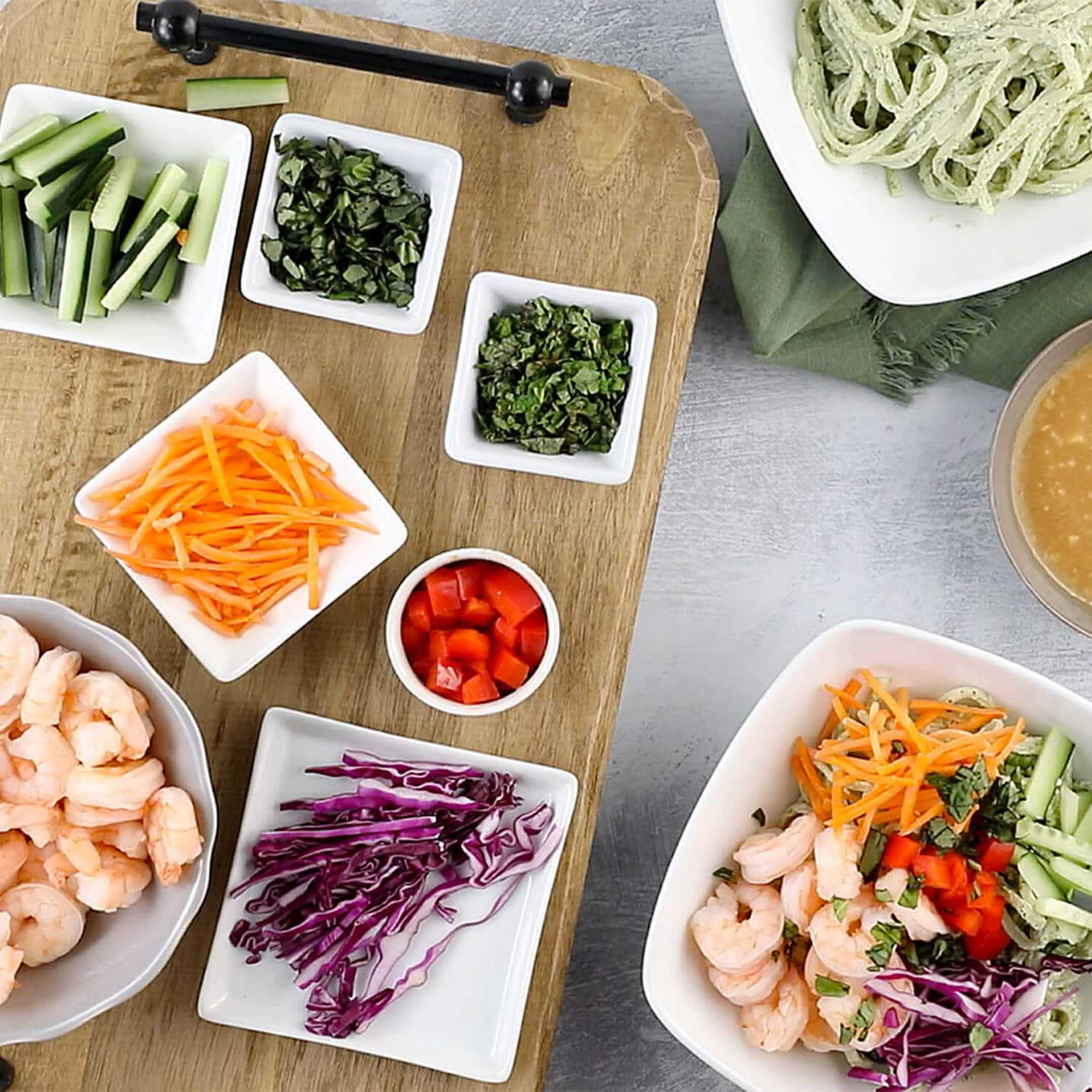 Cilantro Spring Roll Bowl With Shrimp
Servings: 4
Prep Time: 20 minutes
Cook Time: 12-15 minutes
Ingredients
Sauce

¼ cup tahini paste
1 Tbsp sesame oil
1/8 cup soy sauce (or coconut aminos)
1/8 cup rice vinegar
1/8 cup honey
2 Tbsp fresh ginger, grated (or ½ tsp ground ginger)
2 cloves garlic, minced

Rice Noodles
Assembly:

1 lb large raw shrimp peeled, deveined, tail-off
½ cup red cabbage, thinly sliced
½ cup carrots, shredded
½ cup cucumber, julienne cut
¼ red bell pepper, diced
3 Tbsp fresh mint, chopped
3 Tbsp fresh basil, chopped
Directions
Sauce: Combine ingredients in a small bowl. Set aside.
Rice Noodles: Cook to package instructions (boiling on high heat for 6-8 minutes; rinse and drain). Let cool and then add Good Foods Cilantro Dip, tossing to combine.
Shrimp: Boil water on high heat; add shrimp and cook for 2-3 minutes (depends on if thawed or frozen shrimp) or until no longer pink. Rinse and drain.
Add ¼ of the noodles, vegetables, shrimp and sauce to a bowl. Repeat with remaining bowls. Salt and pepper to taste.