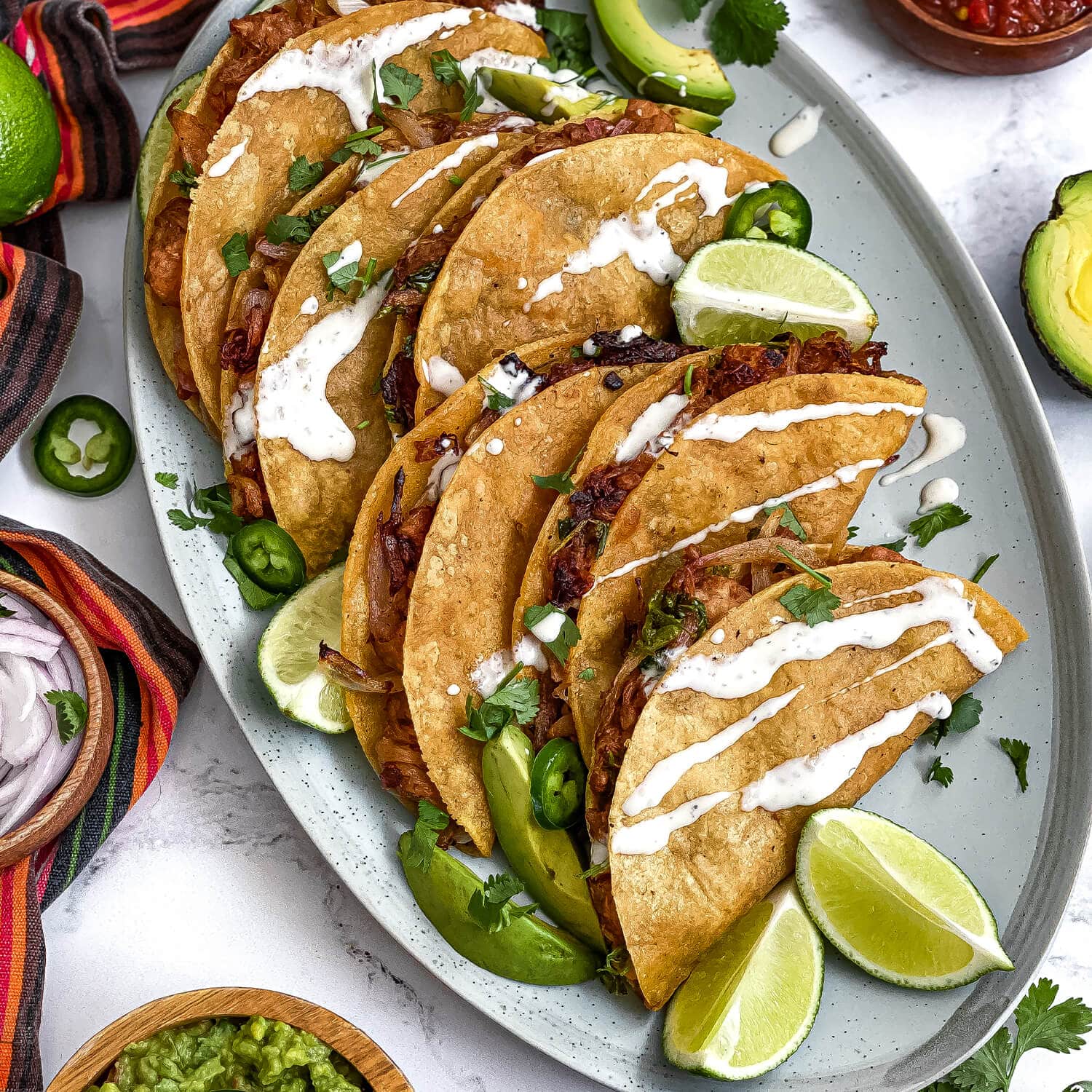 Crispy Jackfruit Tacos
We partnered with our friend @naturallyzuzu to create this delicious vegetarian take on tacos using jackfruit. The perfect ingredient for this time of year, jackfruit comes into season around March or mid-Spring and remains in season until the end of summer.
Makes 8 Tacos
Ingredients:
1 can of green jackfruit in water ( 20 oz can) 

2 tbsp of olive oil 

1 med onion sliced 

2 cloves garlic, minced

1 medium jalapeño seeded and sliced 

1 tsp cumin

1 tsp smoked paprika 

1/2 tsp chili powder 

2 tsp of soy sauce or liquid aminos 

salt, to taste

½ tsp oregano

2 tbsp of chopped cilantro optional 

8 corn tortillas

oil, for frying 
TOPPINGS:
Vegan sour cream, to taste

salsa

¼ cup fresh cilantro, to taste
Directions:
Drain the jackfruit and shred it with fork. 

Place it in the middle of a kitchen towel roll it up and squeeze out as much water as you can. You should see quite a bit of liquid release.

Heat 1 tablespoon oil and saute the onion, garlic and jalapeno over medium heat until golden and fragrant, about 5-6 minutes stirring often. 

Add the jackfruit and soy sauce and stir well. Cook the jackfruit for about 5-6 min until it's browned. 

Add the salt, cumin, chili powder, oregano smoked paprika, and add 1 tablespoon olive oil – stir-frying the spices and jackfruit until the mixture looks caramelized. Add some chopped cilantro and set it aside. 

Wrap the tortillas in a damp towel or paper towel and microwave for 15-20 seconds, so they don't break.

On half of the tortilla, place about one Tbsp of the jackfruit mixture and spread it around. Add more jackfruit if you want more meatier tacos. Fold the tortilla in half and repeat with the rest of the tortillas.

Heat one inch of oil in a pan. Carefully, place the jackfruit tacos in the pan, allowing them to cook for about two minutes on each side.

Once they have developed a golden color, remove from oil and strain excess oil off on a paper towel.