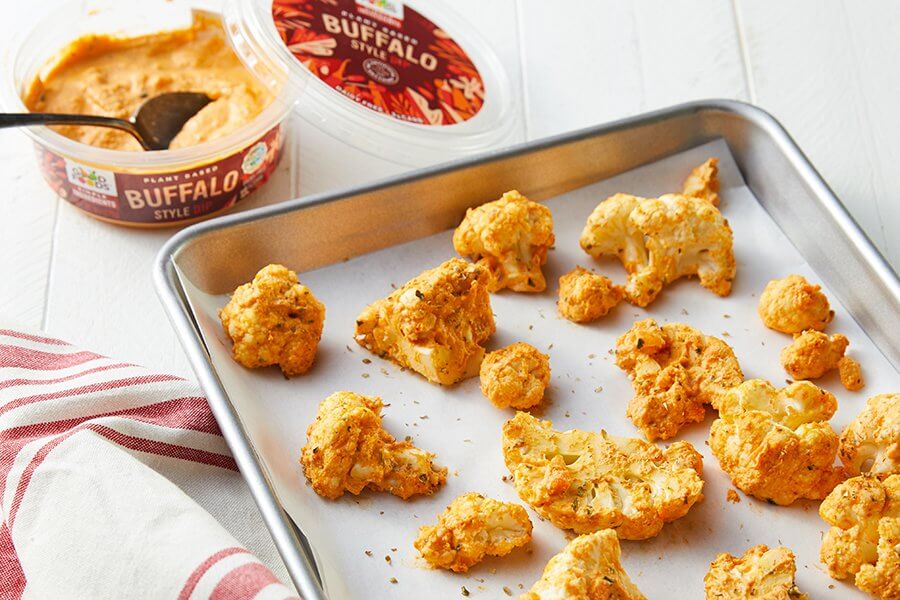 Dairy-Free Buffalo Cauliflower Wings
Our favorite 90's girl band said it best… "Yo, I'll tell you what I want, what I really, really want." …and what we (really, really) want is spicy!
Veggies will never taste the same to you (or picky eaters) again! Our plant-based dips double-team as a veggie seasoning for a (secretly) healthy, tasty side dish.
At just 5 ingredients and less than 30 minutes of prep time, this buffalo cauliflower recipe is perfect for "getting with your friends."
Almonds, red onions and a touch of cilantro combine with buffalo flavors to add the tangy, dairy-free twist that your entree sides need.
Dairy-Free Buffalo Cauliflower "Wings"
Servings: 2
Prep Time: 10 minutes
Cook Time: 15 minutes
Ingredients
2 tbsp olive oil
1/4 tsp salt
1/2 cup water
1 head cauliflower, cut into florets
1/2 cup Good Foods™ Buffalo Style Dip
Instructions
Preheat oven to 450°. Line a baking sheet with parchment paper.
In a large bowl, add oil, salt, water and cauliflower. Stir until well coated. Spread evenly on baking sheet and bake for 20-25 minutes, flipping halfway.
Add buffalo dip to a large bowl. Place roasted cauliflower in bowl and toss to coat. Please back on baking sheet.
Bake for approximately 3-5 minutes until warm.