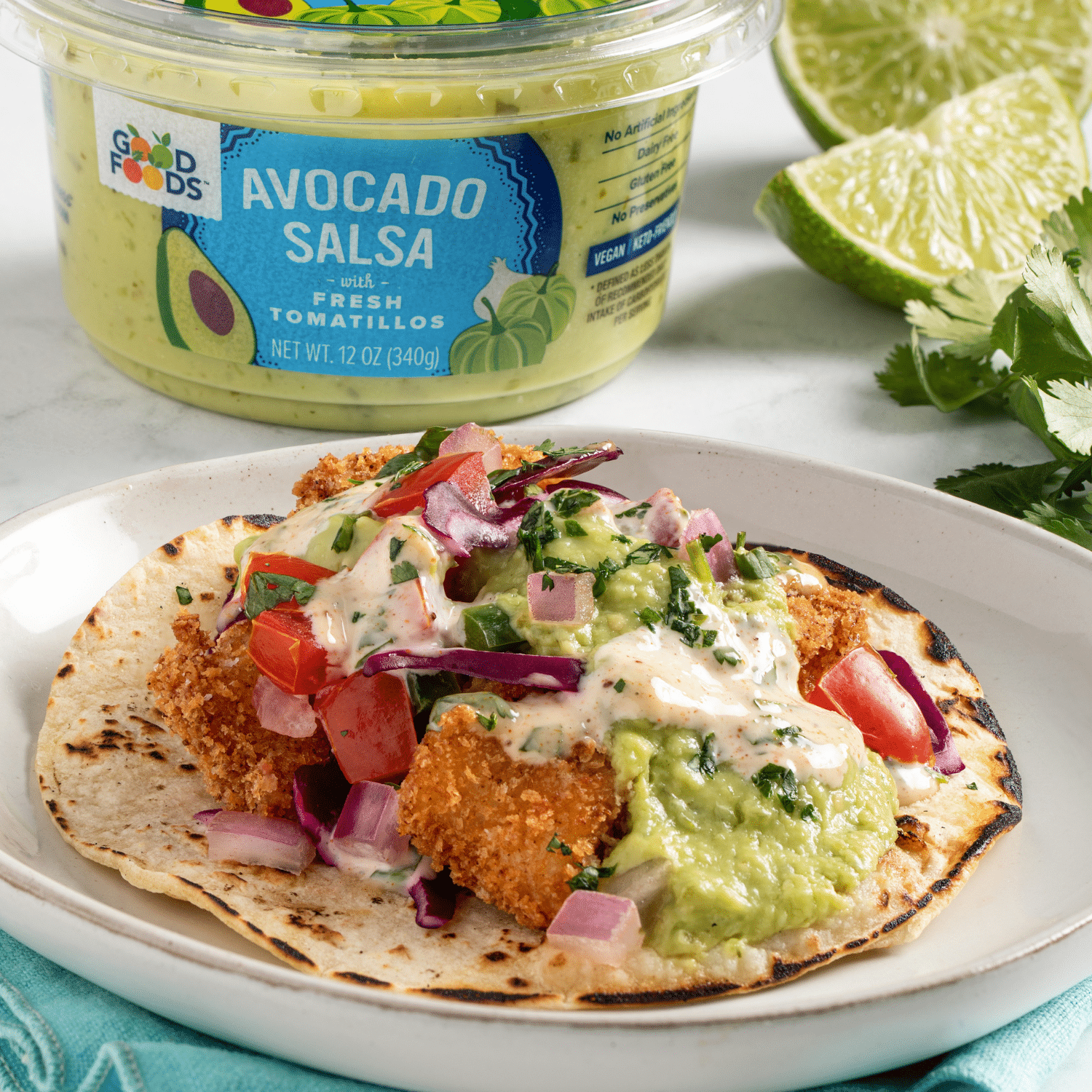 Air Fryer Baja Fish Tacos
Servings: 4
Prep Time: 15 min  
Cook Time: 30 minutes
Ingredients:
For Fish:
2 cups panko bread crumbs
2 tsp chili powder
2 tsp salt 
2 large eggs, beaten
1 1/2 lb halibut filet, cut into 1/2-inch strips crosswise 
For Sauce & Assembly:
1/2 cup mayonnaise
2 tsp seafood seasoning
1/2 lime, juiced, plus lime wedges, for serving
2 tbsp chopped fresh cilantro
12 (6-inch) corn tortillas, grilled 
2 cups finely shredded purple cabbage
1 pkg Good Foods Avocado Salsa
2 cups pico de gallo, homemade or store-bought 
Instructions:
For fish: Preheat air fryer to 400°F. Combine bread crumbs, chili powder and salt in a medium bowl. Add eggs to a separate medium bowl. Dip fish strips into eggs, then into bread crumb mixture, evenly coating each fish strip.
Working in batches, place half of the breaded fish strips in air fryer and coat with olive oil cooking spray. Cook, flipping fish strips halfway through, until golden-brown and easily flakes apart, about 12-15 minutes. Repeat with remaining breaded fish strips. 
For sauce and assembly: Meanwhile, combining mayonnaise, seafood seasoning, lime juice and cilantro in a small bowl.
Top each tortilla with breaded fish, cabbage, Good Foods Avocado Salsa, pico de gallo and mayonnaise mixture. Serve and enjoy!