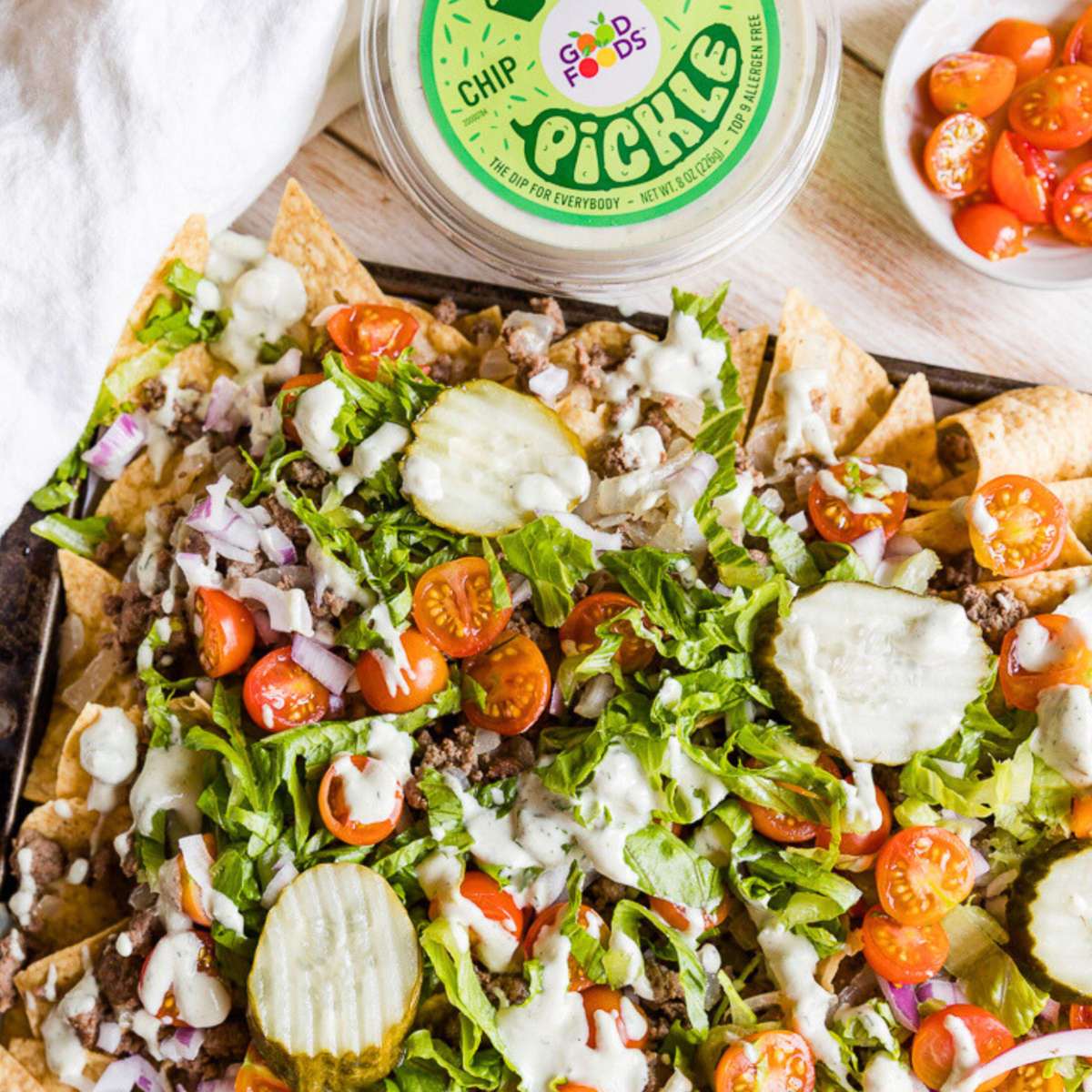 Burger Nachos 
Smash burger salads, tacos and nachos have taken over on TikTok! We had to join the fun with these delicious Dill Pickle Burger Nachos that feature our NEW Dill Pickle Chip Dip. This dip is plant-based, gluten-free and free from the 9 major allergens recognized by the FDA. Everyone can safely enjoy this dip and everyone will want to since it tastes THAT good! Thank you to our friend @freshwaterpeaches for this recipe! 
Ingredients:
1 Pound Ground Beef

½ Teaspoon Salt
½ Teaspoon Garlic Powder
¼ Teaspoon Black Pepper
1 Sweet Onion, Diced
Corn Tortilla Chips
Toppings:
Shredded Lettuce (Romaine or Iceburg)

Dill Pickles
Diced Red Onion
Cherry Tomatoes, Cut in half
Instructions:
Slice and sauté 1 sweet onion.
While your onion sautés, prep your toppings. Chop red onion, cherry tomatoes and your lettuce. 
Add your ground beef to the onions. Add your seasonings. I used salt, garlic powder and black pepper, but feel free to use seasonings of your choice. 
Once complete, lay out of your tortilla chips on a sheet pan and pour your cooked beef and onion mixture on top. Sprinkle on your other toppings and grab a container of the NEW Good Foods Dill Pickle Chip Dip to drizzle over the top. 
 Enjoy!