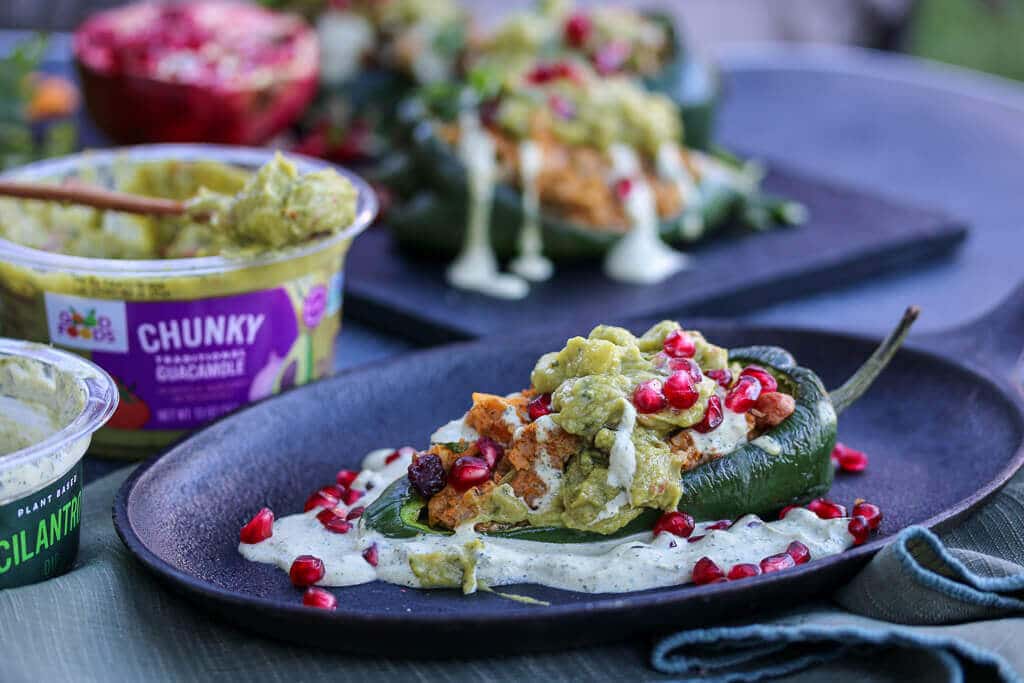 Cauliflower Rice Stuffed Poblano with Chunky Guacamole
2020 Share The Love Winner:
Creator: Merry Graham
Category: Tastiest Photo
From the Creator's Perspective:
A Chiles en Nogada inspired Cauliflower Butternut Rice Stuffed Poblano with Chunky Guacamole and Pomegranate Seeds will keep diners asking formore! Bright and beautiful and oh so healthy.
Ingredients:
4 small poblano chili peppers
1 Tbsp olive oil
1 cup cubed butternut squash
1/2 cup chopped green onion
2 cups cauliflower rice, fresh or frozen
1 tsp ground chili powder blend
1 tsp ground cumin
1/2 tsp salt
2 Tbsp chopped dates
2 Tbsp dried cranberries
1/2 Tbsp fresh lime juice
1/4 cup chopped cilantro
1/2 cup pomegranate seeds
Salt to taste
Directions:
Preheat oven to 400°F.
Make a lengthwise cut, about 1/3 from the top of each poblano peppers. Cut and discard seeds. Chop the piece of poblano that was cut from the top.Place poblano bowls on rimmed baking sheet, cut side up, and bake 10 minutes. Remove from oven, and set aside.
In a large skillet, over medium high heat, combine olive oil, 1/2 cup chopped poblano peppers, butternut squash, and green onions. Cook for 4-5minutes, occasionally stir.
Add cauliflower rice, chili powder, cumin, and salt. Cook over medium heat 4 minutes. Remove from heat, and add dates, cranberries, lime juice, 1/3 cupPlant Based Cilantro Dip, and fresh cilantro. Taste and add salt if desired.
Fill each poblano pepper halfway up with cauliflower mixture, and top with 1 Tbsp Good Foods Chunky Guacamole. Pack the remaining cauliflowermixture into peppers. Bake filled peppers 15 minutes.
To serve: Smear Cilantro Dip on individual plates, and top with a stuffed poblano pepper. Generously dollop Chunky Guacamole on top of pepper.Sprinkle with pomegranate seeds and drizzle with cilantro dip. Sprinkle with cilantro.
Serves 4.