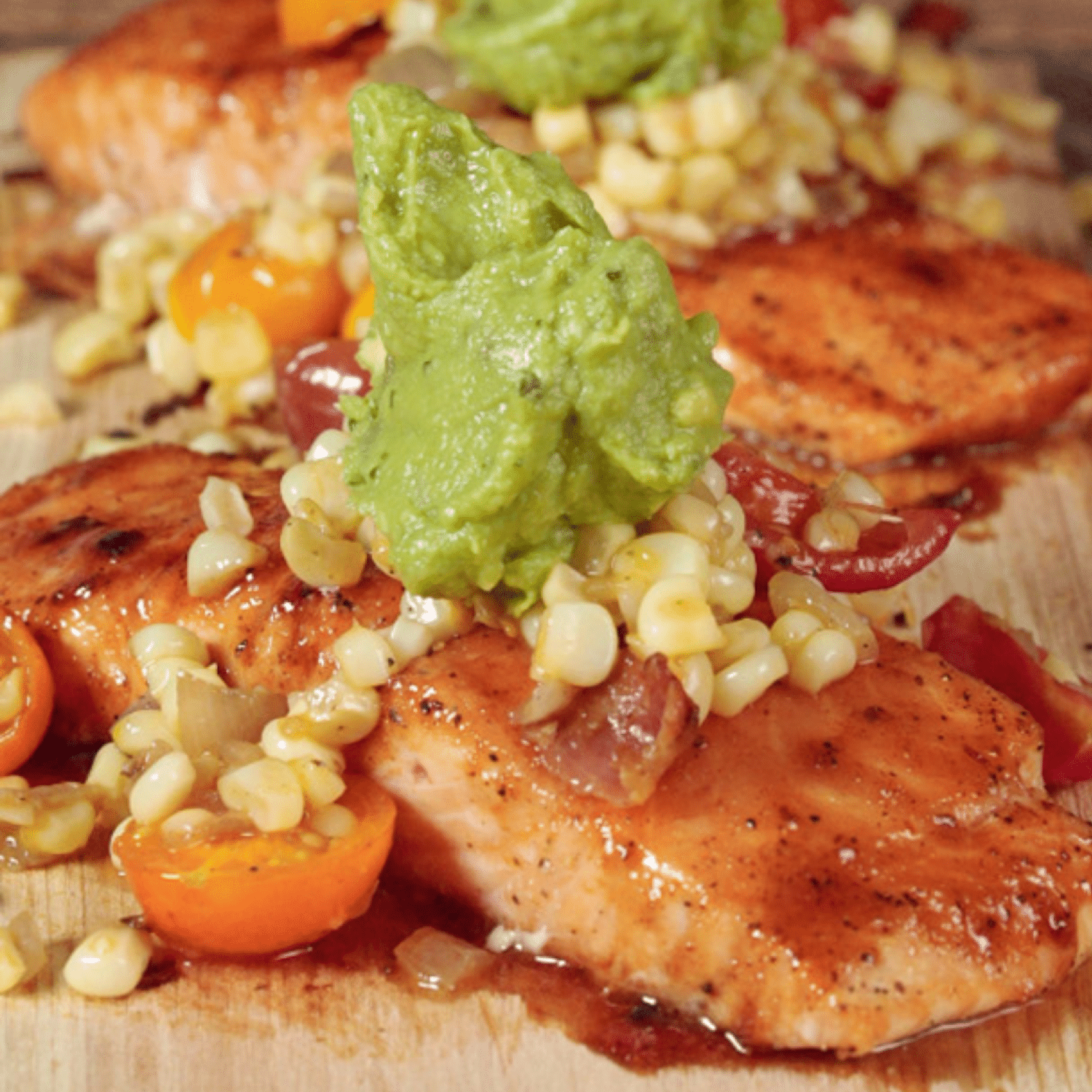 Cedar Plank Salmon With Guac 
This amazing cedar plank grilled salmon recipe is the perfect dish to end grilling season. Topped with corn salsa and Good Foods Guacamole, it is loaded with flavor and nutrients. Shoutout to our friend @myplaeoishlife for this yummy recipe!
Ingredients:
4 salmon filets, skinless
2 corn on the cob
2 big shallots, diced
3 pieces of bacon, chopped
2 cups cherry tomatoes
Good Foods Guacamole (Spicy or Chunky, up to you!)
2 cedar planks, soaked in water
Chipotle Honey GLaze Ingredients:
1/2 cup honey
1/3 cup ketchup
1/3 cup water
1 tbsp brown sugar
1 tbsp white vinegar
2 chipotle peppers in adobe, seeds removed
1/2 tsp ancho chipotle powder or chili powder
Instructions:
Start by making the glaze by adding the glaze ingredients to a blender or food processor and blend until smooth. Add to a small sauce pot and bring to a simmer over medium heat for a few minutes. Once it turns into a glaze with a maple syrup type texture, turn off the heat.  Add to a bowl and set aside.
Now let's do the corn salsa. Grab a pot and fill with water. Once boiling, add a nice pinch of salt and shuck your corn on the cob and add to the water for 5 minutes. Remove and let cool.  Cut the corn off the cob and add to a bowl. Slice your cherry tomatoes in half and set aside. Grab a large saute pan and get on medium heat. Add in the bacon pieces and saute until they are crispy. Remove bacon once crispy and leave the bacon fat in the pan. Add in a little Olive oil and throw in the diced shallot and saute for 1-2 minutes.  Add in the corn and season with salt and pepper. Sauté for 2 minutes then add in the cherry tomatoes and bacon back to the pan. Season with a little more salt and pepper. Add in 1 tbsp of butter then cook for 1-2 minutes and remove to a bowl.
Get your salmon out and let it come to room temp for 30 minutes. Make sure the skin is removed if the filets have skin on them. Grab your cedar planks and a sheet tray. Fill the tray with water and soak your cedar planks for 1-2 hours in the water. Dry and set aside. Get your grill preheated at 500 degrees and let this preheat for 10 minutes once it hits 500. Turn off the right side burner and we will be cooking the salmon on the indirect heat side. Add the salmon filets to the cedar planks. Do 2 on each plank. Season each side with salt, pepper, and garlic powder.  Put into the grill and close. Cook for 5 minutes. Once time is up, open the grill, and brush the filets with the glaze so that you get a nice coating on them. Cook for an additional 3-5 minutes depending how thick the filets are. The internal temp should be around 130 since they will continue to cook once you pull them from the grill. 
Brush the salmon filets with another layer of the glaze. I like to serve right on the plank. Top with some of the corn salsa then a generous dollop of Good Foods Guacamole.
Enjoy!