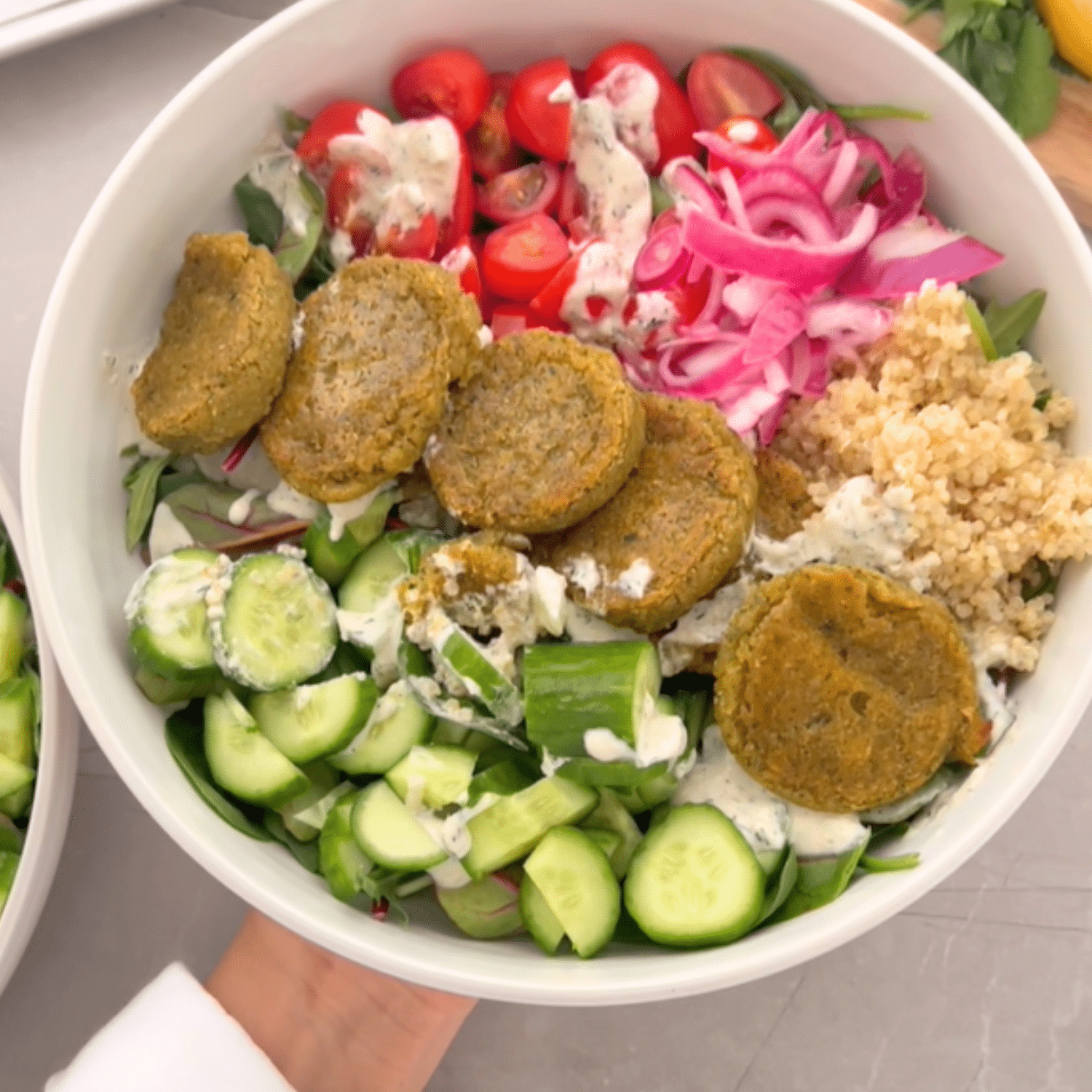 Falafel Bowls
Looking for a refreshing and delicious lunch? Try making this falafel bowl! Thank you to our friend Leena Abed for this yummy recipe!
Ingredients:
Baked Falafel Ingredients
– 15-16oz chickpeas (drained & rinsed) 
– 1/2 cup fresh parsley 
– 1/2 cup fresh cilantro 
– 6 cloves garlic 
– 1 white onion 
– Juice of half a lemon 
– 2 tsp cumin 
– 1 tsp baking powder 
– Salt 
– Pepper 
– 1/2 cup flour of choice 
– Olive oil spray or 1-2 tbsp olive oil for brushing 
Base and Topping Ingredients 
– 1 cup quinoa prepared according to package directions 
– Mixed greens 
– Cucumbers 
– Tomatoes 
– Optional: Pickled onions 
– Optional: Olives 
– Optional: Feta 
Instructions:
Baked Falafel Instructions
Combine all ingredients except for olive oil in a food processor and blend until smooth. Refrigerate for ~1 hour (or up to overnight).

Preheat oven to 400. Form into balls on a lined baking sheet. Brush with olive oil and bake for 10 minutes flipping half way through.

After 10 minutes broil for 3 minutes or until it browns. 
General Instructions
Assemble bowl: Mixed greens, Quinoa, Cucumbers, Tomatoes, Falafel, Tzatziki, and optional toppings

Enjoy! 😊