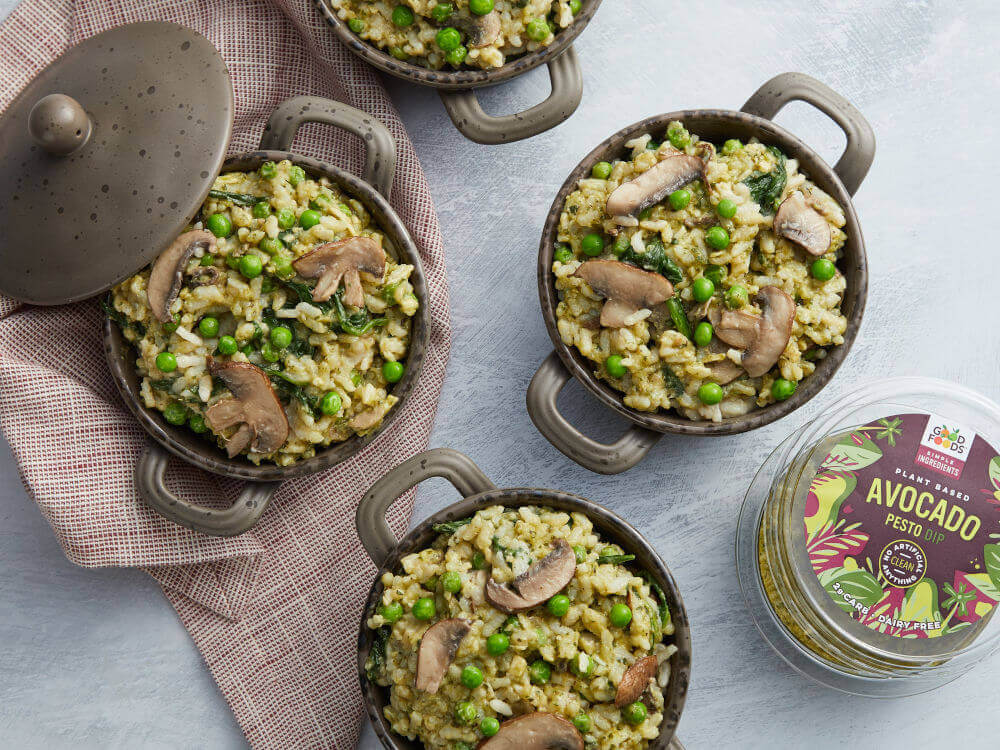 Instant Pot Pesto Mushroom Risotto
Looking for a savory dish that will warm the hearts of your loved ones this holiday season? Well, look no further than our delicious Instant Pot Mushroom Risotto with Good Foods Plant Based Avocado Pesto Dip.
Whether you're searching for an easy family meal or just something tasty you can whip up in a pinch, this dish is sure to please any palate.
Ingredients:
4 tablespoons salted butter
3 cloves garlic, mince
1 medium onion, diced
8 oz. baby bella mushrooms, sliced
2 cups chicken broth
1 cup arborio rice
¼ tsp dried thyme
2 cups baby spinach
¾ cup frozen peas, thawed
5 tbsp Good Foods™ Avocado Pesto
Directions:
Set Instant Pot to the sauté setting. Add butter and melt. Then garlic and onion, cooking about 3-4 minutes until translucent, stirring often.
Add mushrooms and cook until tender, about 3-4 minutes, stirring occasionally.
Stir in chicken broth, rice and thyme.
Select the Instant Pot to high-pressure manual, setting timer to 6 minutes. When finished cooking, quick release pressure using a towel or tongs to protect your hand from steam.
Add spinach, stirring continuously until wilted, about 2 minutes. Stir in peas and cook until heated through.
Add Avocado Pesto, stirring to combine. Salt and pepper to taste. Serve immediately!