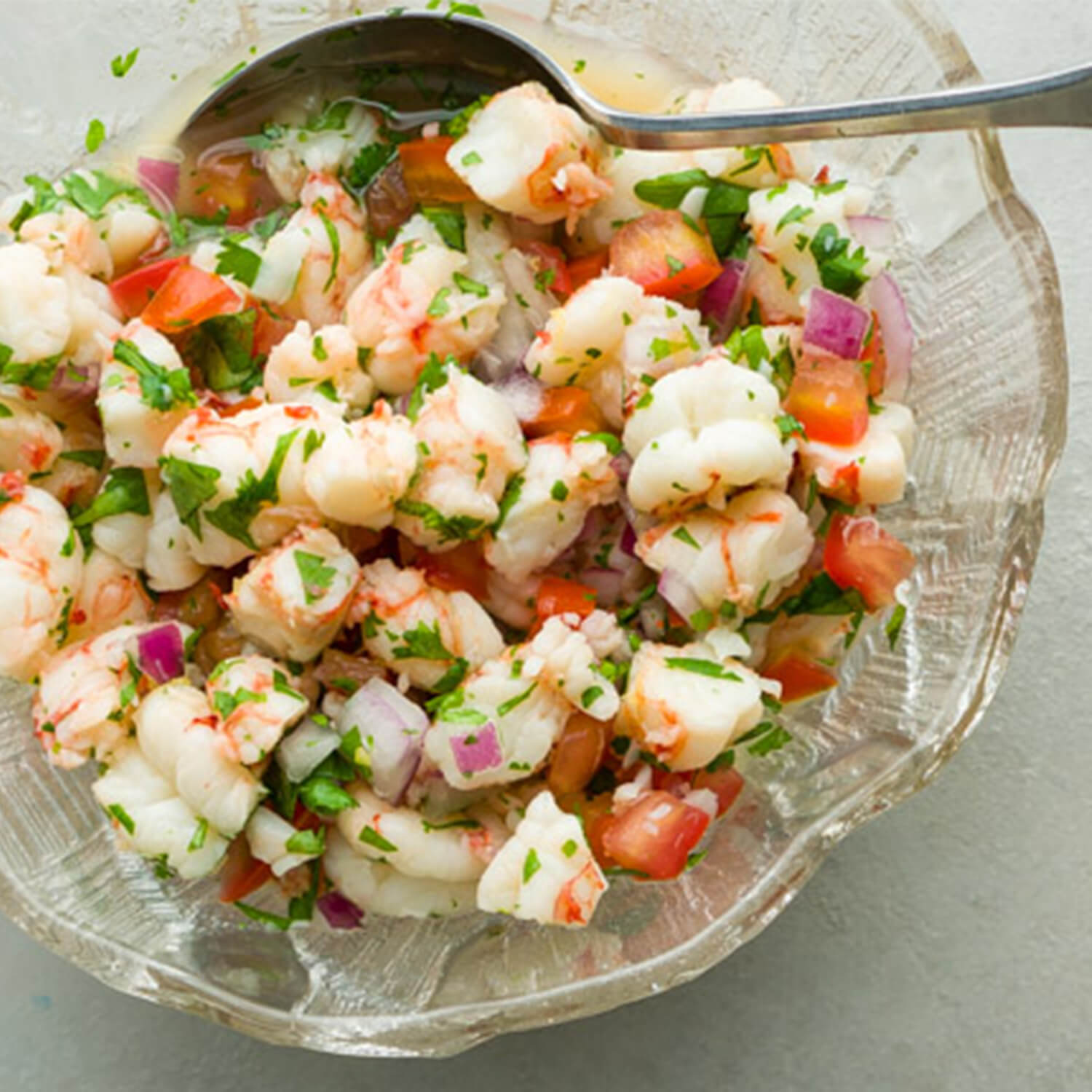 Shrimp Ceviche with Avocado Mash
Ingredients:
1 lb medium sized shrimp
4 pack Good Foods Avocado Mash
2 medium sized limes
1/2 naval orange
1/4 minced red onion
1/2 cup minced mango
1/2 cup minced roma tomato (seeds removed)
1/4 cup chopped cilantro
1 tsp salt 
thinly sliced serrano pepper
sprinkle of pepper and garlic powder
Directions:
 For the fried shallots, use 4 shallots sliced thinly lengthwise. Cut slices into strips and separate them. Add to bowl and sprinkle with a few spoonfuls of Cassava flour and Potato starch. Season with a nice pinch of Salt, Pepper, Garlic Powder, and Paprika. Mix up to ensure shallots are coated in flour mixture and fry in some Avocado oil. Working in batches, add the shallots to the oil and fry 1-2 minutes each side. Remove when browned and season with a bit of salt. set aside.
Clean the shrimp and remove tails.  Cut into 3rds or 4ths depending how big the shrimp are. Add to a bowl. Squeeze your limes and orange half into a separate bowl (should be around 1/2 cup liquid. Squeeze more lime if needed) Pour the juice over the shrimp and sprinkle with 1 tsp salt. Add in the minced onion and mix up. Let this sit in the fridge for at least 2 hours stirring every now and then.
Add in the mango, tomato, cilantro, and 1/2 tsp salt.  Sprinkle with Garlic Powder and Pepper and give a nice stir.
Grab a martini glass or shallow bowl and layer it with some of the Good Foods Avocado Mash.  Top with some of the ceviche and chili slices.  Sprinkle the fried shallots on top and serve with your favorite chips.
Poached Shrimp Ceviche option:
Same ingredients as above.  Clean your shrimp and remove tails.  Boil some water in a saucepot and drop the shrimp and poach for 2 minutes.  Remove and add to a bowl with ice water in it.  Once cooled down, chop into 3rds or 4ths then follow the same steps as above.  Texture will be a little different if you prefer your shrimp more cooked.