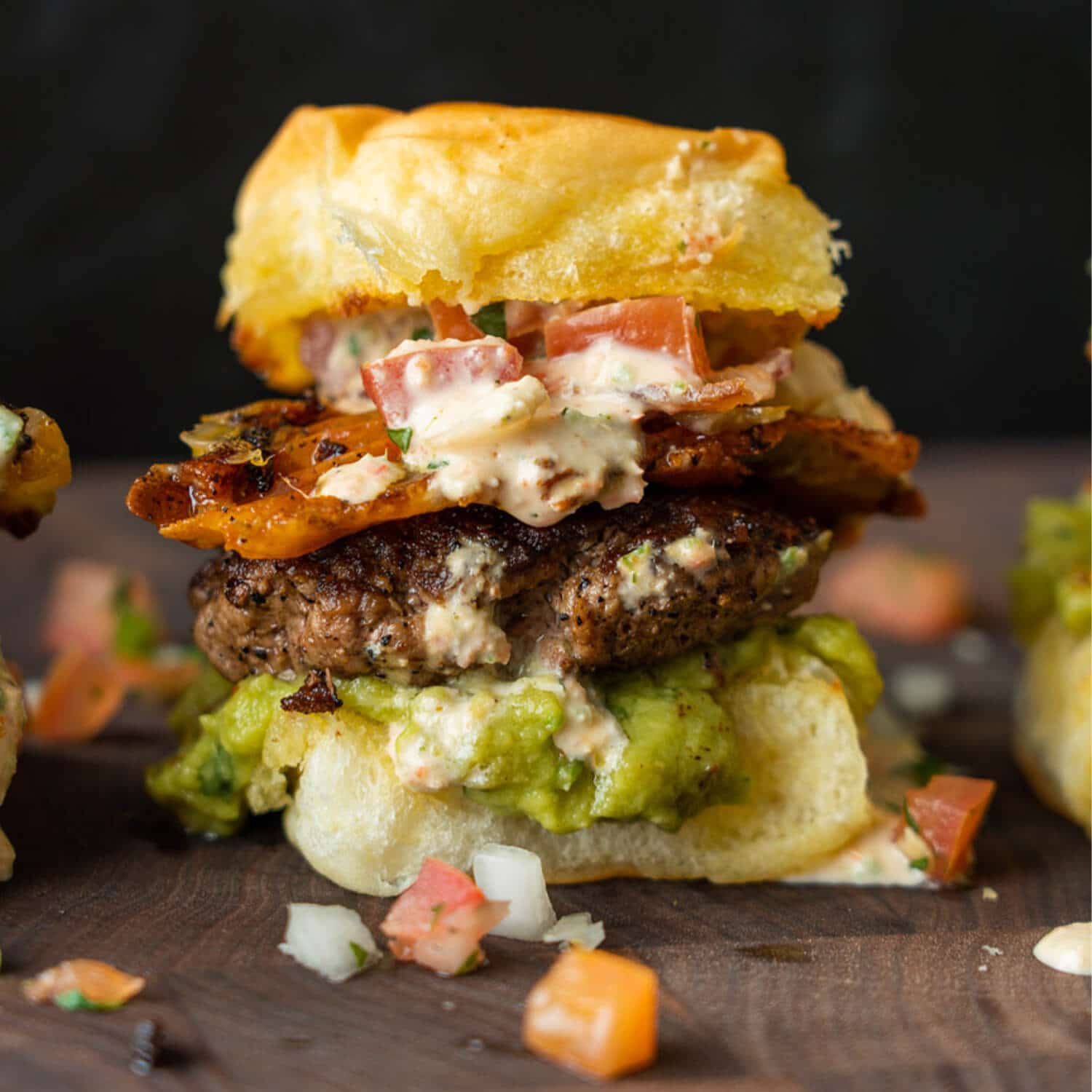 Savory Sliders with Chunky Guac & Southwest Ranch
Check out this DELICIOUS recipe from @mypaleoishlife!
Southwest Ranch Ingredients:
Container of Good Foods Greek Yogurt Ranch Dip
1/3 cup diced red pepper
1 diced jalapeno, seeds removed if you want it less spicy
1/4 cup grated parmesan cheese
2 chopped garlic cloves
1/2 tsp salt
Blend until smooth. 

Homemade Pico De Gallo Ingredients:
5 roma tomatoes
1 serrano pepper, minced
1/2 small white onion, diced
2 tbsp chopped cilantro
1 lime, juiced
1 garlic clove, minced
1 tsp salt
Cut your tomatoes in half then remove the middle with the seeds. Dice the tomatoes and add to a bowl. Add the rest of the ingredients to the bowl and mix up. Let this sit in the fridge for 1-2 hours stirring every so often for the flavors to come together.

Slider Ingredients:
2 lbs 80/20 Ground Beef
Package of bacon
12 count package Kings Hawaiian rolls
Small block of Manchego cheese
Package of shredded cheddar cheese
Container of Good Foods Chunky Guacamole
2 Tbsp butter
Salt, pepper & garlic powder to taste
Directions: 
Start off by Shredding the Manchego Cheese. Grab a bowl and add a big handful of the shredded Manchego with a big handful of shredded cheddar and mix up. Set aside.
Cut the rolls in half and add them to a baking tray. Melt 2 Tbsp of butter and lightly brush the butter on the rolls. Add to the top rack of the oven on a low broil. This only takes a few minutes so keep eyes on them so that they don't burn. Remove once slightly crispy. Set aside.
Add bacon slices to a sheet tray with tinfoil. Add to a cold oven and preheat oven to 400. This way they cook more evenly. This should take around 20-25 minutes so keep eyes on it and remove the bacon once crispy and add to a plate with paper towels. Cut in half and set bacon aside. Bonus tip: Drain the bacon fat to a bowl to cook the sliders in.
Roll the ground beef into medium sized meatballs and set aside.
Grab a 12 inch cast iron pan and get it on medium high heat. You want it nice and hot. Add in 1 Tbsp bacon fat or avocado oil and swirl the pan around. Add one ball at a time of the ground beef and push down with a spatula right away. You want it to be a slider size patty. Continue process adding 4 at a time to the pan. Sprinkle with a little salt, pepper and garlic powder. Get a nice sear for 2 minutes then flip and season other side. Cook for another 1-2 minutes or until your desired doneness. Remove from pan.
For cheese: Add a small pile (slider size) to the pan on medium high heat. Do a few piles with spacing in between. This will bubble fast. Flip once it starts to bubble and let the other side cook for a bit. Remove from pan and add the fried cheese slices to the patties. It's addicting!
 Assembly: Add a nice layer of guac to the bottom bun then your patty on top. Put the fried cheese layer on top and some of the bacon. Do a nice spoonful of pico de gallo and a nice spoonful of the southwest ranch.  Time to eat!