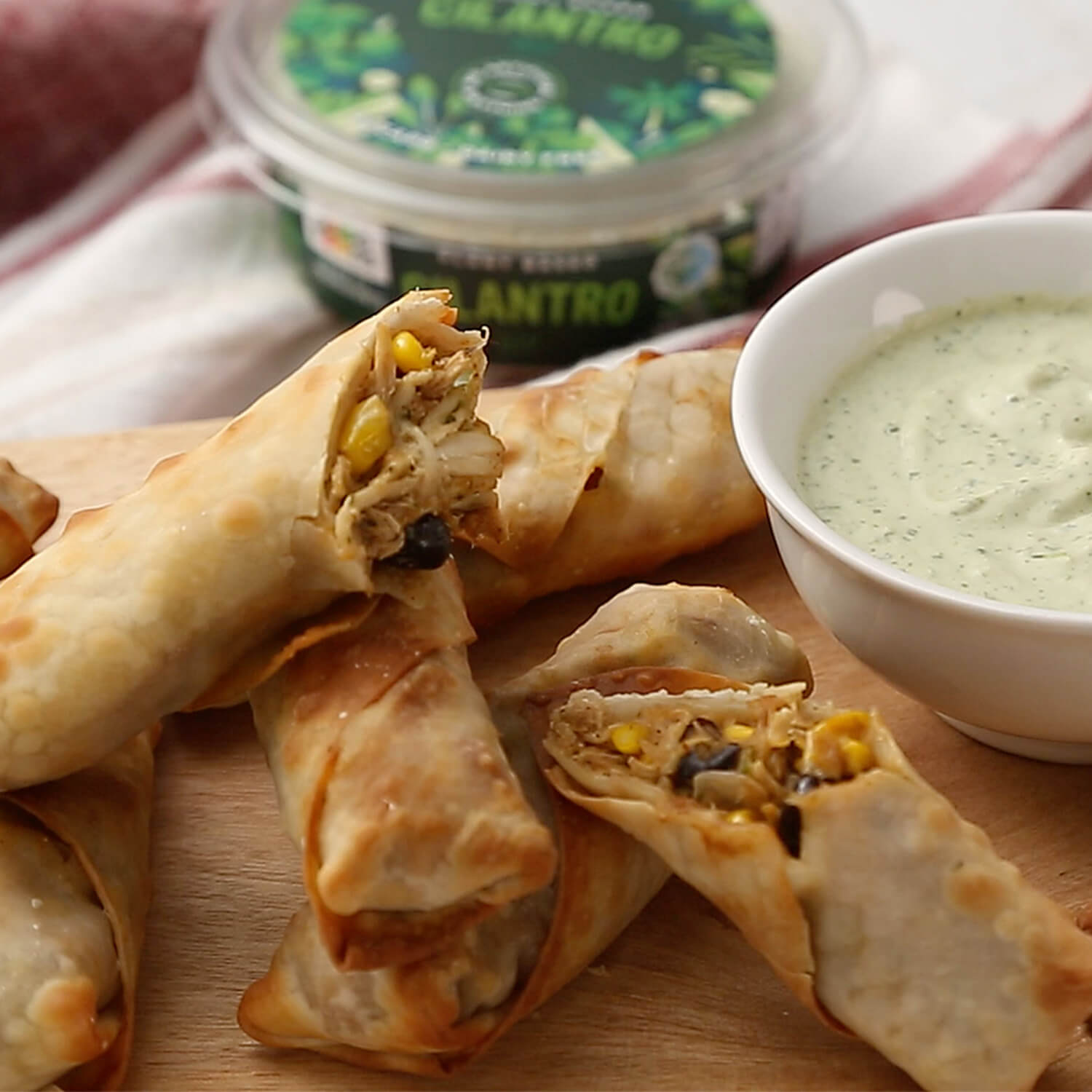 Southwest Egg Rolls
Servings: approximately 14 egg rolls
Prep Time: 15 minutes
Cook Time: 25 minutes
Ingredients:
1 Tbsp olive oil
2 cups chicken breast, cooked and shredded
½ red onion, diced
1 cup black beans, rinsed and drained
1 cup corn
1 green bell pepper, diced
1 Roma tomato, diced
½ cup mild cheddar cheese, shredded
6 Tbsp Good Foods Cilantro dip + more for serving
1 Tbsp garlic, minced
2 tsp cumin
2 tsp chili powder
1 ½ tsp kosher salt
1 package egg roll wrappers
Optional for dipping: Good Foods Chunky Guacamole and Avocado Salsa 
Instructions:
Heat oil in a large pan over medium heat. Add onion and sauté until tender, about 5 minutes, Add garlic and cook 1 minute. Reduce heat to low.
Add chicken, corn, beans, bell pepper, tomato, cheddar cheese, cilantro dip cumin, chili powder, salt and stir. Stir to combine.
Lay an egg roll wrapper on surface as a diamond shape. Spoon approximately three tablespoons of the mixture horizontally to the middle of the egg roll wrapper. Fold the bottom up and over mixture. Next, fold in the sides, using water to secure the seam. Roll the egg roll up tightly and wet edges.
Spray all sides of egg roll with cooking spray to aid in creating a crispy crust.
Air fry in batches at 400°F for 6 minutes, then turn over and air fry another 6 minutes or until golden brown.
Serve warm with Good Foods cilantro dip, chunky guacamole and avocado salsa.