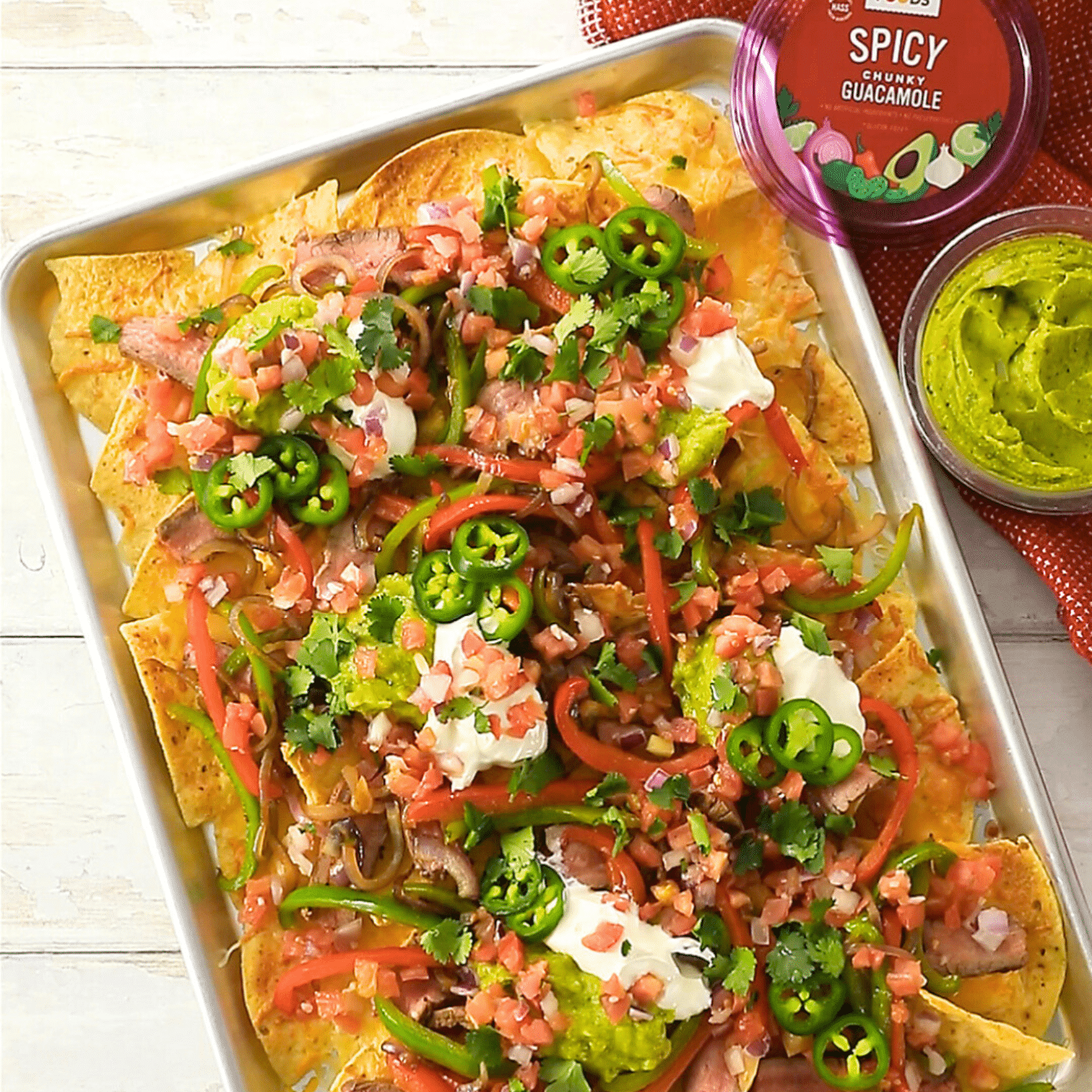 Steak Fajita Nachos
Servings: 4
Marinade Time: 2-8 hours
Prep Time: 10 minutes  
Cook Time: 20 minutes
Marinade Ingredients:
¼ cup olive oil
Juice of 1 lime (about 2 tbsp)
3 cloves garlic (1 tbsp), minced
1 tsp ground cumin
1 tsp chili powder
1 tsp dried oregano
1 tsp smoked paprika
¼ cup fresh cilantro, chopped
Ingredients:
12 oz flank steak
1 tbsp olive oil
1 red onion, peeled and thinly sliced
2 bell peppers, thinly sliced
Kosher salt
14 oz bag tortilla chips
8 oz shredded cheese, such as Fiesta/Mexican blend
Toppings:
Instructions:
Marinate the steak by mixing all marinade ingredients together in a small bowl. Add steak to a resealable bag, add marinade and coat the steak evenly. Seal bag, refrigerate for 2-8 hours.
Remove meat from marinade, place on clean surface and pat dry with paper towel. Season both sides with salt.
In a large cast iron pan, set over high heat, add olive oil and heat for one minute. Add the steak, searing each side for 2-3 minutes or to desired internal temperature. Remove from pan, cover with foil and let rest for 5 minutes.
Meanwhile, add onion and peppers to the pan over medium-high heat. Sprinkle with salt. Cook, stirring occasionally, until slightly softened, about 7 minutes.
Spread tortilla chips onto a large sheet pan and top with shredded cheese. Place pan in oven and broil 1-2 minutes or until cheese is melted.
Meanwhile, thinly slice the steak against the grain.
Remove sheet pan from oven and immediately top with steak, veggies and toppings: Good Foods Spicy Guacamole, sour cream, Pico de Gallo, jalapeno, cilantro and fresh lime juice.
Serve immediately & enjoy!