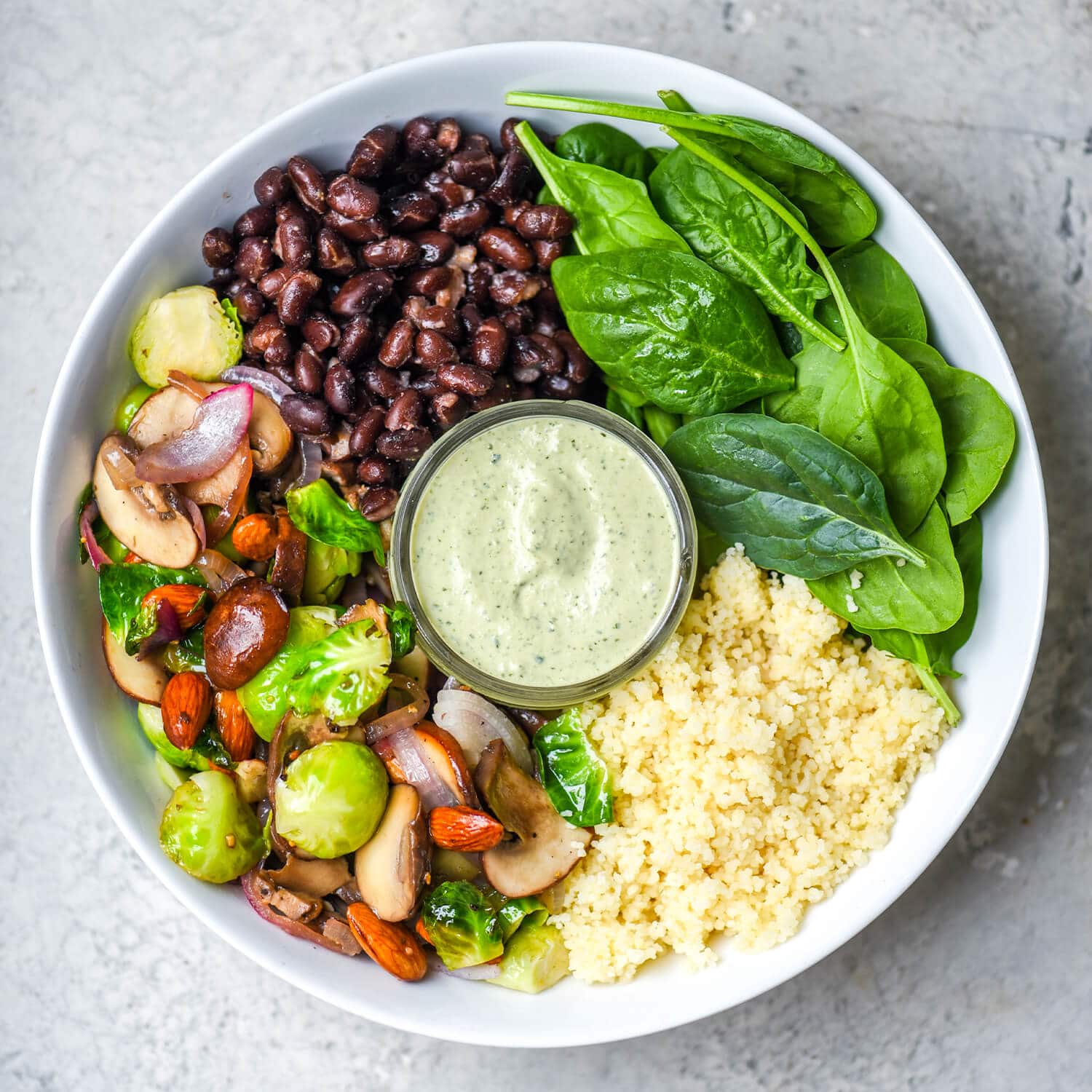 Veggie Bowl with Cilantro Dip
Elevate your salad this year with fresh ingredients that make you feel good. Recipe from @bestofvegan.
Prep time: 10 minutes
Cook time: 10 minutes 
Makes 1 large bowl (shown in picture)
Ingredients:
Black Beans:


1 cup cooked black beans
1 pinch of sea salt
1 pinch freshly ground pepper
1/2 tsp olive oil (optional)
1/4 tsp cumin
1/4 tsp paprika

Sautéed Veggies:

1 cup sliced or chopped Brussels Sprouts (stems removed)
2-3 Tbsp whole almonds
3-4 oz mushrooms of choice, sliced
1 shallot, sliced
1 garlic clove, minced
1 tsp olive oil
1/2 tsp liquid smoke (optional)
1 pinch ground coriander (optional)
Sea salt and pepper to taste 

Couscous:

1/4 cup dry couscous
1 pinch of sea salt
1 pinch of cardamom (optional)
1 tsp vegan butter

Other Ingredients:
Directions:
Black beans: Sauté the black beans in olive oil in a nonstick pan with the seasonings over medium to high heat for just about 3-4 minutes.
Sautéed Veggies:

Add the shallot, garlic, Brussels sprouts and mushrooms to a medium to large nonstick pan and sauté in the olive oil over medium to high heat for 5 minutes. Add the almonds and seasonings and reduce heat to medium. Mix well and cook for 3-5 minutes (until the mushrooms are crispy golden brown).

Couscous:

Add the couscous to a small bowl or cup and cover with boiling water (just enough to cover the couscous + about 1 cm more). Mix well, add the seasonings and butter, cover with a plate and let sit for 5 minutes. Note: if it's too dry, simply add a little more hot water.

Assemble: Serve everything in a bowl with the spinach and cilantro dip and enjoy!