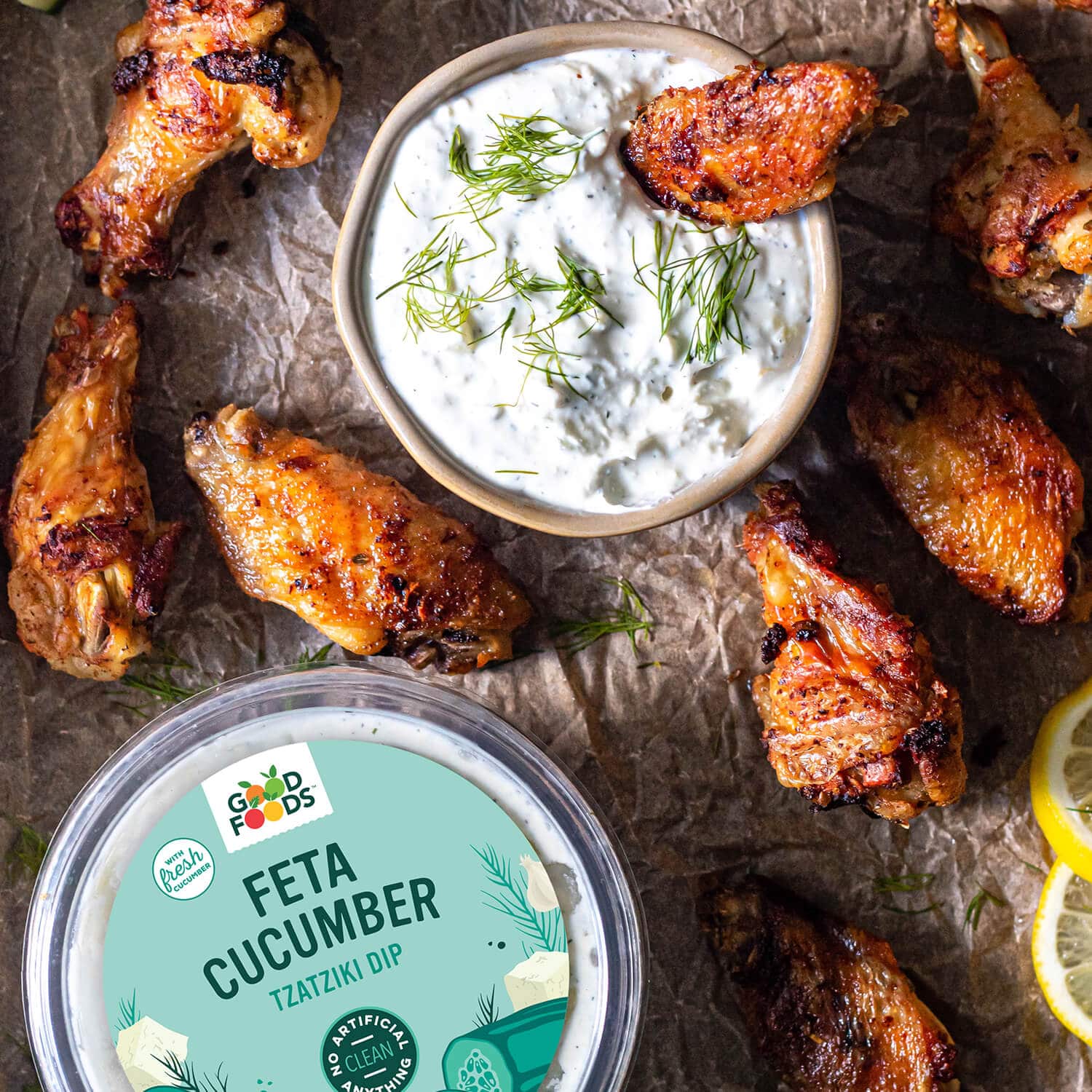 Greek Grilled Chicken Wings
These Greek grilled chicken wings start with a delicious marinade that's made with a few simple ingredients. Then, once your wings are grilled you can serve them with a delicious and ready-to-eat Feta Cucumber Dip! The longer you let the wings marinade, the more flavorful they'll be, so we highly recommend letting them marinate overnight.
Ingredients:
1.5 – 2 lbs split chicken wings, cleaned and prepped
1 tbsp olive oil
2 tbsp red wine vinegar
1 lemon, juiced and cut into slices
1 tbsp salt
1 tsp dried oregano 
1 clove fresh garlic, minced
1 tsp onion powder
1 tsp red pepper flakes 
fresh cracked black pepper
1 container Good Foods Feta Cucumber Dip
Directions:
First make the marinade by adding all of the ingredients, except the chicken wings, to a large bowl. Stir until well combined.
Add the chicken wings to the bowl and then toss until the wings are well coated. Cover the bowl with plastic wrap and let the chicken wings marinate in the fridge for 30 minutes or up to overnight.
When you're ready, grill the wings for 15-20 minutes or until completely done. Finish the wings with a squeeze of fresh lemon juice and serve immediately with the feta cucumber dip.
Don't have a grill? Bake the wings on a baking sheet lined with parchment paper at 425 degrees for 40-45 minutes or until crispy, flipping halfway through.
Check out this recipe and others from Ashlea at All The Healthy Things!