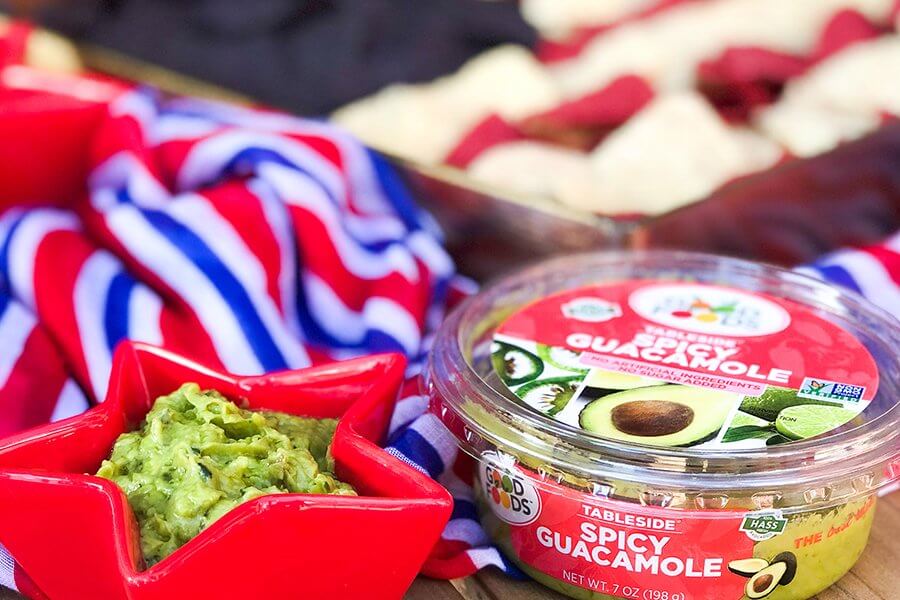 Happy Fork of July: Independence Day Recipes That Win Any Party Battle
On a scale of 1 to America, how free are you for a party?
Time to celebrate one of summer's best holidays with a grilling party for July 4th. Declare your independence by choosing your own guacs sure to make any party more festive – cause baby, you're a firework!
How fun are these red, white and blue chips? They're so easy to assemble into the shape of the American flag. Put this tray on top of a fun tablecloth or wooden table for an easy, Insta-worthy decoration.
Here are a few ways that we're making sure our 4th of July parties let freedom ring:
Red, White and Barbecue
Party with our Chunky Guacamole! No matter what you put on the grill, our guac is there to help. We personally put it on our burgers to give the pineapple and onions an even bigger flavor boost. But we have loved ones that put it on hotdogs, sandwiches, anything that needs a little 'Merica. Good thing we never have just one – this stuff goes fast.
Top That, England
This holiday is about life, liberty and the pursuit of … guacamole, which does bring happiness!
Our Spicy Guacamole takes those hostess worries away – a few scoops and the party is served. How 'Merica is that?
From all of us at Good Foods, we hope you have a very happy Independence Day and a blast watching the fireworks!