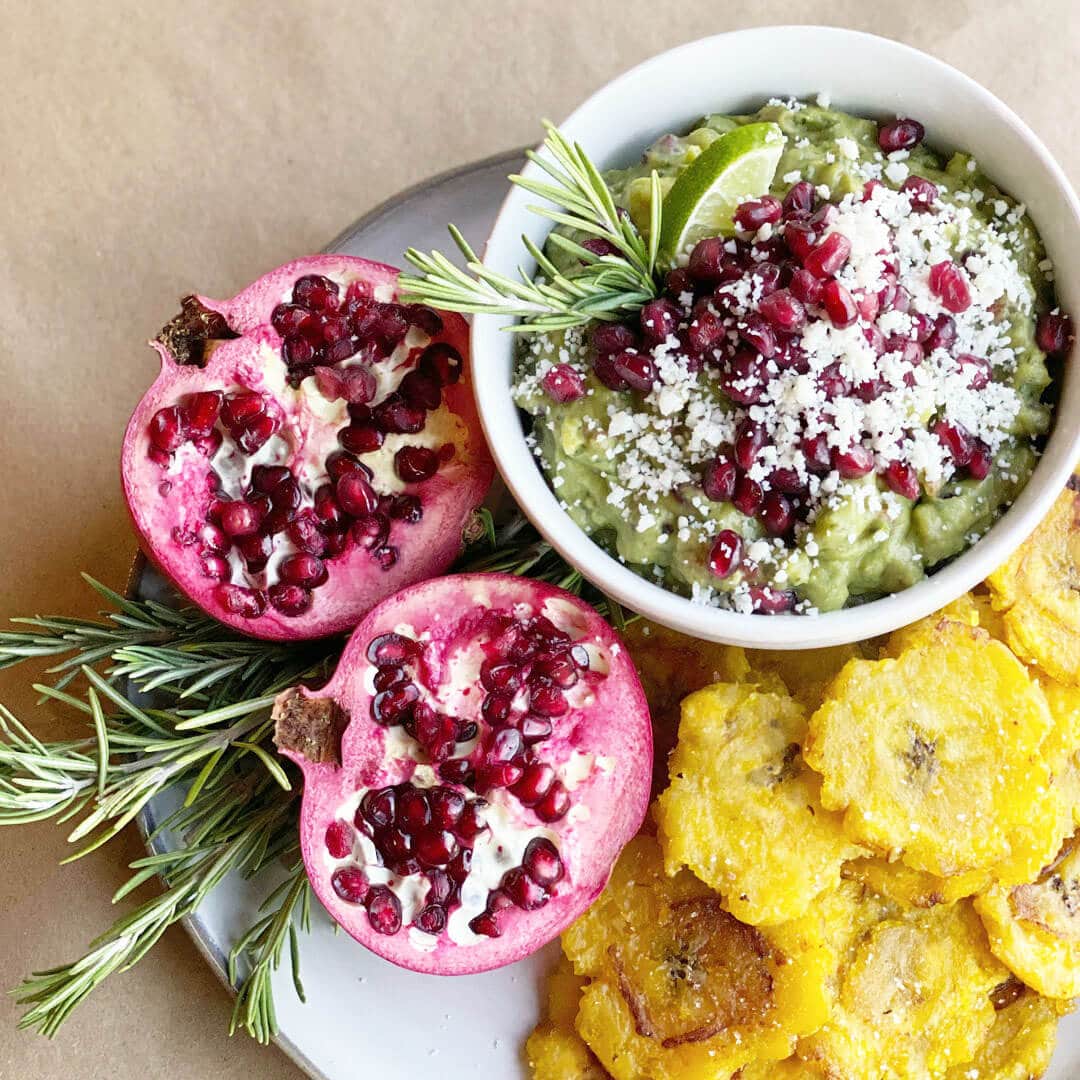 Pomegranate Guacamole with Tostones
Festive green and red guacamole that tastes delicious and presents beautifully! Savory avocado paired with slightly sweet pomegranates and salty crumbled cheese – all topped on warm tostones. This is a dish that will make you go 'Mmmmmm'!
Tostones are simply twice-fried plantains that make the perfect pairing for this festive guacamole dish. Tostones are easy to make and best served warm!
Ingredients:
1 container Good Foods Chunky Guacamole
2 pomegranates or 1 container POM POMS Fresh Pomegranate Arils
3-4 plantains for tostones
Sea salt for tostones
2 Tbsp grated cotija cheese for topping (or you can get the block of cotija and use a food processor to grate)
1 lime for garnish
Fresh rosemary for garnish
Pomegranate Guacamole:
Mix 4-6 Tbsp (or about ¾ container of POM POMS) pomegranates into Good Foods Guacamole – we used the ready-to-eat Pom Poms Fresh Arils, saving the remaining to garnish on top.

Sprinkle the remaining pomegranates on top of the guacamole and add 1-2 Tbsp of grated Cotija cheese.

Garnish with lime slice and fresh rosemary.
Serve with Tostones (recipe below).
For a beautiful presentation cut a whole pomegranate in half to add to the plate and fresh rosemary.
Tostones (Fried Plantains)
Peel the plantains by making a vertical cut through the skin and peeling it back.
Cut the plantains into 1-inch thick pieces. Heat a layer of oil in a heavy bottomed pan.
Fry the plantains in batches. Once the pan-side edge turn light golden brown, flip over to fry the other side evenly. Then remove from oil and transfer to a plate lined with paper towels.
Using a flat plate/bowl/spoon, gently smash each fried piece and scrape off with a spatula – this will flatten the tostones for the second frying. Return to the frying pan and fry for a 2nd time for 2-5 minutes or until golden brown and crispy. Transfer back to a paper towel lined plate to drain excess oil.
Sprinkle with sea salt and serve immediately.