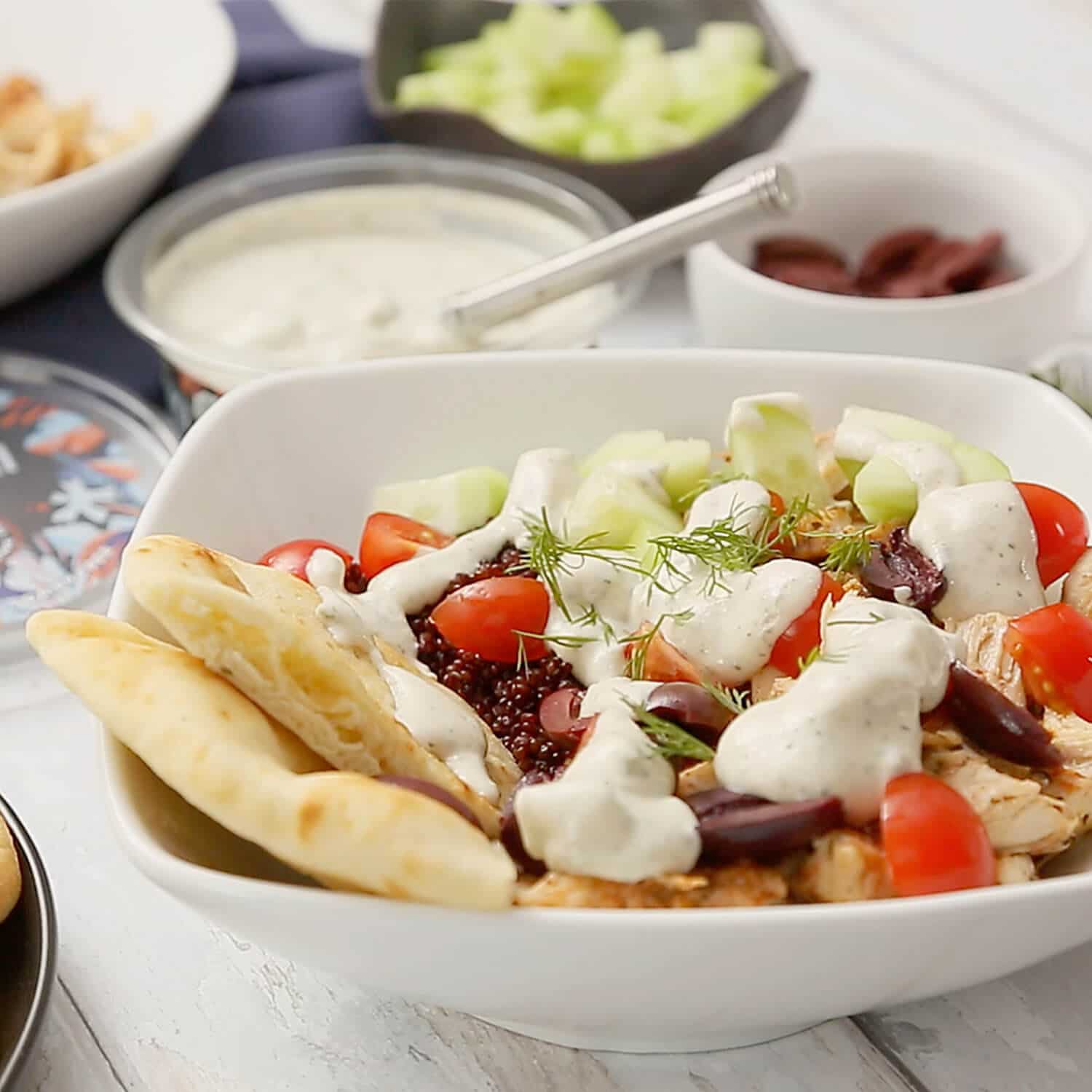 Instant Pot Greek Chicken Bowl
Servings: 2
Prep Time: 5 minutes minutes
Cook Time: 30 minutes
Ingredients:
1 Tbsp garlic, mined
1 tsp oregano
½ tsp paprika
½ tsp salt
¼ tsp ground pepper
1 ½ lbs boneless, skinless chicken breasts sliced ½ inch thick
½ cup low-sodium chicken broth
1 cup quinoa or couscous
1 cup cherry tomatoes, quartered
½ cucumber, chopped
½ cup pitted Kalamata olives, chopped
4 Tbsp Good Foods Tzatziki Dip
Garnishes: lemon wedges, fresh dill, pita wedges
Directions:
In a medium-sized mixing bowl, combine garlic, oregano, paprika, salt, pepper and chicken. Stir to combine.
2. In the bowl of an Instant Pot, add chicken broth, and then add seasoned chicken. After placing the lid on and turned to sealing, set Instant Pot to the Poultry setting.
3. Once finished cooking, use the quick release method. After opening the lid, remove chicken from Instant Pot to a covered dish, leaving the broth juices in the Instant Pot.
4. Add quinoa to Instant Pot and stir. Add lid and set to sealing, then select the Rice option.
5. Once cooking has finished, use the quick release option again and remove the lid when ready.
6. Create your Greek chicken bowl by layering ½ of the quinoa, chicken, cucumber, tomatoes and olives in a bowl. Using the Tzatziki as a dressing, add 2 Tbsp to each bowl. Garnish with fresh dill and lemon wedges. Serve with pita wedges.