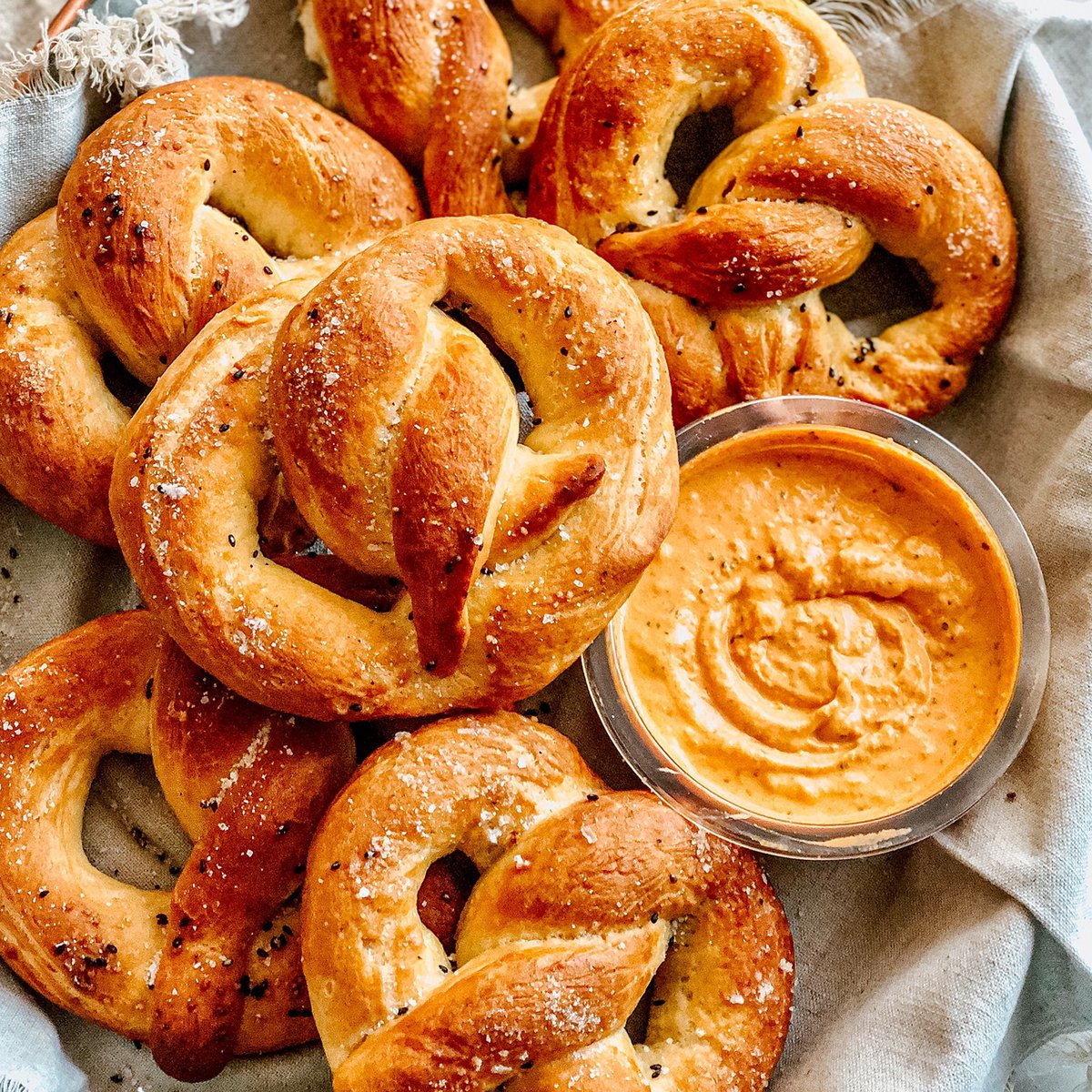 National Pretzel Day
These homemade pretzels from Naturally Zuzu are deliciously doughy and simple to make. It's a delicious way to celebrate National Pretzel Day!  Hope you'll give this amazing recipe a try!
Ingredients:
1/4 ounce active dry yeast (1 package)

1 cup warm water

1/4 cup maple syrup

1 1/2 teaspoon salt

2 tbsp of melted vegan butter or regular butter 

2 1/2 cups 

all-purpose flour

, plus more 

Oil for greasing

7 cups water

1/2 cup 

baking soda

1 tablespoon 

coarse salt

 for sprinkling 

Good Foods Queso or Buffalo Style Dip 
Directions:
Preheat the oven to 410ºF. Lightly oil a large baking sheet and set aside.

In a large mixing bowl, combine the yeast, 1 cup warm water, maple syrup, and salt, stirring until the yeast is dissolved. Let stand for 10 minutes, or until the mixture is bubbly. Add the melted butter to the yeast mixture then gradually add the flour until a soft dough forms. Add extra flour if necessary. Dough shouldn't be sticky or too firm. Turn the dough out onto a clean work surface and knead until elastic and smooth, about 5-10 minutes.

Place dough in a lightly oiled bowl, cover, and let rise in a warm place for about 1 hour or until dough doubled in size.

Bring the 7 cups of water and baking soda to boil in a medium-large saucepan over medium-high heat.

Press down the dough and turn out onto a clean work surface. Separate the dough into 8 pieces and roll each into a rope about 1/2-inch thick. Twist the ropes into pretzel shapes, securing both of the ends on the base of the pretzel.

Drop 1 pretzel at a time into the boiling water. Boil for about 30 seconds, carefully remove using a slotted spoon, and transfer to the prepared baking sheet. Repeat this until all of your pretzels have been boiled.

Sprinkle with coarse salt and bake until golden brown, about 11 to 12 minutes. Allow pretzels to cool slightly before serving. Serve warm or at room

Serve with Good Foods Queso or Buffalo Style Dip 
For more recipes and inspiration, checkout Naturally Zuzu!