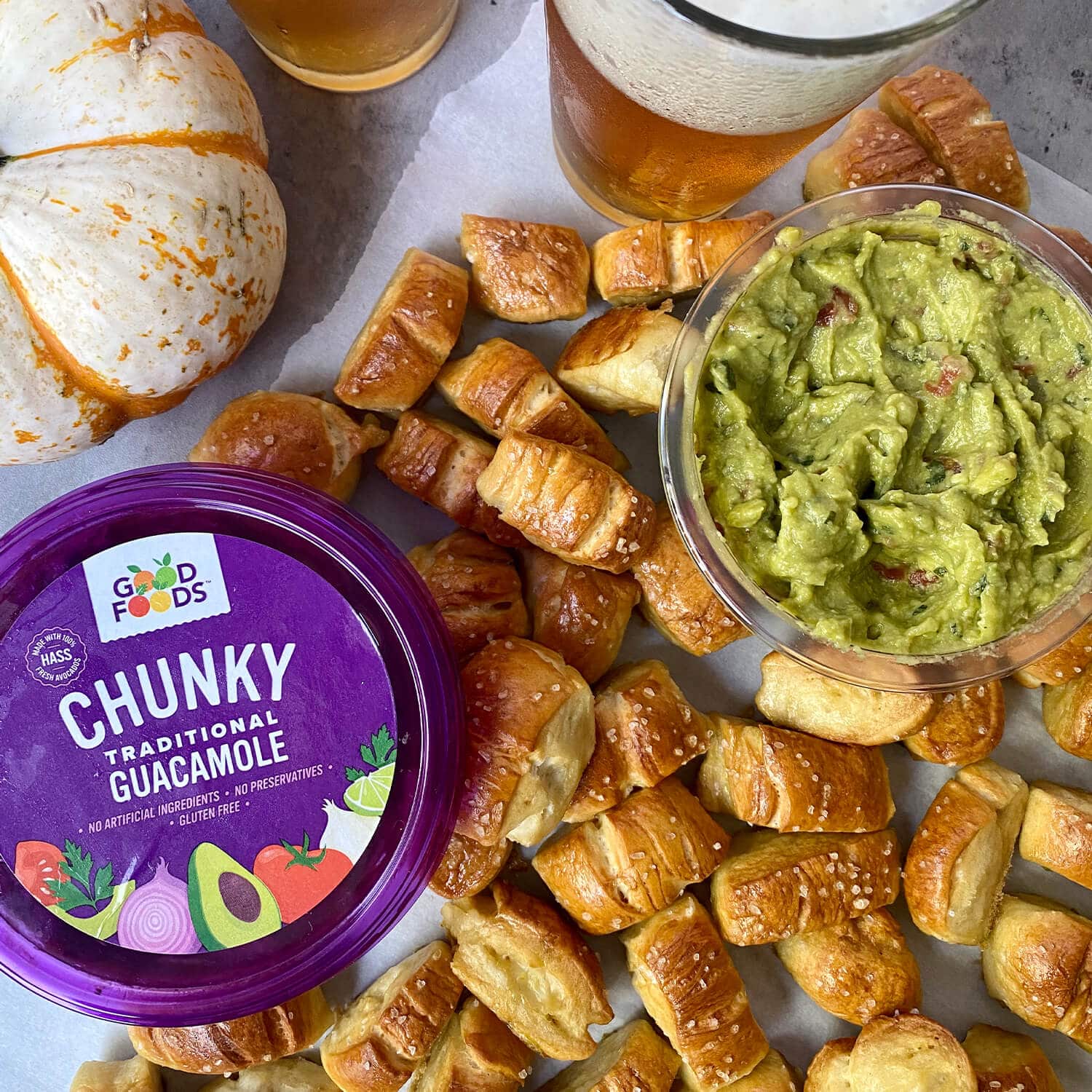 Pumpkin Beer & Pretzel Bites with Guacamole
Ingredients:
1 ½ cup warm water
1 Tbsp honey
2 tsp salt
1 package active dry yeast (0.25 ounce)
½ cup butter, melted
4 ½ cups flour
10 cups water 
½ cup baking soda
1 egg
1 Tbsp water
2 Tbsp coarse sea salt
Directions:
Add water, honey, and salt to large mixing bowl until dissolved.
Sprinkle yeast on top of water mixture and let set for 7 minutes (until bubbly).
Add butter and flour and stir until combined.
Use dough hook on mixing bowl for 5 minutes to combine into a dough (or knead well).
Cover bowl tightly with saran wrap and let rise for 1.5 hours.
Once dough has risen, boil the 10 cups of water with baking soda.
Next, divide dough into quarters. Roll out each quarter of dough into a 1" thick "rope."
Cut 'ropes' into ½" pieces. Place 10-15 pretzel pieces into boiling water for 30 seconds.
Once pieces begin to float, carefully remove with a slotted spoon and place on baking sheet prepared with parchment paper. Repeat with all pieces.
Whisk egg with 1tbsp water. Brush egg wash onto pretzel pieces. Sprinkle with course sea salt.
Bake at 450F for 12-15 minutes.
Turn oven to high broil and broil pretzels until they begin to turn golden (about 2-3 minutes).
Serve with pumpkin beer and Good Foods guacamole for dipping.
Notes:
Perfect for celebrating, serve the pretzel bites on a platter with guacamole dipping.
Shape the pretzels anyway you'd like! Rather than cutting into bites, form into jump pretzels before placing in boiling water.
In addition to salt, top with sesame seeds and/or poppyseeds for additional flavor.