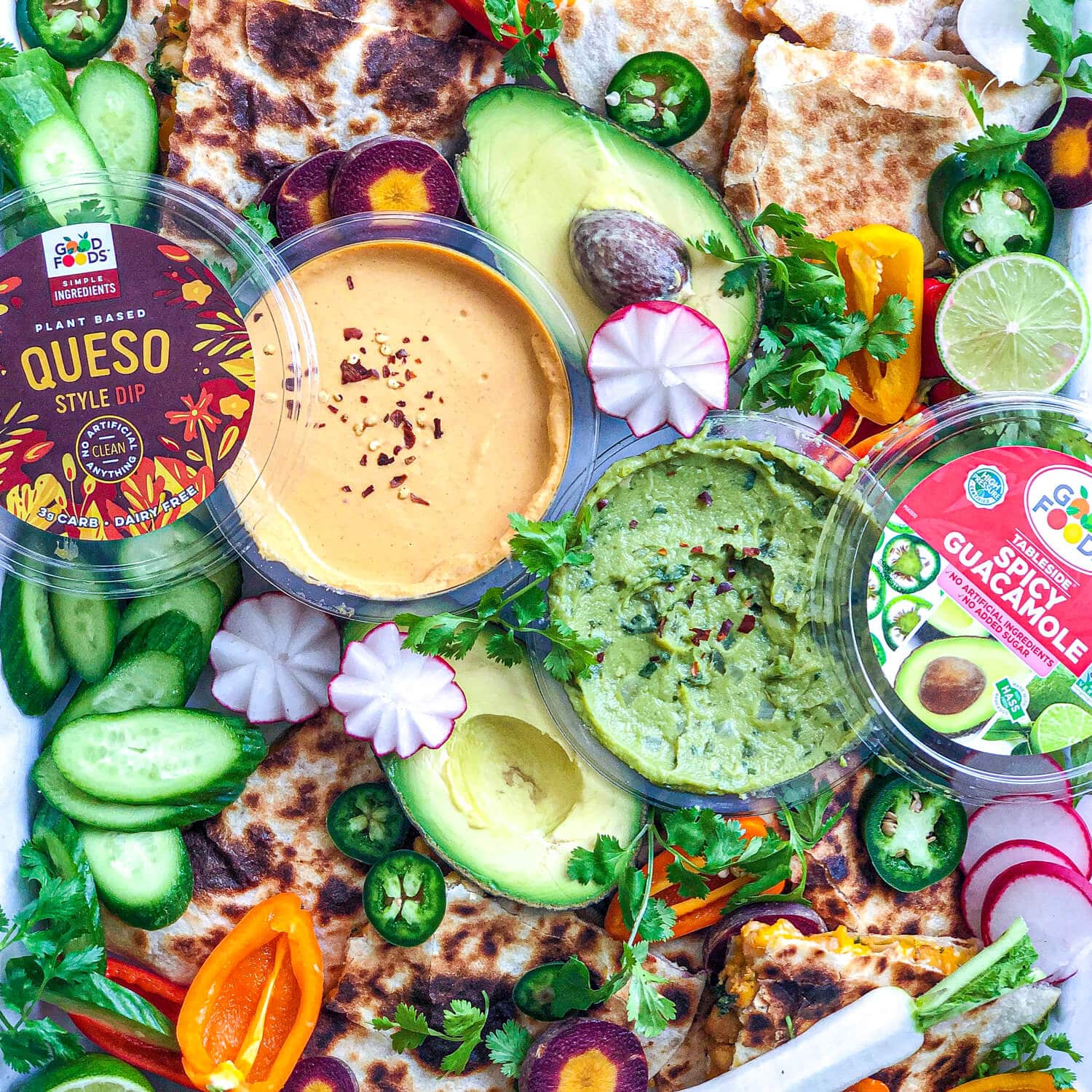 Queso Chickpea Quesadillas
Don't get too cheesy now, but these quesadillas are so tasty!
With ooey-gooey queso-style dip and spicy jalapeños, this recipe is taking no chances with flavor. Add as many veggies as you want for extra crunch and colors! (We're partial to cucumbers and radishes, personally…)
Makes 6 servings.
Ingredients:
2 cans of chickpeas (drained and dried)
2 tbsp cooking oil
1 purple onion, chopped
1 med. red bell pepper chopped in small cubes
1 med. green bell pepper chopped in small cubes
1 jalapeño seeded and chopped
3 tbsp of Good Foods Queso Style Dip
Good Foods Spicy Guacamole for topping
8 large flour tortillas
2 ½  cups of vegan shredded cheddar cheese
Directions: 
In a saucepan, heat the oil and sauté the chopped onions until onions are soft.
Add the chopped bell peppers, jalapeños, and chickpeas. Sauté for 5 min. until peppers are soft. Add Good Foods Queso Style Dip and mix everything to combine. Cook for an additional 5 min. Set aside.
Start warming up tortillas. Fill each tortilla with the Chickpea mixture, vegan cheese, cover with another tortilla.
Grill the Quesadillas on both sides over a medium heat until cheese is melted and quesadillas are toasty. Top with Good Foods Spicy Guacamole. Enjoy!
For more recipes and inspiration, check out Naturally Zuzu!