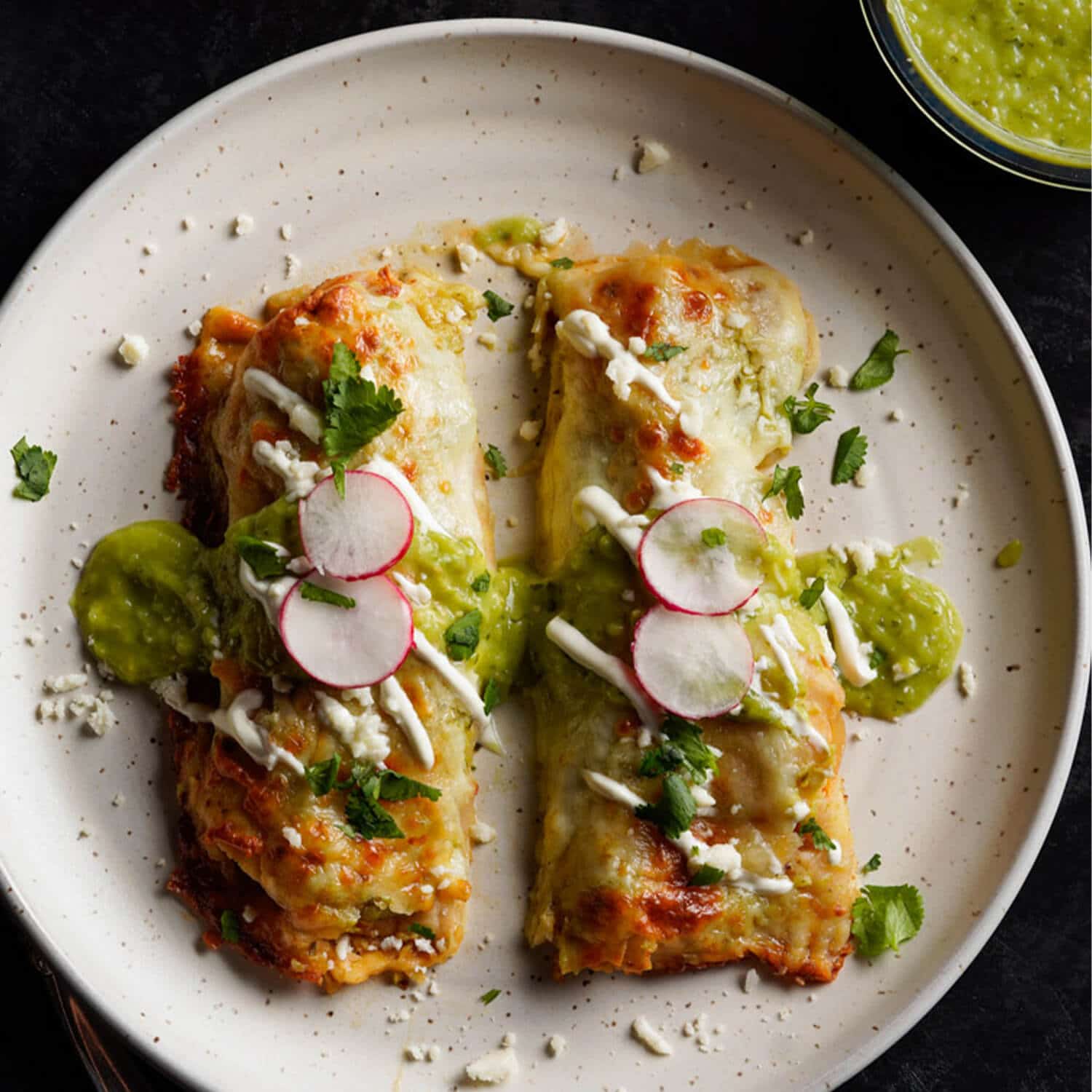 Shrimp Enchiladas with Avocado Salsa
Our friend @mypaleoishlife helped us create shrimp enchiladas using our Good Foods Avocado Salsa to bring out even more flavors with every bite! 
Ingredients:
8-10 tortillas

2 lb shrimp

1 container Good Foods Avocado Salsa

1 lb monterey jack cheese, shredded

1 package oaxaca cheese, shredded

1 package queso fresco, chopped

1 yellow onion, thinly sliced

a few radishes, thinly sliced

Sour cream, to drizzle on top 

Cilantro for garnish

4 garlic cloves, minced

2 tbsp butter
Shrimp Spice mix:
Salt

Pepper

Garlic Powder

Cumin

Smoked Paprika
Directions:
Preheat the oven to 400 degrees.

Remove tails and devein the shrimp and cut them in half.  Pat dry and set aside.

Get a cast iron pan on medium high heat.  Once hot, add your tortillas one at a time and cook for 15-30 seconds each side until bubbling. Consider

frying them in a few Tbsp of Avocado oil for the same cook time to have a crispier enchilada.   Repeat the process until all of the tortillas prepped.  As each one is cooked, add to a covered dish with a damp towel inside so they don't dry out.

In that same cast iron, add 2 Tbsp of Avocado oil and throw in the thinly sliced onion.  Add a nice pinch of salt and cook for 10-15 minutes on medium heat until nice and caramelized.  If they seem like they are starting to brown too much, put heat to low. Once time is up, remove onions to a bowl.

Season prepped shrimp on both sides with the listed spices.  Add 1 tbsp of Avocado oil to the cast iron and turn the heat to medium high.  Working in batches, add the shrimp and let sear for 3 minutes.  When there is one minute left, add in half the minced garlic and 1 tbsp of butter and saute.  Remove shrimp to the bowl with the onions in it.  Once all of the shrimp are cooked, toss with the onions and set aside.

Set up your enchilada station by having the shredded cheeses on two plates and bowl with the onion and shrimp mixture, the Avocado salsa, and a big glass baking dish.

Add a few spoonful's of Good Foods Avocado Salsa to the bottom of a large baking dish.  Spread out so it's covering the bottom.  Add in one tortilla and put a few scoops of the shrimp and onion mixture in a line towards the middle of the tortilla.  Do a small handful of the shredded monterey jack and oaxaca cheese so there is a nice layer on top of the shrimp.  Fold the tortilla so that you tuck it over the mixture and then have the seam side down in the dish.  Repeat the process until you have all of the tortillas stuffed and in the baking dish.

Spoon over the salsa on top of the tortillas so that there is a nice layer over them all.  Now sprinkle the monterey jack and oaxaca cheeses on top so that there is a nice layer over everything. Bake in the middle position of the oven for 30 minutes.  Rotate the dish halfway through the cooking time so the cheese melts evenly.  

Put a few enchiladas on a plate and top with more Good Foods Avocado Salsa. Serve with a nice sprinkle of queso fresco, sour cream, sliced radish, and a sprinkle of cilantro.