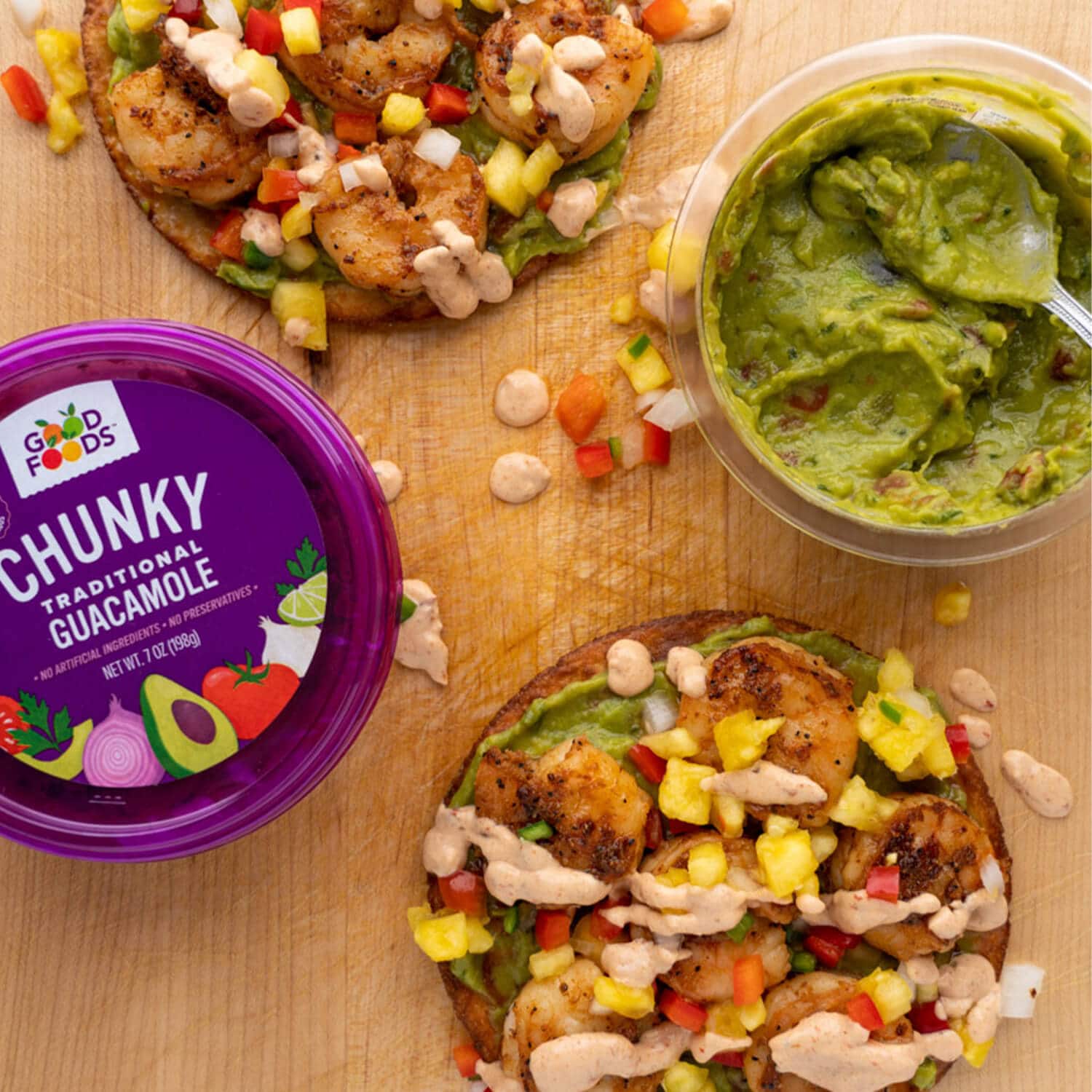 Shrimp Tostada with Pineapple Salsa & Chipotle Crema
This flavorful recipe developed by @mypaleoishlife is SO delicious and perfect for any occasion! Recipe below.
Tostada Ingredients
1 ½ lb large shrimp, shell and tail removed
6-8 small flour or corn tortillas
1 container Good Foods Chunky Guacamole
2 Tbsp avocado oil
Sprinkle of salt
Sprinkle of pepper
Sprinkle of garlic powder
Sprinkle of cumin
Sprinkle of coriander
Sprinkle of paprika
Directions
Start off by deveining your shrimp and patting them dry. Add shrimp to a single layer on a cutting board and season each side with a nice sprinkle of salt, pepper, garlic powder, cumin, coriander and paprika.
Grab a large 12" inch pan and pour in 2 Tbsp Avocado oil. Heat on medium high and once hot, add in your shrimp in a single layer and let cook for 1 ½ minutes on first side. Flip shrimp and cook another 1 ½ minutes adding ½ tbsp of butter. Continue to sauté and remove shrimp from pan once cooked through.
Grab a medium sized pan for the tortillas and add in ¼ cup Avocado oil. Heat on medium high heat and once temp hits 350, add in the tortillas one at a time. Cook for 1 minute on the first side then flip and cook for an additional 30-45 seconds on the second side. Remove and add to a wire rack to cool or a plate with paper towels on it.
Spread a nice layer of Guacamole on each tostada then add a few shrimp on top.  Sprinkle on some Pineapple Salsa and drizzle some crema on top then enjoy! (assembly below)
Pineapple Salsa Ingredients
2 cups finely diced pineapple
½ cup finely diced red pepper
1/3 cup finely diced white onion
1 serrano pepper finely diced, seeds and stem removed.
Juice of ½ lime
¼ tsp salt
Directions
Add all ingredients to a bowl and give a nice mix. 
Put in fridge for 1-2 hours so flavors come together. 
Chipotle Crema Ingredients
½ cup unsweetened coconut yogurt or sour cream
1/3 cup mayo
Juice of ½ lime
2 chipotle peppers in adobo, seeds removed
2 garlic cloves, minced
¼ tsp salt
1/8 tsp pepper
Directions
Add all ingredients to a small blender.
Add in 1-2 Tbsp of the adobe sauce from the can depending how spicy you like it. Blend until smooth.
Assembly