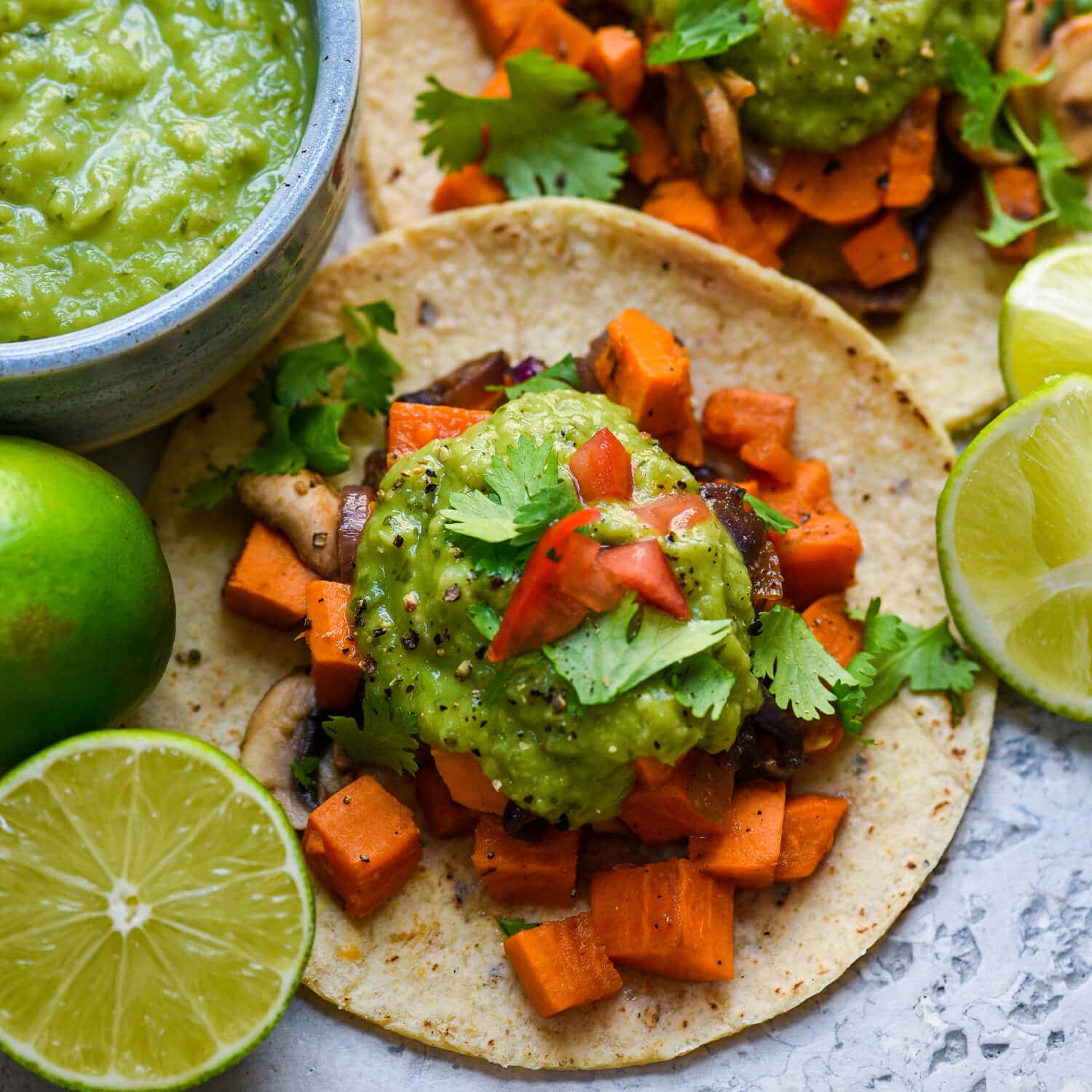 Smoky Mushroom and Sweet Potato Tacos
We partnered with our friend @bestofvegan to use the Good Foods Avocado Salsa in a unique take on a vegan taco – Smoky Mushroom & Sweet Potato! Hot Tip: if you want to save time, you can use sweet corn kernels, quinoa, zucchini, chickpeas or bell peppers instead of sweet potatoes in this recipe.
Makes 6 Tacos
INGREDIENTS:
6 soft corn tortillas
2 medium sized sweet potatoes, peeled
12-16oz mushrooms of choice, thinly sliced
1 Tbsp olive oil
1 small red onion, chopped
2 garlic cloves, minced
1 Tbsp liquid smoke (less if the one you're using is concentrated)
2 tsp soy or tamari sauce
1 tsp maple syrup or coconut sugar
1/2 tsp of onion powder
1/2 tsp of garlic salt or garlic powder
1/2 tsp smoked paprika
Sea salt to taste
To Serve:
Good Foods Avocado Salsa (2-3 Tbsp per taco or as much as your heart desires!)
1 lime, the juice
1 roma tomato, chopped
Fresh cilantro, chopped
Freshly ground pepper (a pinch per taco)
DIRECTIONS:
Dice the peeled sweet potatoes and boil them in lightly salted water for about 20-25 minutes.
In the meantime, sauté the onions and garlic in the oil in a non stick pan over medium heat for about 3 minutes. Then add the sliced mushrooms to the pan and cook for 5 more minutes (note: if your stove top is particularly hot, be sure to reduce the heat to low-medium) before adding the spices and other condiments.
Reduce heat to low and let simmer for 5 more minutes.
Once the sweet potatoes are cooked, drain them and add them to the pan. Mix well and start building your tacos.
You can heat the tortillas if you'd like. Add the filling along with a splash of lime juice and top with avocado salsa, chopped tomatoes, cilantro and freshly ground pepper.
Enjoy!