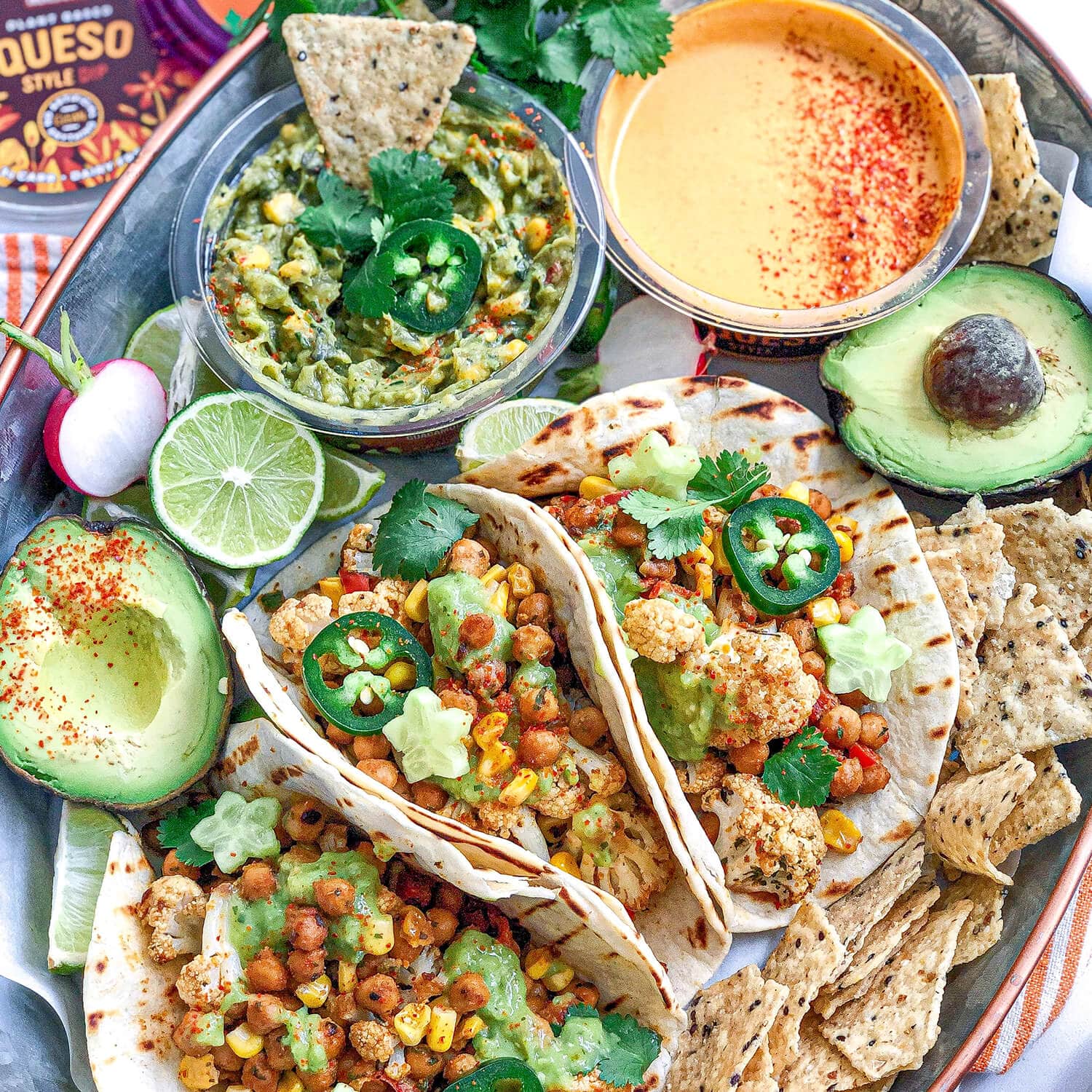 Southwest Chickpea & Cauliflower Tacos
It's summertime, and what better go-to dish is there than to assemble your own taco while using Good Foods Queso Style Dip to punch up the flavor. This recipe is courtesy of our friend @naturallyzuzu, who created Southwest Chickpea & Cauliflower Tacos, transforming tacos into the perfect vehicle for getting all your veggies in with one bite.
Servings: Makes 8-10 Tacos
Ingredients:
2 tbs of cooking oil
1 med red onion, chopped
2 cans 14-oz. chickpeas, water drained
1 cup of cauliflower florets
1 small jalapeno, seeds removed and chopped
1/2 cup of canned corn, drained
1 tsp cumin
1 1/2 tsp cayenne powder
1 tsp coriander powder
1/2 tsp paprika
1 tsp garlic powder
1 tsp of salt or more to taste
2 Tbsp of @goodfoods queso style dip or more to taste
8-10 Flour or corn tortillas
1-2 lime for serving
Directions:
Heat two tablespoons of oil in a large sauté pan.
Add chopped onions and sauté for 3 min until onions are translucent.
Add the drained drained chickpeas both cans and cauliflower florets.
Sauté for 5 min over a medium heat.
Add the spices, add half of chopped jalapeños, corn and 2 tablespoons of queso.
Lower the heat, cover and simmer for 5 min.
Meanwhile, warm up the tortillas.
Remove the sauté pan from the heat
Taste the chickpeas and cauliflower and adjust the spices to your liking.
Assemble tacos – top your tacos with more jalapeños if desired and @goodfoods Southwest Style guacamole.
Enjoy!