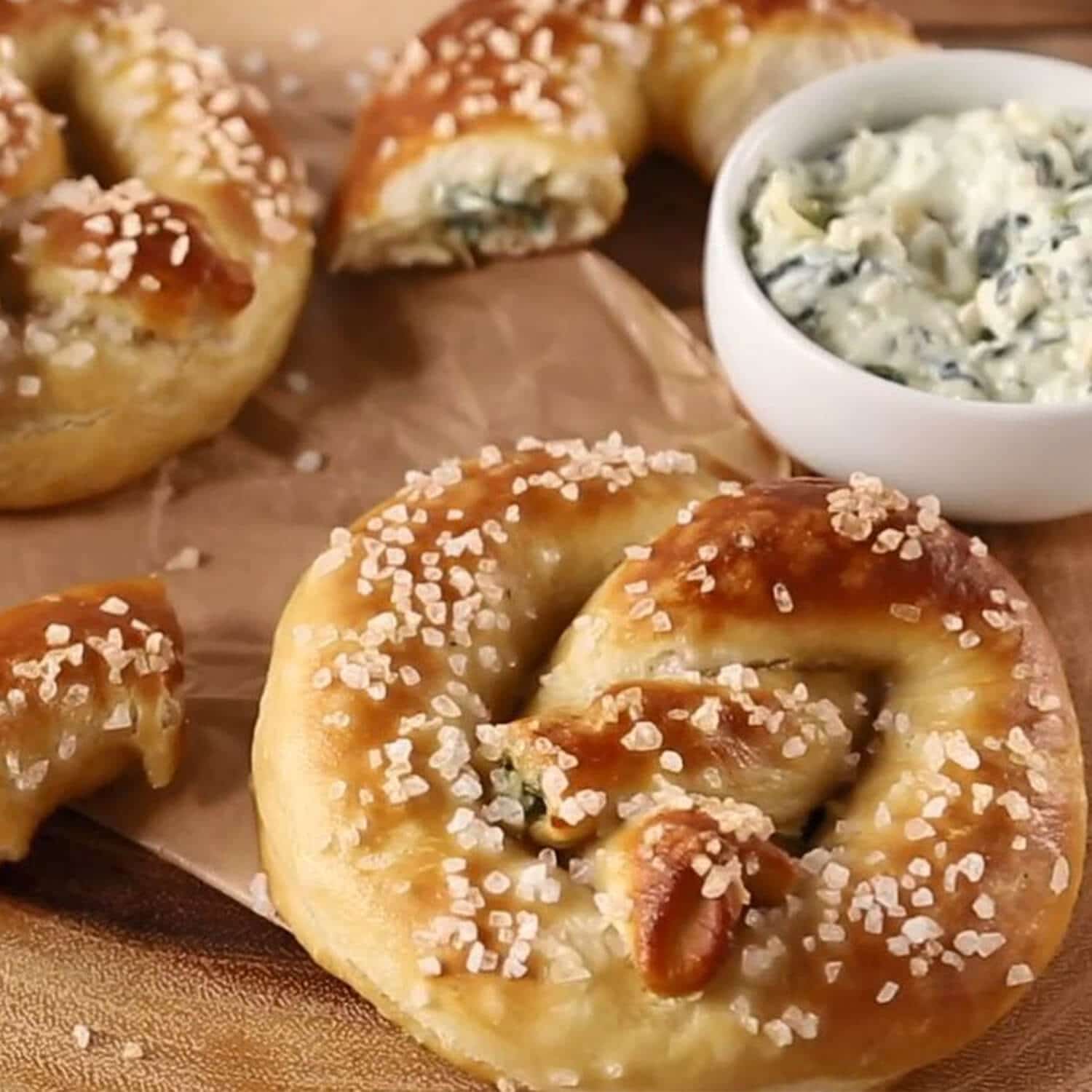 Spinach Artichoke Stuffed Pretzles
Servings: 6 pretzels
Prep Time: 25 minutes
Chill Time: Overnight
Cook Time: 10-12 minutes
Ingredients
1 cup warm water
¼ cup brown sugar
1 pkg active dry yeast
3 ¼ cups all-purpose flour
4 Tbsp cold butter, cut into cubes
2 Tbsp kosher salt
8oz package Good Foods Spinach Artichoke Parmesan Dip
4 cups water
¼ cup wheat beer
¼ cup baking soda
1 egg + 1 Tbsp water combined to make egg wash
Course sea salt
Directions
Preheat oven to 450°. Prepare baking sheet with cooking spray or line with parchment paper.
Combine water, brown sugar and yeast in bowl. Stir to combine and let sit for 5 minutes.
Combine flour, butter and salt in bowl of mixer. Use pastry blender to mash butter into flour. Use hands if needed to smooth out any clumps.
Add yeast to flour mixture and with dough hook, kneading until dough is smooth and not sticking to the side of the bowl, about 3-5 minutes.
Cover dough and refrigerate 8-12 hours or overnight.
Place dough on floured surface. Roll into an 11×17 rectangle. Using a pizza cutter or knife, cut into long 2" rows.
Spread about 1 tablespoons Spinach and Artichoke dip along the length of each piece. Starting with the opposite side, roll the dough up into a log, enclosing the toppings inside.  Pinch the seams together and then very gently roll the dough with your hands to form an even cylinder and fully enclose the filling.
To shape into pretzels, take the two ends and make a U shape. Then cross the ends, and cross the ends again. Flip ends down and press ends into the base of the U shape to create a pretzel.
Add beer to boiling water, then slowly add baking soda and reduce to a simmer. Poach the pretzels for 30 seconds one or two at a time by gently placing pretzel into simmering water. Remove with a large slotted spatula or a spider and place on prepared baking sheet. Repeat with remaining pretzels.
Brush pretzels with egg wash and generously sprinkle with salt.
On a rack in the upper 1/3 of oven, bake 10-12 minutes or until golden brown.
Serve with remaining Spinach Artichoke dip.