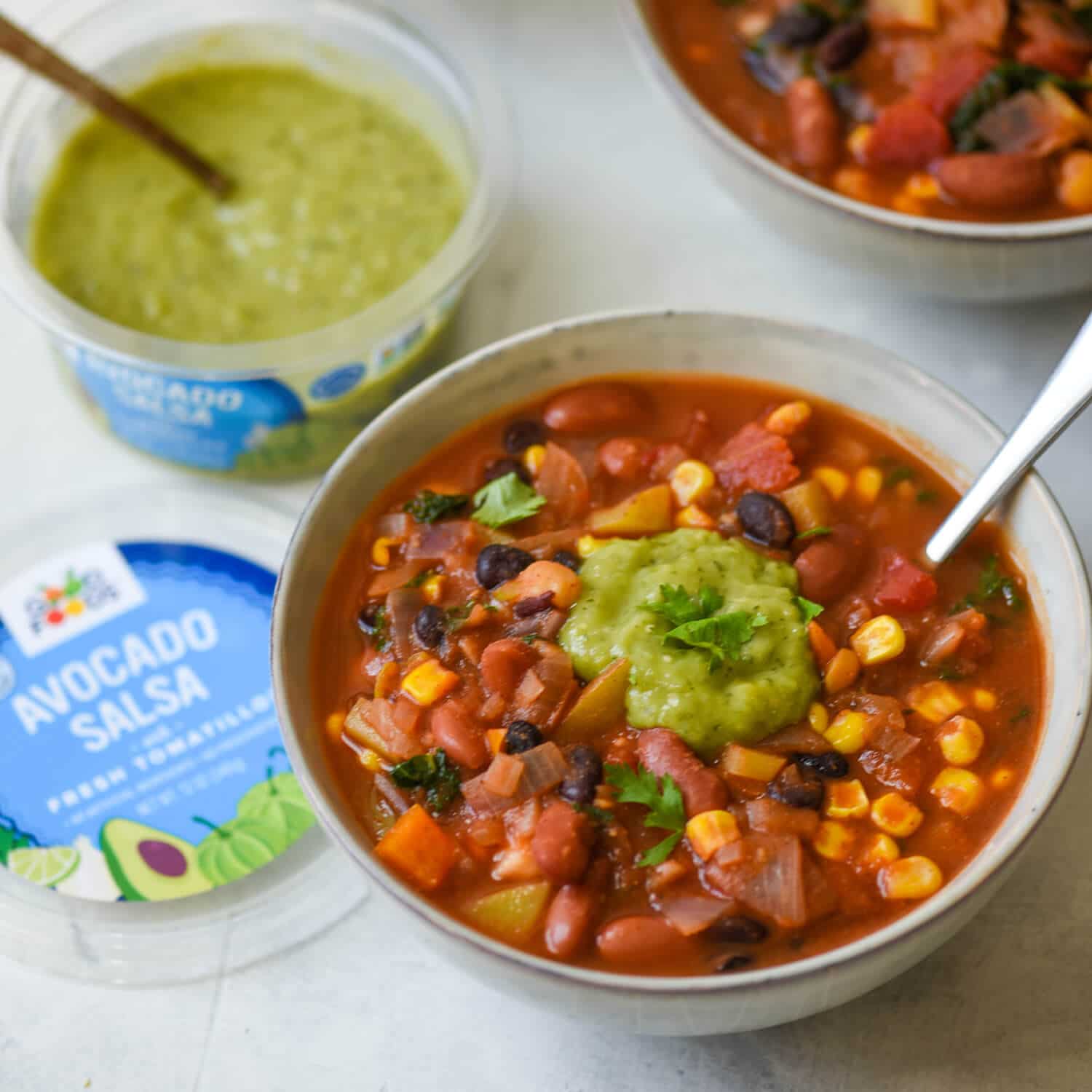 Three Bean Stew
Our friend @bestofvegan created a recipe made with mostly pantry ingredients and is ideal for a comforting family dinner or as a meal prep option for singles and couples. Topped with Good Foods' delicious Avocado Salsa, this quick and easy dish will be a pantry staple.
Servings: 6
Ingredients:
1 can of black beans (15.5oz)
1 can of garbanzo beans (15.5oz)
1 can of kidney beans (15.5oz)
4 1/2 cups of vegetable broth*
3 Tbsp olive oil
2 onions, diced
4 garlic cloves, minced
1 medium potato, diced
1 cup (frozen) sweet corn kernels
4 cups (frozen) chopped kale
1 bell pepper, chopped (optional)
1 can of diced tomatoes (14.5oz)
1/4 cup tomato paste
Sea salt and pepper to taste
1/2-1 tsp ancho chili powder**
1/2-1 tsp cumin**
1 tsp coconut sugar
Toppings: 
2 tbsp of Good Foods' Avocado Salsa per serving (so 3/4 cup for 6 servings total)
Fresh cilantro
Directions:
Heat two tablespoons of oil in a large sauté pan.
In a large pot, sauté the onions and garlic in the olive oil for 5 minutes over medium heat.
Add the potato and bell pepper and cook for 5 more minutes.
Then, add the broth, diced tomatoes, tomato paste, beans and seasonings. Cook for 10 more minutes.
Lastly, add the corn and kale, reduce heat to low-medium and let simmer for 10 additional minutes.
Serve with the Avocado Salsa and cilantro. Tip: this also tastes great with a slice of sourdough or pumpernickel bread with some cold vegan butter. Enjoy!