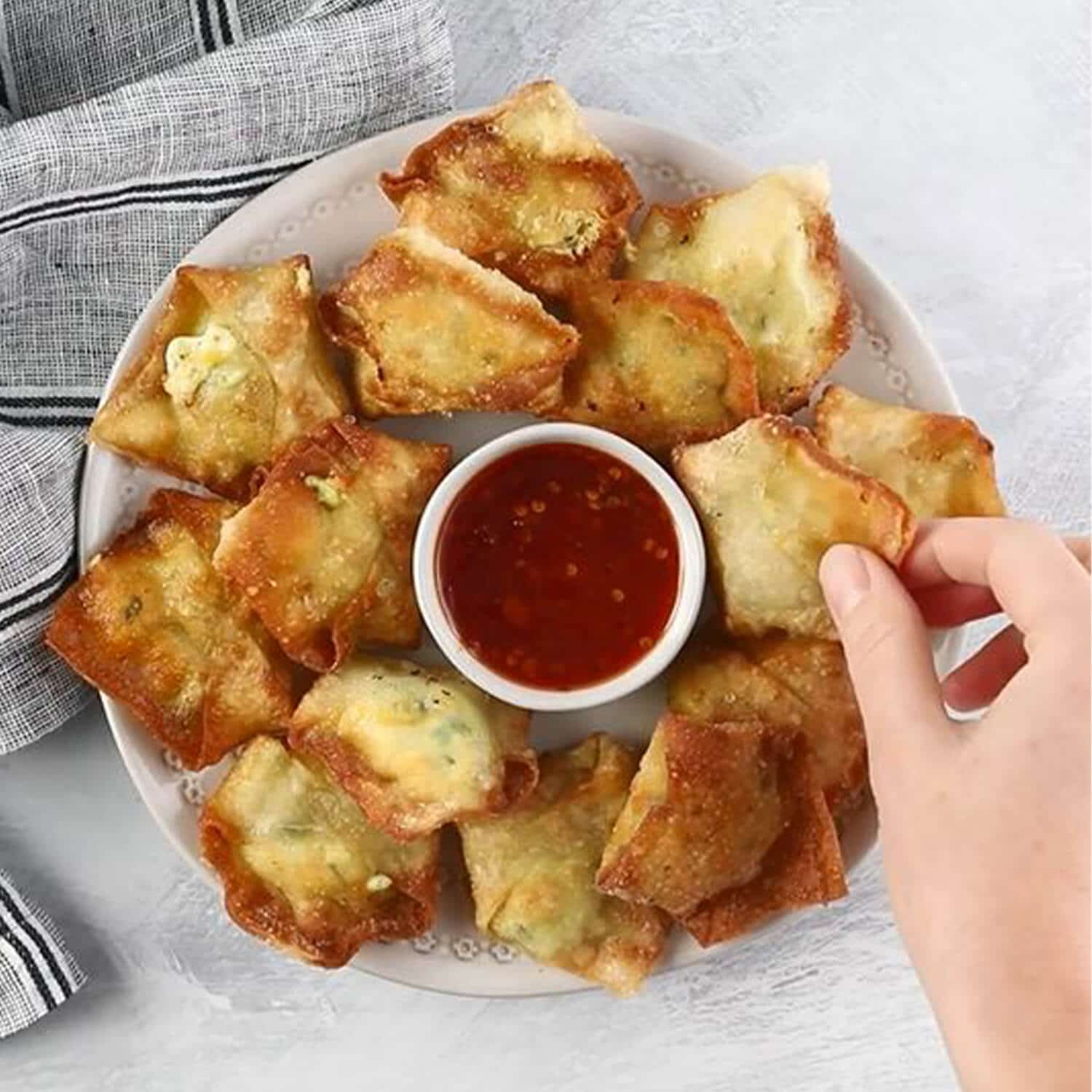 Cheesy Avocado Wontons
Servings: around 40 wontons
Prep Time: 20 minutes
Cook Time: 15-20 minutes
Ingredients
8oz cream cheese, at room temp
2/3 cup cheddar cheese, shredded
2/3 cup mozzarella cheese, shredded
2 – 4oz packages Good Foods Avocado Mash
1/2 tsp garlic salt
1/2 tsp onion powder
3 Tbsp fresh cilantro, chopped
2 jalapenos, seeded and diced
1 package wonton wrappers
1/2 cup of water in a bowl, set aside
Canola oil
Sweet red chili dipping sauce
Directions
In a medium owl, combine cream cheese, cheddar cheese, mozzarella cheese, avocado mash, garlic salt, onion powder, cilantro and jalapeno.
Take one wonton wrapper and lay out on a clean surface. Dip fingers in water and run around edges of wonton wrapper. Place 1-2 tsp filling in the center of the wonton. Fold one corner up to the opposite corner and press edges to seal. If the wonton breaks open in the center or spills out on the edges, reduce the amount of filling you have. Moisten the center of the wonton and then bring the opposite two edges inward, moistening the corners so they stay in place. Repeat with the remaining wontons and filling.
Heat 2-3 inches of canola oil in a large pot to around 375°. Fry wontons 3-4 at a time for approximately 1-2 minutes or until golden brown. If you have less oil you may need to flip them part way. Remove to a paper towel lined plate to drain.
Serve warm with sweet red chili dipping sauce.