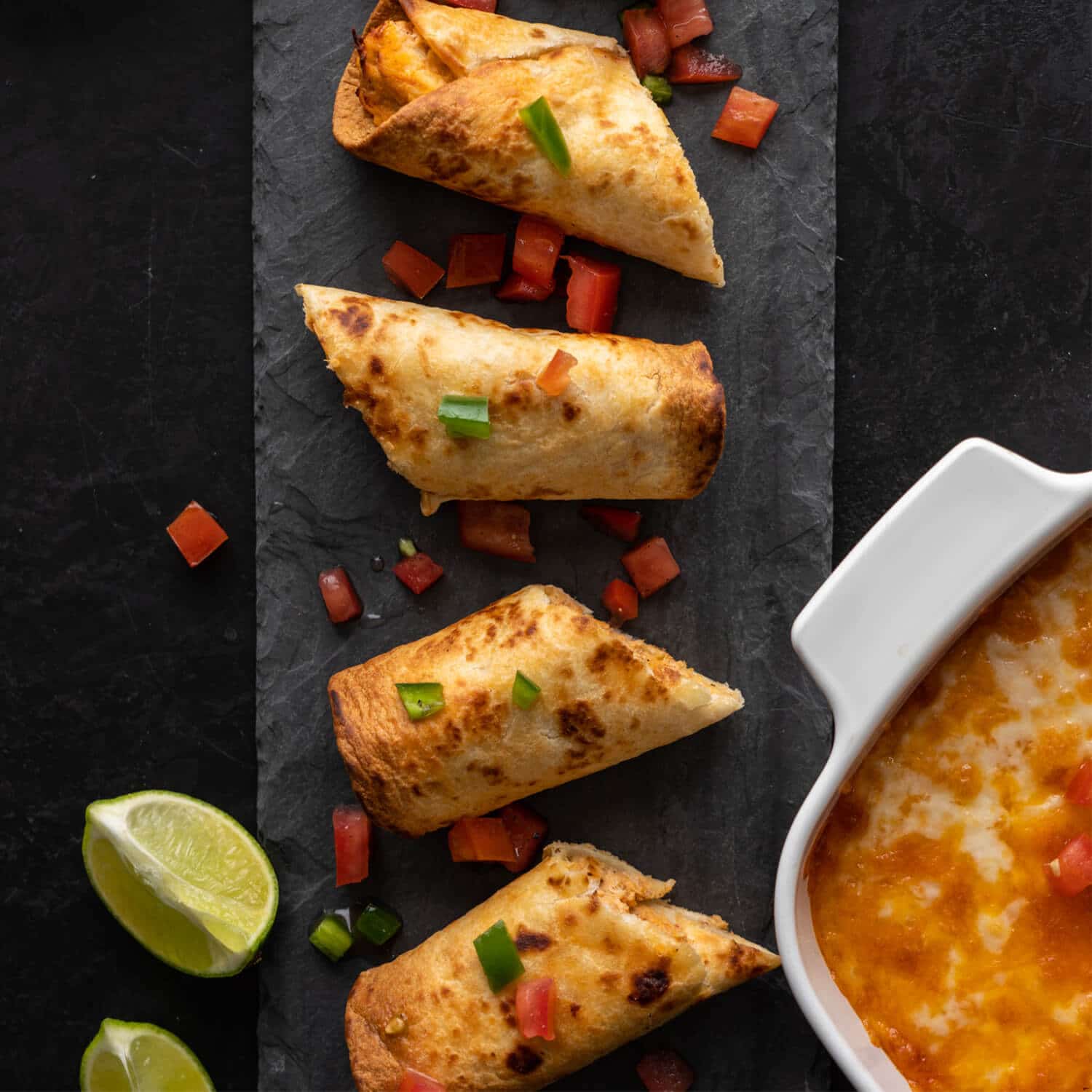 Crispy Chicken Taquitos with Queso
Check out this indulgent recipe from @mypaleoishlife!
Chicken Taquitos Ingredients:
1 rotisserie chicken
12 flour taco sized tortillas
1 cup chunky salsa 
1/2 cup shredded cheddar cheese
1/3 cup cream cheese
1 tsp salt
1/4 tsp pepper
1/4 tsp garlic powder
1/4 tsp cumin
Avocado Oil
Directions:
Start off by shredding the breast and thigh meat from the rotisserie chicken and add to a bowl. Add in the rest of the ingredients and mix up so that everything is combined.
Heat up the tortillas for 30 seconds each side in a hot pan then set aside.
Add 2 tbsp Avocado oil to a bowl. Lay down one of the tortillas and add in 2 spoonfuls of the chicken mixture to one of the ends of the tortillas.  Tuck in the sides and roll tight.  Once there is a little left to roll. brush that bottom of the tortilla with Avocado oil then finish rolling the tortilla and add to a tray rolled side down.
Repeat process until you have all of the tortillas rolled up. Pan fry in 1/4 cup Avocado oil heated to 350 degrees.  Pan fry for 1-2 minutes each side until they are golden brown. You could also air fry at 400 degrees.  Spray with Avocado oil then air fry for 4 minutes each side.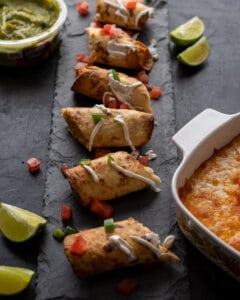 Queso Ingredients (optional):
2 containers of Good Foods Queso Dip
1/2 cup shredded cheddar cheese
1/2 cup shredded monterey jack cheese
Directions:
Preheat oven to 425 degrees.
Get a small oven safe casserole dish and add in the containers of the Queso. Now top with the shredded cheese and bake at 425 for 10 minutes.
Remove from oven and turn on broiler to high.  Move oven rack one below the top.  Add in the Queso and broil for 1-2 minutes or until bubbly.  
Serve with Taquitos and also include some Good Foods Guacamole.