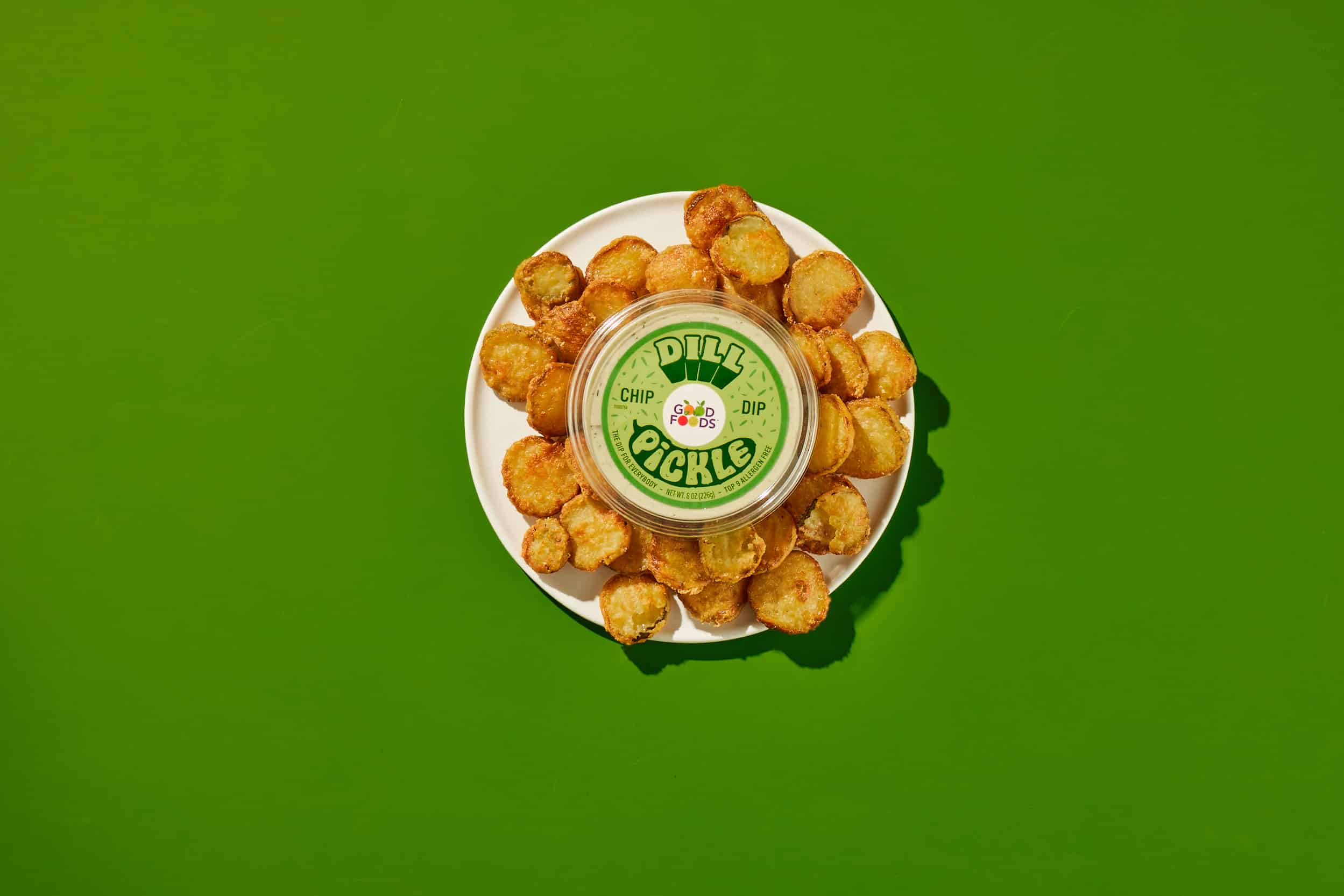 Good Foods Debuts Dill Pickle Chip Dip
PLEASANT PRAIRIE, Wis.–(BUSINESS WIRE)–Good Foods, a leader in better-for-you dips and spreads, has debuted Dill Pickle Chip Dip, the first product in its new chip inspired dip line. The flavorful, tangy and produce-forward dip is now available at Target stores nationwide. The line boasts big flavor with inclusivity in mind – its formula removes the Top 9 allergens, redefining dips that everyone can enjoy.
Good Foods Dill Pickle Chip Dip (8 oz., MSRP: $4.49) is packed with bold flavors including dill and Dijon mustard. At just 50 calories per serving, this party hit is the ultimate combination of deliciousness and inclusivity for everyone to relish. The product can be enjoyed with a variety of dippers or as a complement to zesty recipes. Dill and other soon-to-be-announced flavors in the Chip Dip line were inspired by consumer research that uncovered chip flavors that people love. Searches for dill pickle-flavored foods increased by 55% in 2022 according to Yelp.
More than 85 million Americans are currently living with life-threatening food allergies and intolerances (FARE). In response, Good Foods formulated its innovative, cauliflower-based line of dips to be Top 9 Allergen Free (no milk, eggs, fish, crustacean shellfish, tree nuts, peanuts, wheat, soybeans and sesame ingredients).
"At Good Foods, we continually seek inspiration for product innovation and what better place than where millions of shoppers spend their time – the chip aisle! We are always excited to harness our technology to make fresh, delicious food more accessible," said Joyce Longfield, principal of HPP Applications for the brand. "While most dips on the market today contain a major allergen such as soy, dairy and sesame, our Dill Pickle Chip Dip is a uniquely inclusive option."
"Even if someone doesn't personally have a food allergy, dietary restriction or sensitivity, it's very likely that they have a family member, friend or co-worker who does," said Shannon Maher, chief marketing officer for Good Foods. "This new product (and soon to be full line of products) takes the guesswork out of finding allergen-friendly yet tasty options for your next occasion, whether it's a game day gathering, potluck or school event."
For more information visit goodfoods.com and follow the brand on Instagram, Facebook and TikTok.
Good Foods, LLC is a leader in providing healthy, all-natural products such as guacamoles, dips, salads, and salsa. Good Foods creates convenient snacks and meal options that are made with real ingredients, free of preservatives and artificial flavors. The brand's products are packaged using high pressure processing that uses cold water pressure, keeping foods safe and at their peak freshness. For more information, please visit GoodFoods.com.