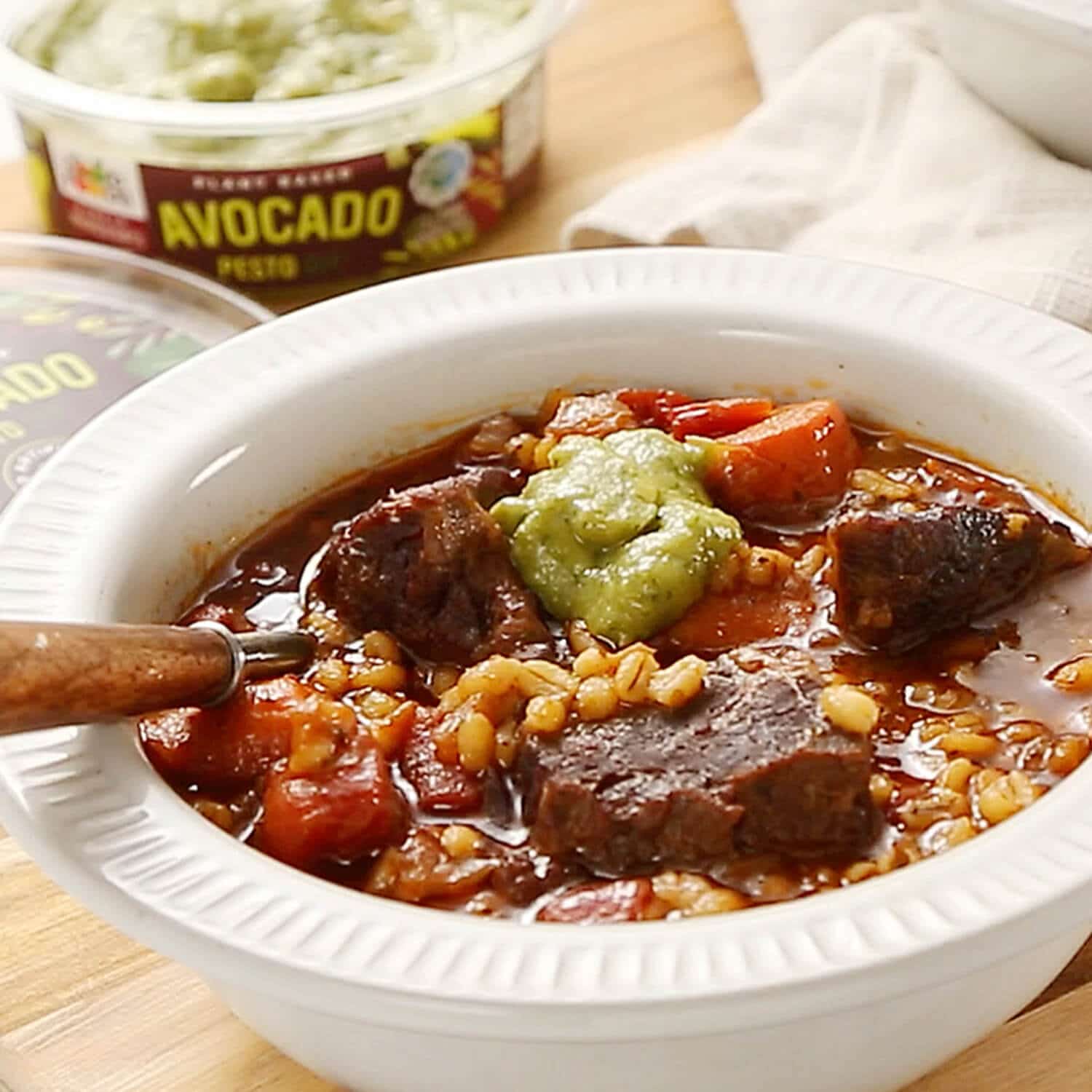 Instant Pot Beef Barley Stew
Servings: 4
Prep Time: 10 minutes
Cook Time: 1 hour
Ingredients:
1 Tbsp olive oil
3 whole carrots, peeled and cut diagonally in 1/2 inch thick pieces
1 medium yellow onion, sliced
2 lbs boneless beef chuck roast, cut into 2-inch chunks
1 Tbsp garlic, minced
2 tsp black pepper 
1 cup red wine
2 cups unsalted beef broth
2 (14.5oz) cans diced tomatoes with basil, garlic and oregano 
1/2 cup Good Foods Avocado Pesto, plus more for garnish 
1 1/2 cups uncooked medium pearled barley
Fresh oregano 
Directions:
Add olive oil to Instant Pot and set to Sauté. Add onion and carrots and sauté for 3-5 minutes or until vegetables are softened.
Add beef, garlic, salt and pepper to Instant Pot and sauté for 3-4 minutes, turning meat half-way through.
Add wine, beef broth, tomatoes and pesto. Place lid on Instant Pot and set to Meat/Stew.
Quick release once finished cooking. Add barley and stir to combine. Place lid back on Instant Pot and set to Rice.
Once finished cooking, quick release, remove lid and shut off Instant Pot.
Serve hot with a dollop of Good Foods Avocado Pesto and fresh oregano.