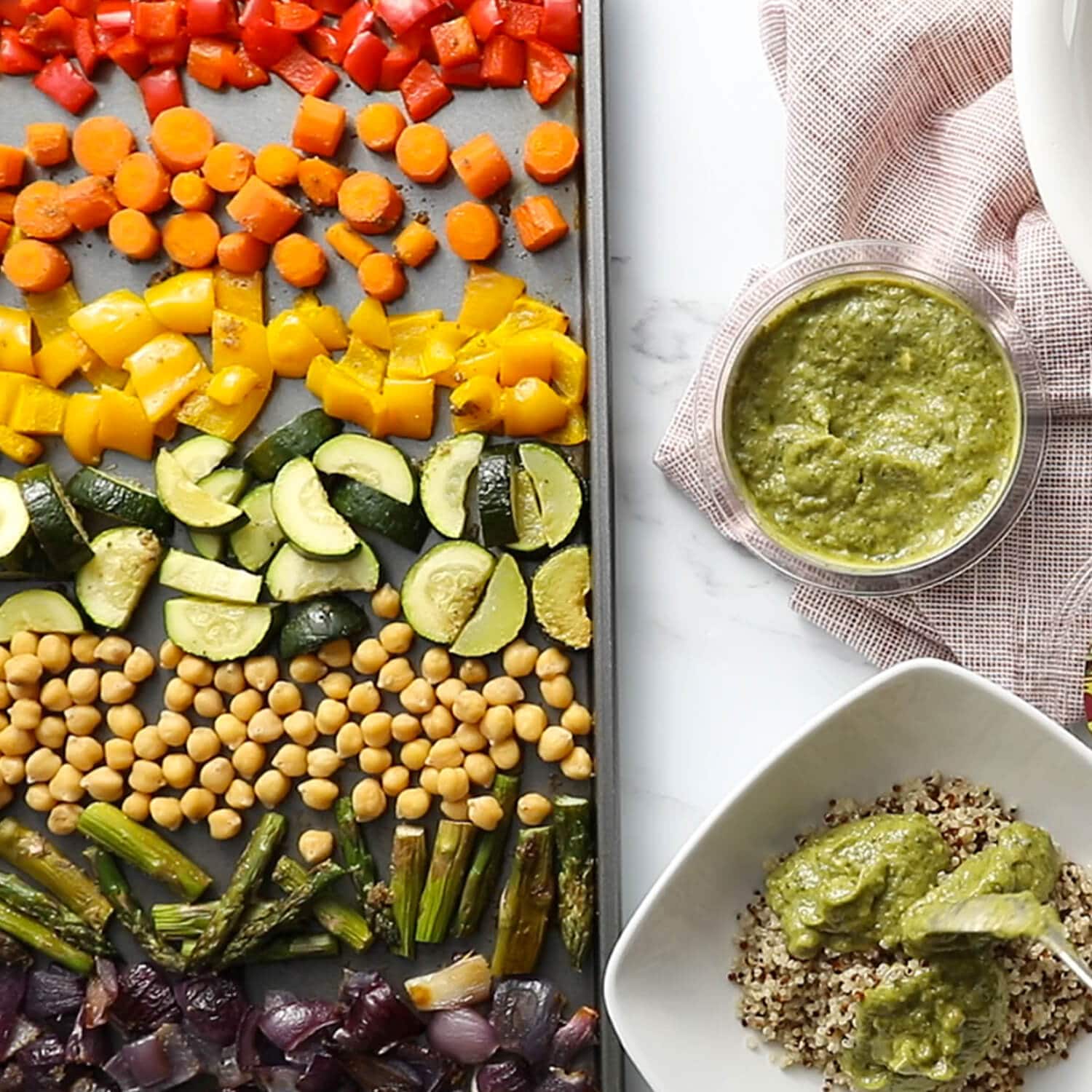 Veggie Quinoa Pesto Salad
Servings: 2 (4 side salads)
Prep Time: 15 minutes
Cook Time: 25 minutes
Ingredients:
2 cups cooked quinoa (1/2 cup uncooked)
1 red bell pepper, cored and seeded, cut into 1" pieces
1 carrot, peeled and sliced into ½ inch coins
1 yellow bell pepper, cored and seeded, cut into 1" pieces
1 large zucchini, cut into half-moon slices
1 can chickpeas, rinsed and drained
1 bunch asparagus cut into 2" pieces
½ red onion, roughly chopped into 1" pieces
1 tbsp olive oil
1 tsp garlic powder
1 tsp dried oregano
Salt and pepper
½ cup Good Foods Avocado Pesto
Lime wedges
Directions:
Preheat oven to 400°. Line a baking sheet with aluminum foil or parchment paper, spray with non-stick cooking spray.
Layer veggies on baking sheet. Toss with olive oil, garlic powder, oregano, salt and pepper. Roast for 20-25 minutes, until fork tender and starting to brown.
Meanwhile, cook quinoa according to package. Transfer to a large bowl. Add Good Foods Avocado Pesto and roasted veggies, stirring to combine. Salt and pepper to taste.
Serve immediately with a lime wedge for squeezing or store in refrigerator and serve cold.