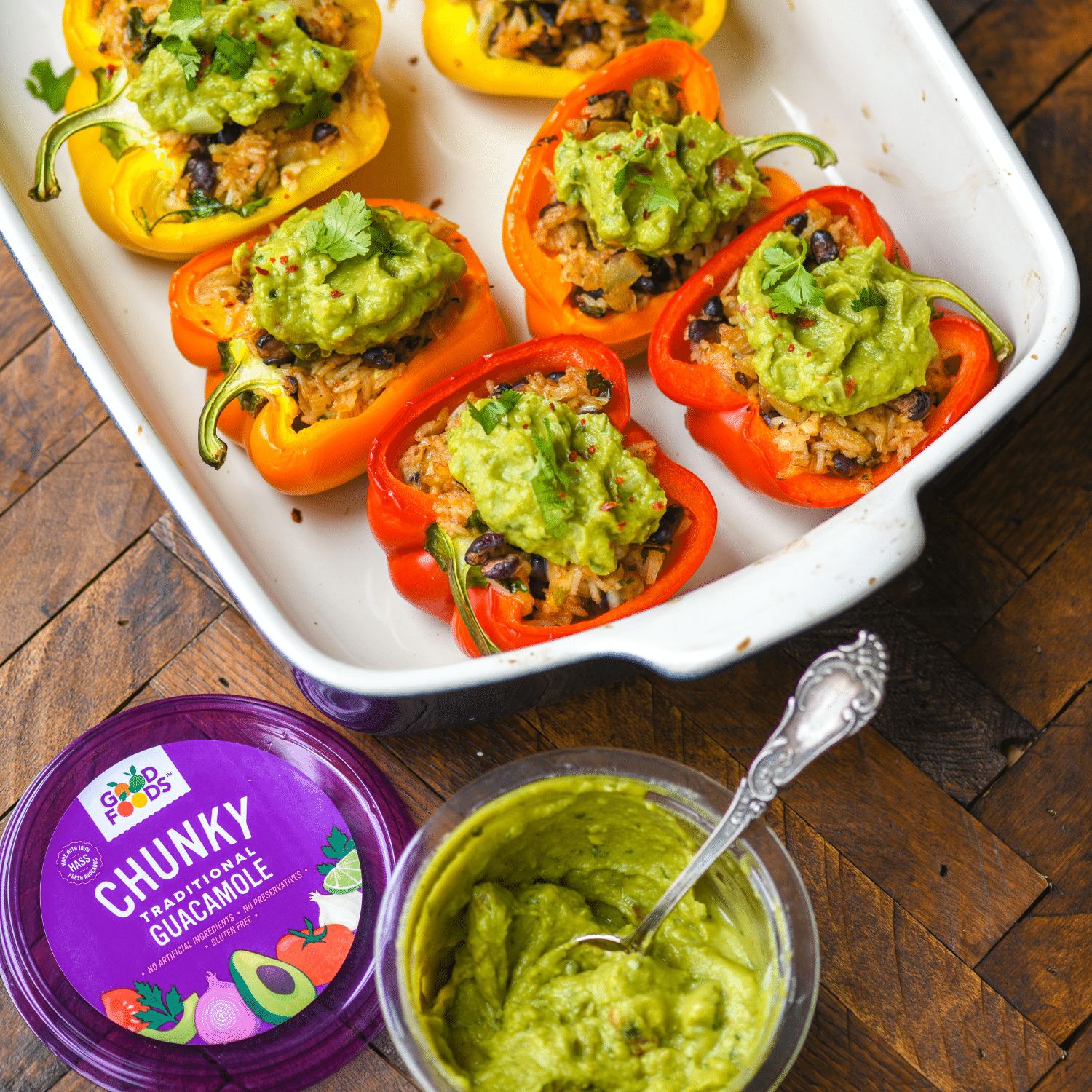 Black Bean Stuffed Peppers
These stuffed peppers are so filling and perfect for dinner! Filled with black beans and topped with Good Foods Chunky Guacamole, this recipe puts a southwest twist to your traditional recipe! Thank you to our friends over at Best of Vegan for this yummy idea.
Servings: 4-6
Prep time: 20 minutes
Cook time: 40 minutes
Total time: 1 hour
Ingredients:
 4 bell peppers (any color)
 2 tablespoon olive oil
1 onion, chopped
4 cloves garlic, minced
1 green chili pepper (optional)
1 can black beans, drained and rinsed
1 1/2 cups cooked white rice
1 teaspoon cumin
1/2 teaspoon chili powder
Salt and pepper, to taste
1 lime, the juice
 1/4 cup chopped fresh cilantro
 1 cup vegan cheese shreds (optional)
To serve:
Instructions:
Preheat the oven to 375°F (190°C).
2. Slice the peppers in half (lengthwise) and remove the seeds and membranes, then place the peppers in a large baking tray.
3. In a large skillet, heat the olive oil over medium heat. Add the onion, garlic and chili pepper and sauté until the onion is translucent, about 5 minutes.
4. Add the black beans, cooked rice, cumin, chili powder, salt, and pepper to the skillet. Cook for an additional 5 minutes, or until the mixture is heated through.
5. Stir in the chopped cilantro, lime juice and vegan cheese shreds.
6. Stuff each bell pepper with the black bean and rice mixture.
7. Bake for 35-40 minutes, or until the bell peppers are tender.
8. Top each pepper with a dollop of chunky guacamole, fresh cilantro, and chili flakes and serve with lime wedges and more chunky guacamole (the more, the
better!)
9. Enjoy!