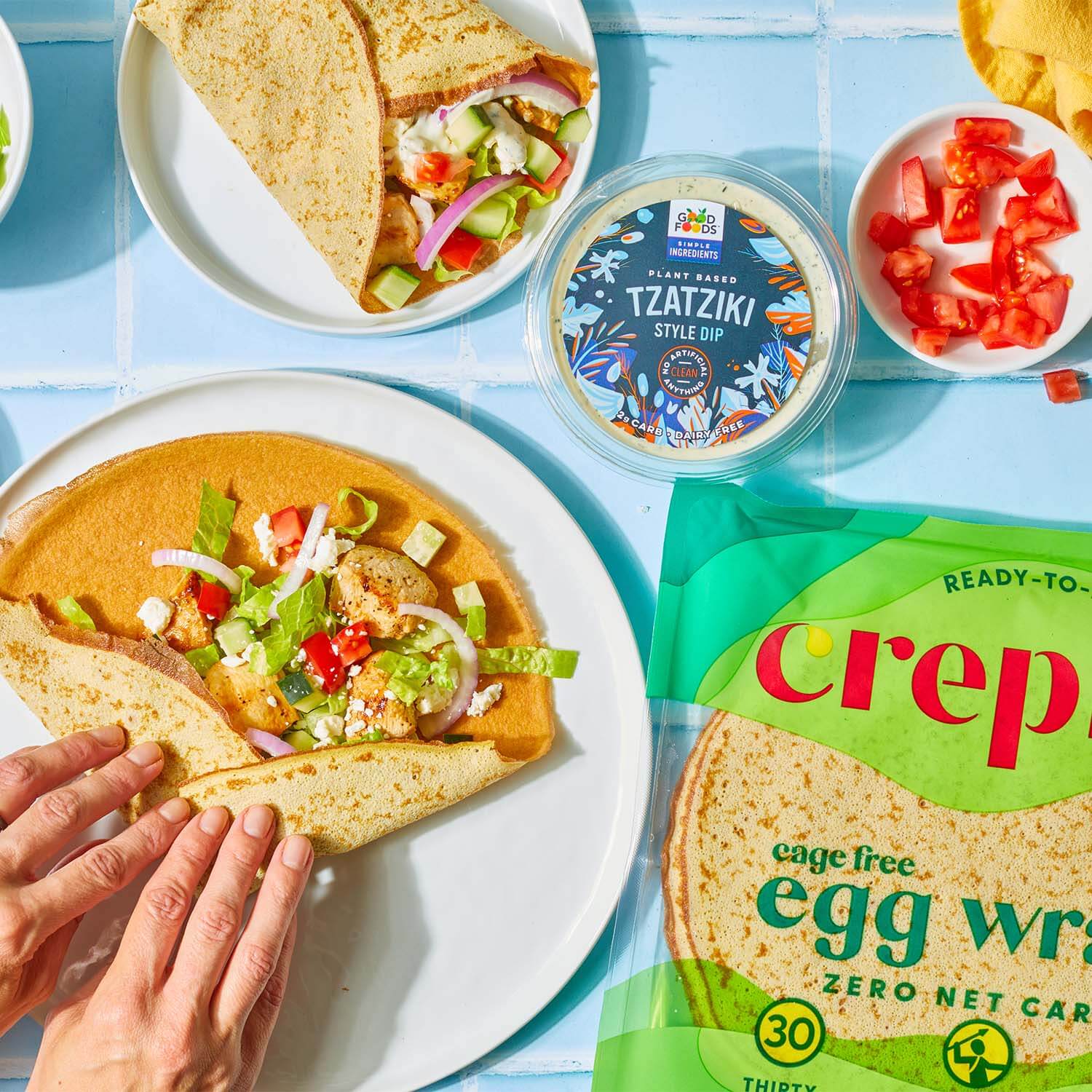 Chicken Gyros with Tzatziki
Check out this delicious recipe from Crepini pairing creamy tzatziki with other fresh flavors. 
Prep time: 15 minutes 
Cook time: 5-7 minutes 
Servings: 3
Ingredients:
3 large Crepini® Egg Wraps with (Cauliflower or Gluten-Free Grains) 
10 ounces chicken breast, cut into 2-inch pieces 
2 teaspoons vegetable oil 
2 tablespoons lemon juice 
¼ teaspoon kosher salt 
¼ teaspoon black pepper 
¼ teaspoon dried oregano 
1 cup Romaine lettuce, shredded 
½

cup cucumber, diced

 
½

cup Roma tomato, diced

 
½ cup red onion, sliced thin 
2 ounces (½ cup) plant-based feta cheese, crumbled (optional) 
Instructions:
To a large nonstick skillet over medium-high heat, warm the oil. 
Add chicken, lemon juice, salt, pepper, and oregano to the pan. Cook until chicken is cooked through, 5-7 minutes. Remove from heat and let cool slightly. 
Place Crepini on a clean work surface. Place some lettuce in the upper third of the Crepini. Top with some chicken, cucumber, tomato, red onion, and plant-based feta (optional). Drizzle top with Good Foods Tzatziki Style Dip. 

Fold the base of the Crepini up, and then the two sides over the filling to create a Gyro-like wrap. Repeat process with remaining Crepinis and ingredients. Serve immediately.