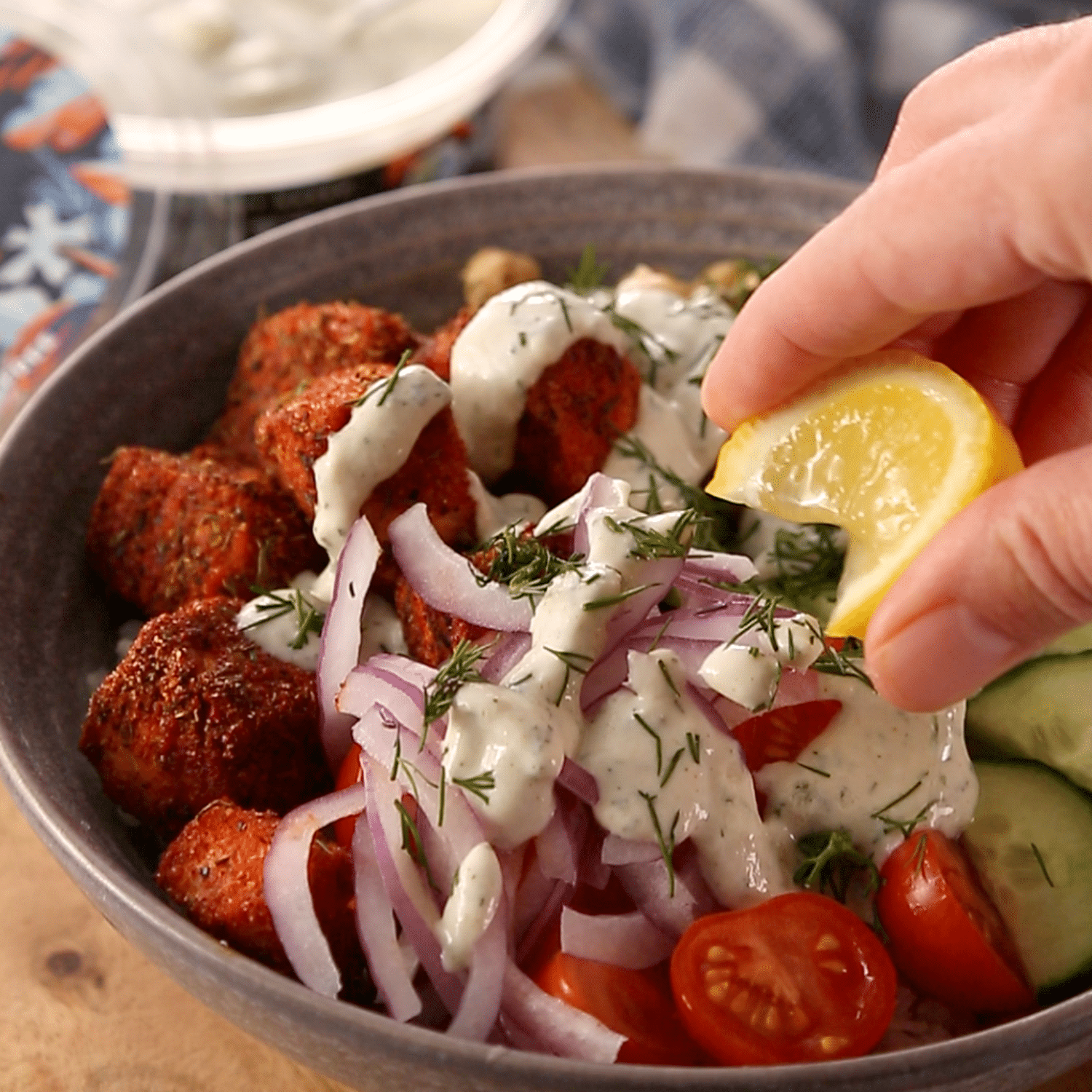 Greek Salmon Bowl
Servings: 2 
Marinade time: 20 minutes
Prep Time: 15 minutes  
Cook Time: 5-10 minutes
Salmon Rub Ingredients: Combine seasonings in a bowl. Rub salmon on all sides with seasoning mix. Place salmon bites into air fryer basket (coated with non-stick cooking spray) in a single layer. Air fry for 5-8 minutes at 400° turning as needed to brown all over and internal temperate reaches 145°.
1 tbsp paprika
¾ tsp garlic powder
¾ tsp onion powder
½ tsp cayenne pepper
½ tsp thyme
½ tsp oregano
1 tsp salt
½ tsp black pepper
12-15oz skinless salmon, cut into 1" cubes
Marinated Chickpeas: Combine all ingredients in a bowl and let marinade for 20 minutes. Remove from marinade when serving.
1 can chickpeas drained and rinsed
2 tbsp olive oil
1 tbsp red wine vinegar
1/2 tsp thyme
1/2 tsp oregano
1/4 tsp black pepper
Bowl Ingredients:
3 cups cauliflower rice, cooked
½ English cucumber, thinly sliced
1 cup cherry tomatoes, halved
½ small red onion, thinly sliced
Fresh dill, chopped
Lemon wedges
Salt and pepper
Instructions: 
Evenly distribute ingredients into four bowls: cauliflower rice, salmon bites, chickpeas, cucumber, tomatoes, Good Foods Tzatziki dip, red onion.
Garnish with fresh dill and lemon juice. Season with salt and pepper as desired.
 Serve & enjoy!