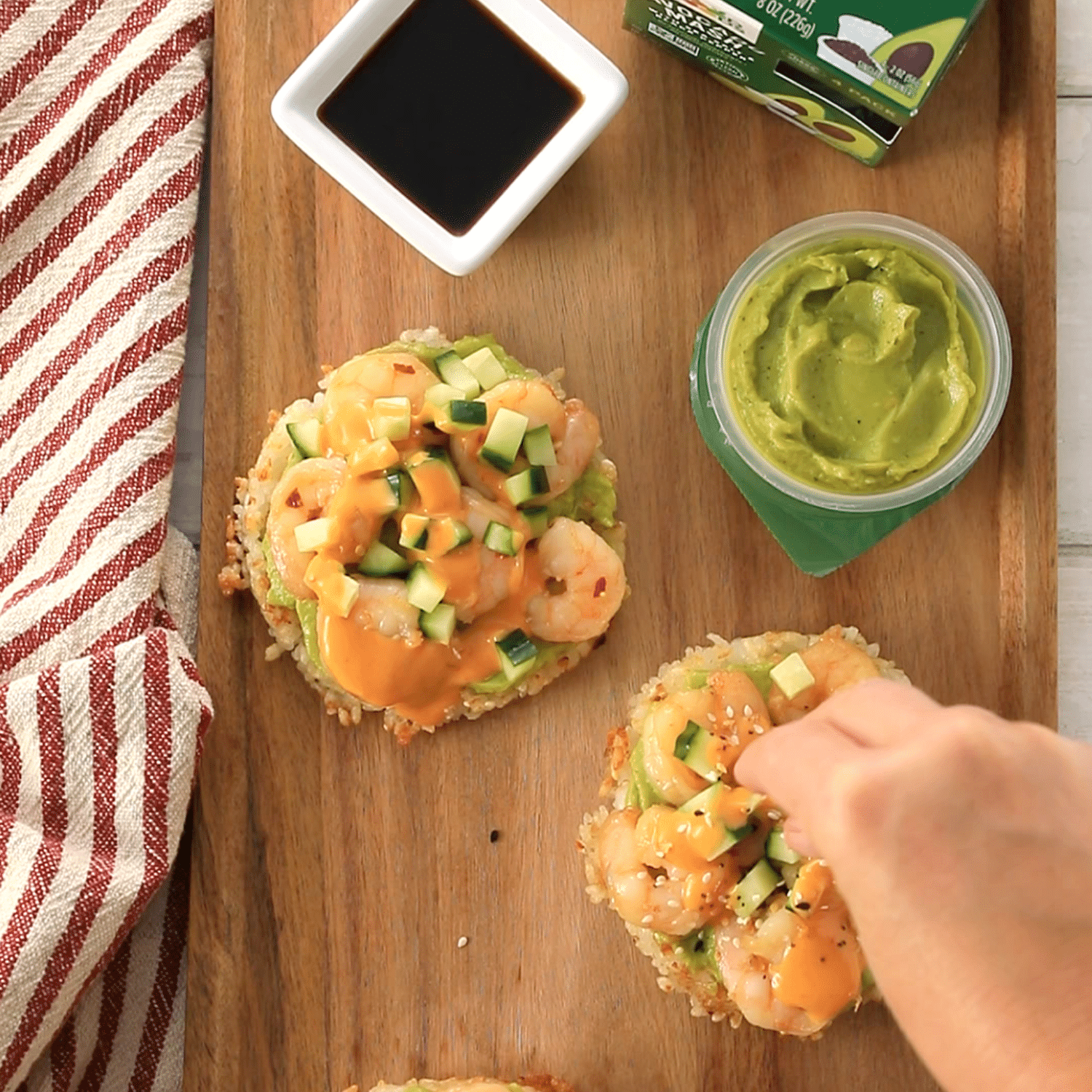 Sushi Rice Waffle
Servings: 4 mini waffles or 2 regular 
Prep Time: 10 minutes  
Cook Time: 30 minutes
Sushi Rice Ingredients:
1 cup short-grain Japanese rice
1 cup water
2 tbsp white wine vinegar
2 tbsp rice vinegar
1 tbsp sugar
¾ tsp salt
Honey Garlic Shrimp Ingredients: 
1 tbsp olive oil
1 lb large shrimp, peeled, deveined, tail-off
¼ tsp salt
3 cloves garlic (1 tbsp), minced
3 tbsp honey
2 tbsp soy sauce
1 tsp red pepper flakes
Waffle Toppings:
½ English cucumber, diced
Sriracha Mayo
Sesame Seeds
Sushi Rice Instructions: 
In a fine mesh strainer, rinse rice under running water. Drain well.
Add water and rice to instant pot, close lid, set valve to sealing, cook on high pressure for 10 minutes then let naturally release for 10 minutes. Quick release any remaining pressure and remove lid. Transfer to a bowl and let cool.
In a small bowl, combine white wine vinegar, rice vinegar, sugar and salt. Stir until sugar and salt are dissolved. Microwave for 15-30 seconds if needed. Pour over cooked rice and gently mix to combine.
Shrimp & Waffle Instructions:
Heat oil in a large pan over medium-high heat. Add shrimp and season with salt. Cook 2-3 minutes per side. Add garlic and cook another 30 seconds.
In a small bowl, combine honey and soy sauce. Pour over shrimp, stirring and allow shrimp to absorb. Add red pepper flakes and stir to combine. Remove from heat and set aside.
Spray waffle maker with non-stick spray. Add rice, spreading evenly to cover waffle maker. Press down the lid and cook until golden brown. Remove from waffle maker and repeat as needed with remaining rice.
Top waffles with Avocado Mash, shrimp, cucumber, sriracha mayo and sesame seeds. Enjoy!