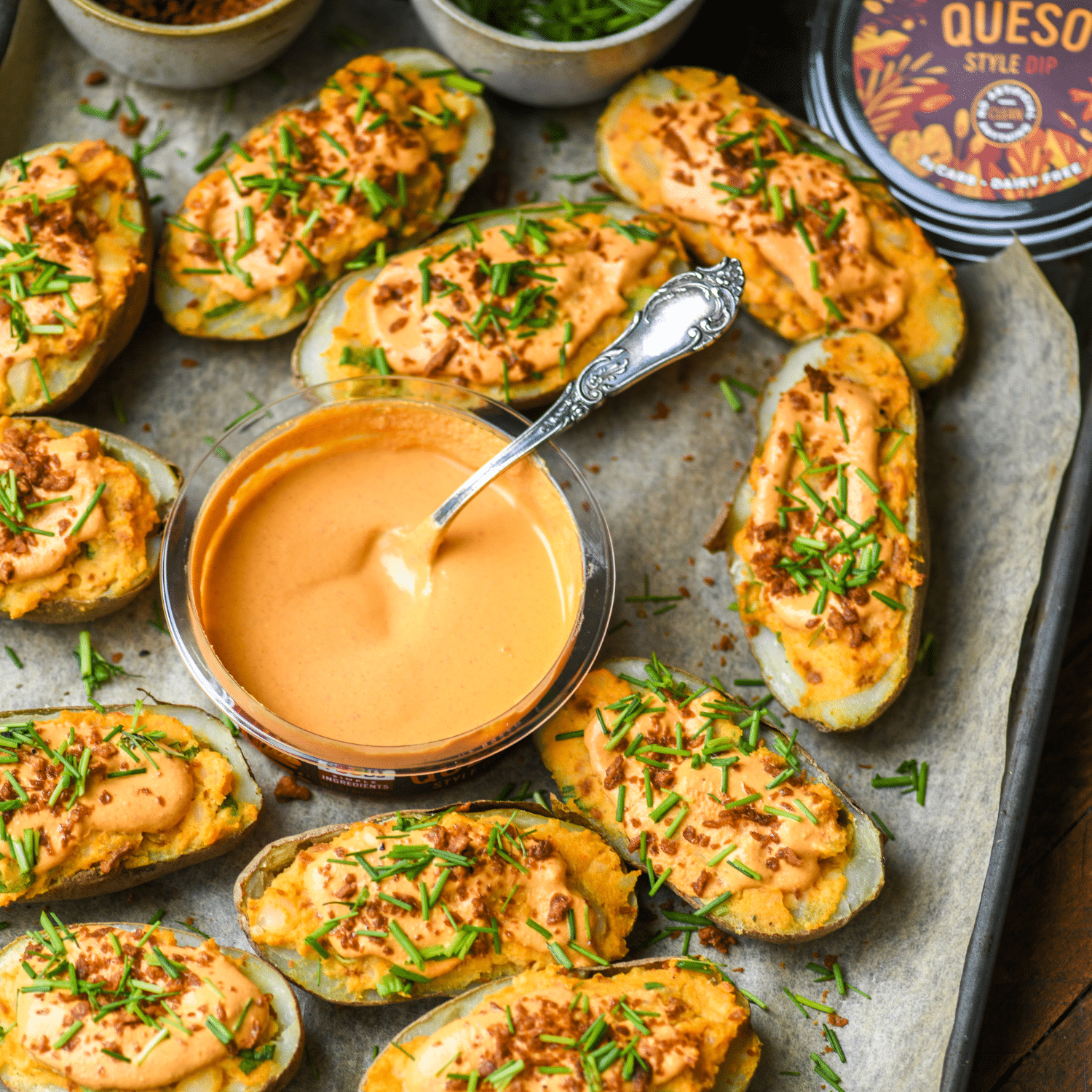 Vegan Queso Potato Skins
Make your favorite appetizer vegan! Loaded potato skins with Good Foods Plant Based Queso, crispy vegan bacon bits and crunchy green onions won't have you missing dairy or meat at all. Thank you to our friend Kim-Julie at Best of Vegan for the recipe.
Servings: 3-4
Prep time: 15 minutes
Cook time: 1 hour & 15 minutes
Total time: 1 hour & 45 minutes
Ingredients:
8 small or 4 medium to large russet potatoes
1 small or 1/2 large tub of Good Foods Plant Based Queso
1/2 cup vegan bacon bits (see note)
 2 green onions, chopped
 Salt and pepper, to taste
To Garnish:
More Plant Based Queso
More vegan bacon bits (about 2-3 tablespoons)
1 handful Chopped chives
Instructions:
Preheat the oven to 400°F (200°C).
2. Scrub the potatoes clean and prick them all over with a fork.
3. Place the potatoes on a baking sheet and bake for 45-60 minutes (the bigger the potatoes, the longer the baking time), or until they are tender when pierced with a fork.
4. Once the potatoes are cool enough to handle, cut them in half lengthwise.
5. Use a spoon to scoop out the flesh of the potatoes (add it to a large mixing bowl), leaving about 1/4 inch of potato flesh in the skin.
6. Add the plant-based queso, vegan bacon bits, green onions, salt, and pepper to the bowl with the scooped out potato flesh and mix everything until well incorporated.
7. Using a spoon, fill the potato skins with the mixture and place the baking sheet back in the oven at 400ºF (200ºC).
8. Bake for an additional 10-15 minutes, then let cool for a few minutes before garnishing with a dollop of plant-based queso, more vegan bacon bits, and chives.
If you prefer not to use store-bought vegan bacon bits, you can make your own by finely chopping 1 cup of shiitake mushrooms (stems removed) and sautéing them in a little bit of oil over medium heat until they are crispy. Season with salt and pepper, to taste.