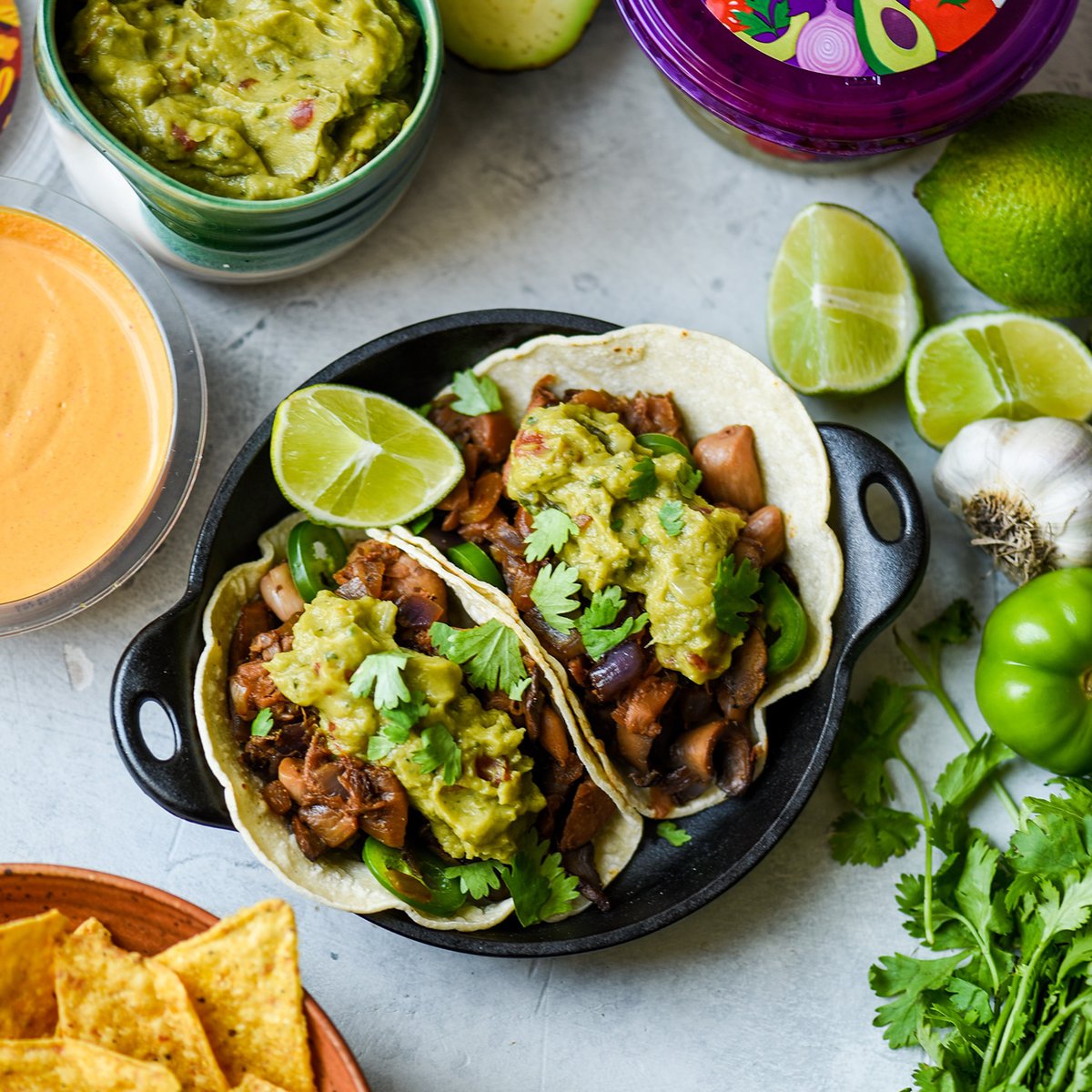 Smoky Mushroom Tacos
Smoky Mushroom Tacos with Chunky Guacamole for your new favorite taco pair! Spiced with cumin, chili powder and paprika, this mushroom + jackfruit filling is topped with jalapeño peppers, fresh cilantro and guacamole. Check out this recipe and more from Best of Vegan!
Makes 4 tacos
Ingredients:
4 soft corn tortillas
1 small red onion, chopped
2 garlic cloves, minced
1 1/2 Tbsp olive oil
1 can of young, unseasoned jackfruit (in brine)
16oz mushrooms, sliced
1 tsp liquid smoke
1 tsp smoked paprika
1/2 tsp sea salt (or to taste)
1/4 tsp cumin
1 pinch ground pepper
1 pinch chili powder (optional)
1/4 tsp oregano (optional)
Good Foods Chunky Guacamole and / or Queso
Lime
Fresh cilantro
Sliced jalapeños (optional)
Directions:
Sauté the onion and garlic in the olive oil in a non-stick pan over medium heat for 2 minutes. Drain the jackfruit and add to the pan. Add sliced mushrooms.
Cook everything for a total of 10-12 minutes and add the seasonings half way through.
Taste test and add more salt if need be (and/or more chili powder if you like it a little spicier).
Heat the tortillas in a pan or the oven (optional) and then add the mushroom-jackfruit filling and top with a little lime juice, chunky guacamole (as much as your heart desires!), jalapeños (you can also add those wile cooking if you prefer) and cilantro and enjoy!
Tip: these taste even better with a side of tortilla chips and Good Foods queso-style dip.
For more recipes and inspiration, checkout Best Of Vegan!