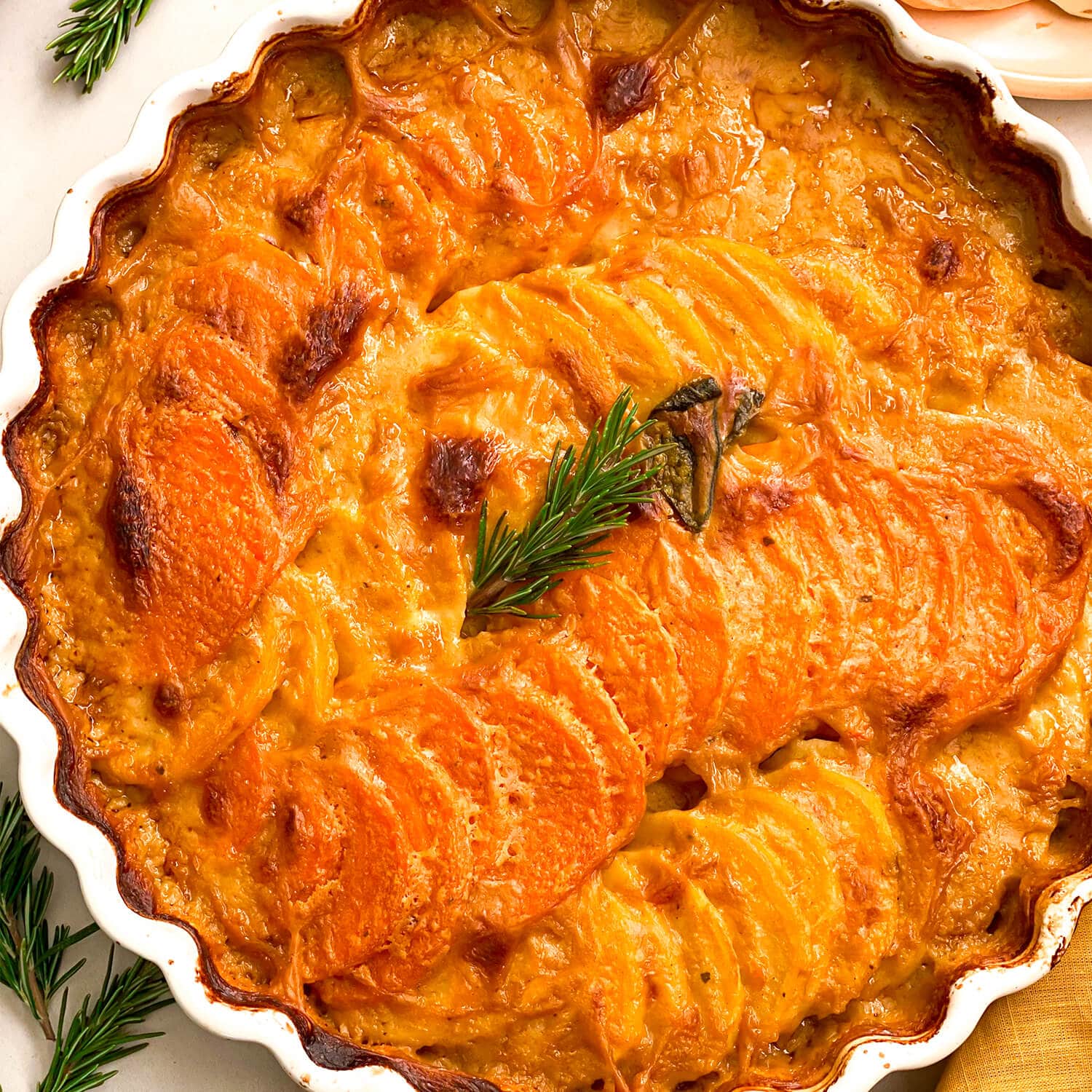 Sweet & Spicy Scalloped Potatoes
Serves: 6 servings
Prep time: 30 minutes
Cook time: 40 minutes
Total time: 1 hr. 10 mins
Ingredients:
3 lbs. mixture of sweet and regular potatoes, peeled and thinly sliced

3 Tbsp unsalted butter  

2 cloves garlic, minced

1 1/2 Tbsp all-purpose flour 

1 1/2 cup unsweetened soy or cashew milk  

1 container of Good Foods Queso dip 
1/2 container of Good Goods Buffalo dip

1/2 cup vegetable broth 

1 tsp sea salt  

¼ tsp ground black pepper  

½ tsp cinnamon  

¼ tsp nutmeg  

½ tsp fresh rosemary, finely chopped 
Directions:
Cut your potatoes thinly and evenly using a knife or mandolin slicer. 
Make the cheesy mixture: In a pan on low to medium heat, sauté vegan butter and garlic before adding in flour. Afterward, toss in 1 container of queso dip and 1/2 container buffalo dip, unsweetened soy milk, cinnamon, ground nutmeg and rosemary. Leave to a soft boil and let it cool. 
Layer the thinly sliced rounds of potatoes in a pan. Add in your creamy cheesy mixture and cover with foil.
Bake the casserole at 400F for 30 minutes. To get that golden-brown top, take off the foil after the first bake and broil for an additional 5 minutes.
Top it off with chopped fresh rosemary and then serve. 
Assembly: