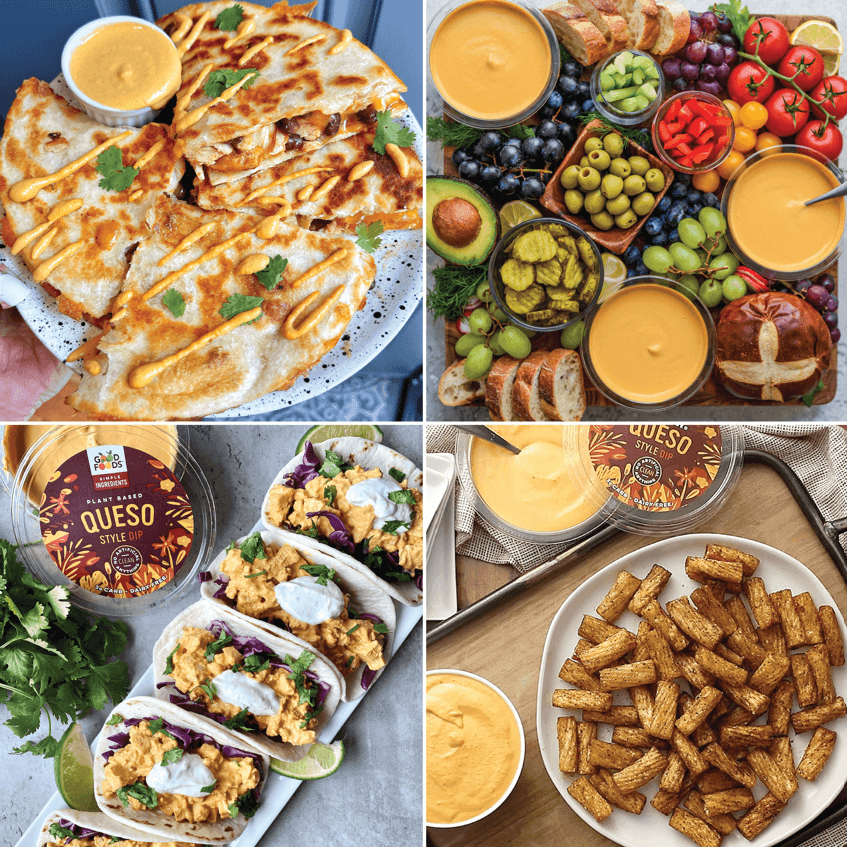 Tasty Queso Recipes That Are Sure To Impress
No matter the occasion, we've got you covered with these delicious queso recipes! Check out the recipes below to learn new ways to enjoy Good Foods Plant Based Queso!
These tasty quesadillas, from our friend @erinliveswhole, make for a protein-packed handheld bite. Good Foods Queso Style Dip tops off the dish with cheesy goodness in addition to the shredded cheddar and chicken packed between layers of tortilla.
Made in just 5 minutes, these Taco Pasta Chips are perfect for dipping into Good Foods Queso Style Dip! Flavors of cumin, pepper, and chili powder compliment the notes of bell pepper and cayenne within the queso dip. 
Fresh veggies, fruits, and bread are paired with Good Foods Queso Style Dip to create this gorgeous shareable board by @bestofvegan! This Vegan Queso Board works great as an appetizer when hosting or as a tasty shareable snack.
Our friend, @jazzythings, uses Good Foods Queso Style Dip and Good Foods Cilantro Dip to create these delectable Queso Chicken Tacos! The cheesy and cilantro flavors alike are elevated with fresh squeezed lime and cilantro garnishes. 
Which tasty queso recipe are you most excited to try out? Let us know in the comments below!