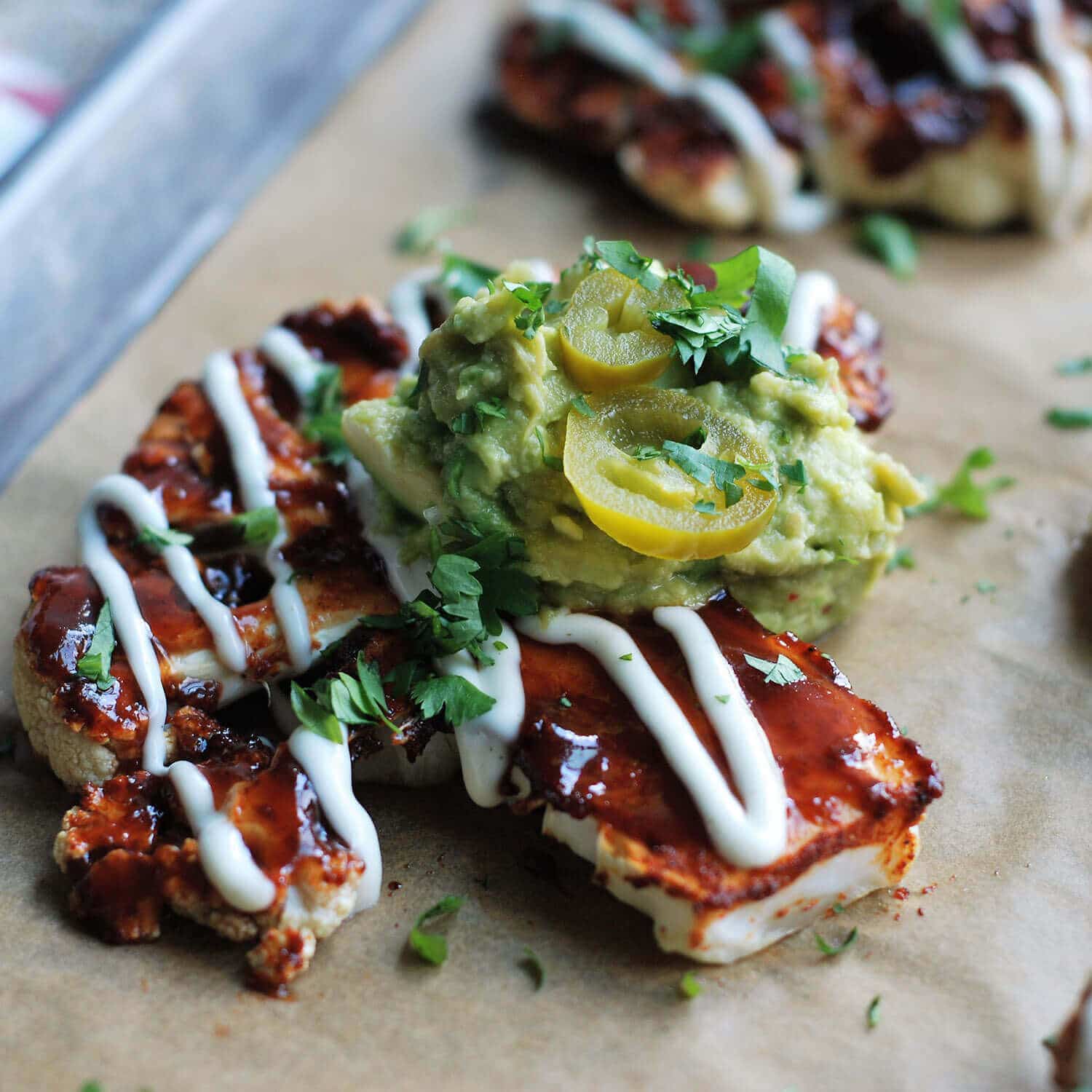 Loaded BBQ Ranch Cauliflower Steaks
2020 Share The Love Winner:
Creator: Lauren Wyler
Category: Guacamole
From the Creator's Perspective:
I combined all my favorite BBQ flavors in an easy to prepare vegetarian and gluten free main dish! Roasted cauliflower is coated in a flavorful BBQpaste, drizzled with Good Foods Creamy Ranch Yogurt Dip and topped with Good Foods Chunky Guacamole. No one will miss the meat with this combo!
Ingredients:
1 large head cauliflower
1 Tablespoon ketchup
2 teaspoons maple syrup
2 teaspoons yellow mustard
1 teaspoon Worcestershire sauce
1 ½ teaspoons smoked paprika
1 teaspoon chili powder
¾ teaspoon garlic powder
¾ teaspoon onion powder
½ teaspoon salt
½ teaspoon cumin
¼ cup BBQ sauce
2 Tablespoons Good Foods Creamy Ranch Yogurt Dip
2 Tablespoons chopped cilantro
2 Tablespoons pickled jalapenos
Directions:
Preheat the oven to 375 F and line a cookie sheet with parchment paper.
Slice the cauliflower into ¾ inch thick steaks.
To make the BBQ paste stir together the ketchup, maple syrup, yellow mustard, Worcestershire sauce, smoked paprika, chili powder, garlic powder,onion powder, salt and cumin in a small bowl. Brush the cauliflower with the paste evenly. Bake for 30 minutes, or until the stem portion of thecauliflower steaks are tender.
Remove from the oven and brush with the BBQ sauce. Drizzle with the Good Foods Creamy Ranch Yogurt Dip and top each with and equal amount ofGood Foods Chunky Guacamole, chopped cilantro and pickled jalapenos. Serve immediately.
Serves 4